In 2014, most of the guys in the newsroom of Deum Ampil, a pro-government outlet based in Phnom Penh, were either writing stories or shooting the shit. Lim Cheavutha, however, was designing the future of Cambodian news media: a smartphone application engineered to rapidly deliver information to the people on their smartphones – in Khmer. The current iteration of Fresh News, launched in May 2014, is version 40.0. Cheavutha says it has been downloaded almost one million times and has half a million active users.
"I created the news for readers on the mobile," the 37-year-old entrepreneur said in an interview at a café in the Cambodiana Hotel on Phnom Penh's riverside late last year. "You ask me how I make it popular? I have breaking news. I have special news for the people in Cambodia. It means it is fast and breaking news."
All three of the top Khmer-language daily newspapers have since launched their own smartphone apps, but they were months or years late to the show. Cheavutha, who was the CEO of Deum Ampil (DAP) before setting out on his own with Fresh News, studied technology and management before going to work as a designer and reporter for a now defunct Khmer-language magazine. His rise after joining DAP in 2008 ended in a messy divorce with Soy Sopheap, its founder, who is also a top TV news anchor and a darling – or a tool, depending on how you view him – of the ruling Cambodian People's Party (CPP).
Neither of them cares to talk about the split. Cheavutha only wants to make it clear that Fresh News was all his, and not a joint venture with Sopheap, 45, his boss while it was being developed.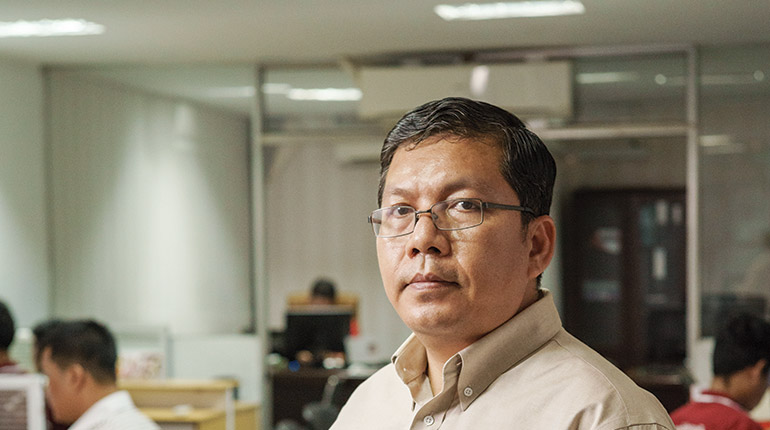 "Both were working together, and Sopheap, of course, he has so many sources and he plays so many roles," said Puy Kea, a media professor and long-time Kyodo News correspondent in Phnom Penh who remains close to Sopheap and is an occasional advisor to Fresh News. "Cheavutha, on the other hand, is just like the submarine or engine for him, supporting him, and vice versa. So it was great, and many people [read] Deum Ampil, online at the time, and then with the radio and newspaper."
But as Sopheap worked his sources, raised his profile through television and charitable work, and also penned articles and opinion pieces serving the political interests of someone or other – often his own – Cheavutha was managing the operations, learning how to run a news organisation that attracted readers without making the government and its friends angry.
When Cheavutha split from Sopheap, he said it was just he and Kim Meng, his chief technical officer, who made Fresh News work, initially gathering $20,000 in investment with the help of friends. Huy Vannak, a government official and head of news for the country's top television network, said he also stepped in to help, along with his boss at Cambodia Television Network (CTV), Cambodian-Australian business mogul Kith Meng.
"When he separated from Soy Sopheap, we helped to empower him to make his organisation strong," Vannak said during a telephone call in mid-May. The news director and undersecretary of state at the Interior Ministry said that none of the support was financial, but that Meng offered some of the services from his firm Ezecom, one of the country's oldest and largest internet service providers. Vannak offered advice on how to get news, grow readership and run a business, he said.
"He is fast and smart and flexible in business," Vannak said. In the three years since its inception, Cheavutha has expanded the online-only operation, hiring about 80 reporters and securing advertising and sponsorships from dozens of local companies. He has also replaced Sopheap as the ruling party's favoured messenger for reaching the masses. He says he gets calls directly from the prime minister.
"Everyone has to follow Fresh News," Vannak said. "I think he has taken the right choice for his business. Every government, they need to have the media they trust to send out information."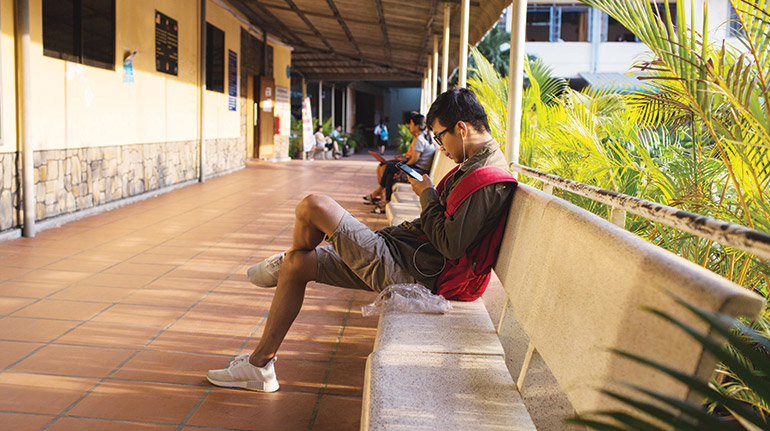 Mixed in with all the pro-government messaging and propaganda, which was ramped up ahead of local elections this month, is a blend of unmarked advertorials, tabloid news, international stories and political scoops that often set the agenda for other websites or snail-paced television and press outlets. One has to take Cheavutha on his word when it comes to unverifiable figures on app downloads, but the one million figure certainly seems plausible given the almost two million followers of the Fresh News Facebook page.
Though his website operates as an expedient tool for the ruling party, Cheavutha says he has no political aims. "This or that party is not important. I think the party that is good, the people will vote for them," he said. He doesn't deny that his website tricks its readers a bit by not always making it clear which stories are paid for, but said changing the practice wasn't a priority. "We have, one day, to put it separately, but right now the advertisers want it together."
Cheavutha says that his decisions are based on profits, not politics – articles about leaked phone conversations of opposition figures allegedly speaking with their mistresses may have helped the ruling CPP, but they also drew lots of readers, he notes. However, business and politics are often indistinguishable in his line of work – and everywhere in a society where money seems always to lead back to Prime Minister Hun Sen and CPP bosses.
By way of example, a main advertiser for Fresh News is Zaman International School, whose chairwoman is Chea Sophakanny, the daughter of Land Minister Chea Sophara and wife of Eang Sophalleth, a roving government official who serves as the prime minister's personal assistant. A banner at the top of the homepage promotes Wing, a massive money-transfer company owned by the aforementioned tycoon Kith Meng, himself a close friend of the CPP who also has holdings in real estate, telecommunications and energy.
Sopheap is still trying to woo these same advertisers to DAP. And while Cheavutha says he is "not making a lot but not making a little", Sopheap claims to be going broke trying to keep a staff of 82 employed. Though its website features a barrage of advertisements, Sopheap says just keeping DAP running is giving him a headache.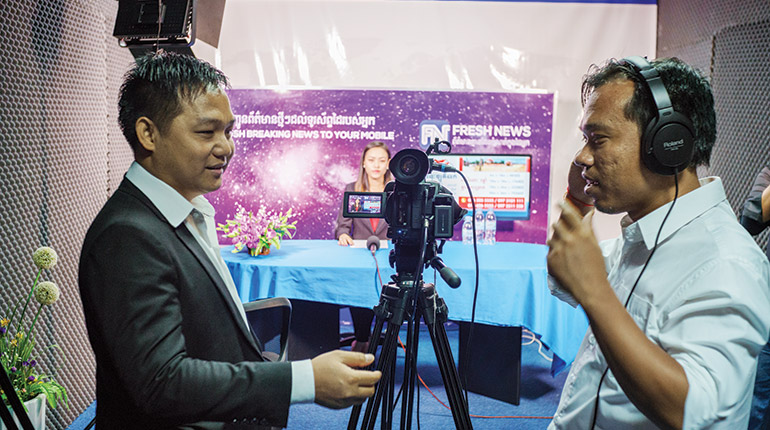 "I try to compromise to beat the competition and get advertisers. Now the market seems very narrow," he said at a villa turned office building in the Russian Market area of Phnom Penh. He won't say what happened with Cheavutha or talk about Fresh News, which initially served as a delivery vehicle for news coming from DAP and was reportedly a joint venture between the two. "Don't ask me. I don't want to be involved at all, because I don't want to be reminded," he said.
While Cheavutha comes off as a proud businessman, driving his Audi A7 and delivering a product aimed squarely at Cambodian consumers in 2017, Sopheap is a man of the previous generation whose personal relationships with the country's powerbrokers are not worth what they once were. Cheavutha is focused on growing readership; Sopheap on preserving his legacy.
He claims that while many see him as a career government pitchman, he was nurturing an environment over the past two decades that might one day allow for more freedom in CPP-dominated media. "I broadcast the news like the baby develops, step by step," he said. "Don't hit somebody on the face, but give them the idea behind."
Sopheap claims to have been a behind-the-scenes operator in almost every major political deal struck over the past two decades. He compares his diplomatic efforts to those of Pung Chhiv Kek, who helped broker peace negotiations between former King Norodom Sihanouk and Hun Sen in the 1980s and founded human rights group Licadho in the 1990s.
He still has the access, but his primetime spot on BTV, the station owned by the prime minister's daughter, which hired him after he departed from Meng's CTV at the end of 2009, has a limited audience. Last year, for the first time, social media leapfrogged television to become the go-to source of news for Cambodians, according to a survey by the Asia Foundation.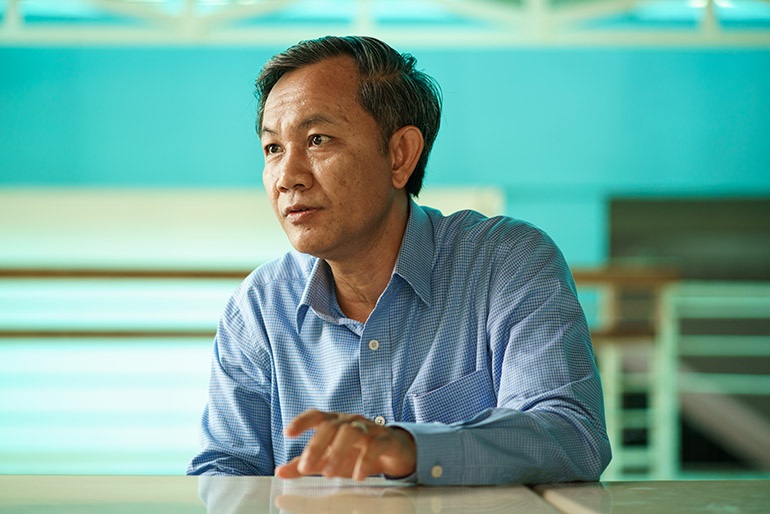 Sopheap is certainly not alone in his struggle to stay solvent as a media owner in Cambodia. Newspapers and magazines in Khmer and English face a reality in which statistically 0% of the population cite print as their primary source of news. Radio continues to be popular but not particularly profitable. Advertisers are keen to move online along with readers – and slash their spending at the same time.
However, the decline of Deum Ampil, which means 'tamarind tree' and refers to an actual tree under which journalists often gathered in the 1990s, has unique symbolism. The skills that Sopheap says allowed him to rise in journalism – translating into English, crafting careful questions and getting exclusive interviews – have given way to journalism done digitally, with reporters requiring only a computer and internet access to beat him to the punch.
"In the past, you know, Soy Sopheap, Deum Ampil, he was the kind of amazing personality who did this kind of job," said Kea from Kyodo News. "But now Cheavutha tries to replace him in this role with online news."
Among those competing for a share of the online news market is Thmey Thmey, or 'New New', which launched in 2014 with big plans. Backed by Cambodian-American businessman Mengly Quach, a medical doctor and entrepreneur who opened the American Intercon Institute schools in Phnom Penh and invested heavily in hotels, it was supposed to offer independent news on Cambodia in four languages: Khmer, English, French and Japanese.
The site is still running, but Quach divested earlier this year. Its reporters are based out of a few cramped office rooms in the back of the Lyla Sport and Recreation Centre in Phnom Penh, a labyrinthine complex configured around a pool with a rusting jungle gym. Thmey Thmey co-founder Ky Soklim, a veteran journalist who got his start working for French newspapers, says coming up with $10,000 a month to pay the bills is now his full-time job.
The website, which publishes only in Khmer, has three new silent partners who offered their backing in exchange for using the site to advertise their interests. The other shareholders are journalists, but they too have had to accommodate advertisers to keep the site running. Advertorials are presented like news stories, with a note at the end of the article clarifying that the content was paid for.
Fresh News just provides information. They don't have professional reporters"
"Sometimes the readers complain. They say: 'You are professional, so why are you running advertisements as stories?'" Soklim said in an empty cafeteria outside his office. "We care about their concern, but if we care too much we will go bankrupt. If you don't do that, you die."
While Fresh News has a tabloid news instinct and dozens of reporters scouring the internet, Thmey Thmey is trying to engage its audience by offering something more professional and varied, mixing news stories with cartoons, language lessons and editorials, Soklim said. Producing quality journalism and maintaining a steady revenue stream, however, remain constant and conflicting battles, he added.
"Some stories we do, we know they aren't good, but we do as marketing to attract more views," he said. "Even if you do a good story that is very long, nobody will read it."
Voice of Democracy (VOD) launched its website in 2013 and, like Fresh News, quickly attracted a large online following. However, VOD remains funded by foreign donors, making it largely immune to market pressures and allowing its journalists to publish sensitive stories without worrying about how they will be received by advertisers. VOD has still had to juggle donors as they push for the site to find a way to generate its own revenue, said Nop Vy, media director for the organisation.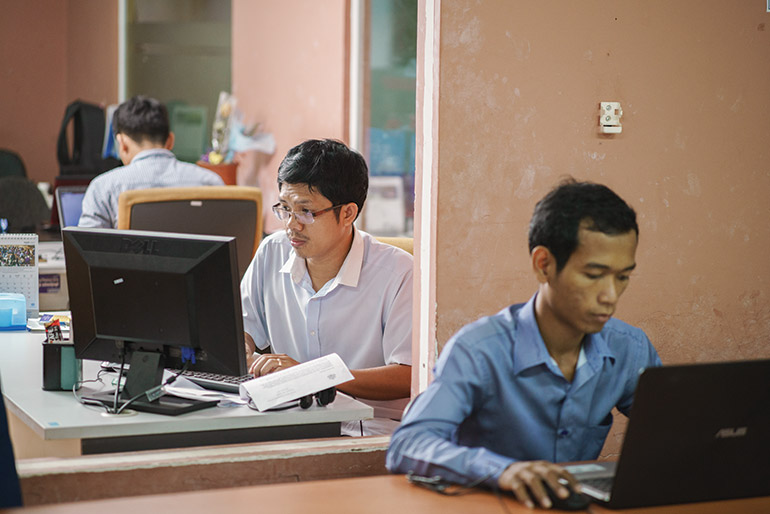 "Even though we try to reach many readers – based on our figures 20,000 access the site daily – we still can't convince any company to advertise," Vy said at the VOD office in central Phnom Penh. The website is often first to push out stories on political issues or other pressing social matters, which attracts readers but repels advertisers, he said.
"Most companies are backed by officials or headed by people who support the ruling party," he explained. "They are scared to advertise on sensitive websites such as VOD but feel proud to advertise with sites like DAP and Fresh News because they know they will not have a problem with other officials."
As opposed to VOD, Thmey Thmey and the Phnom Penh Post's Khmer-language website, which aim to break stories with some level of independence and insight, "Fresh News just provides information," Vy said. "They don't have professional reporters. They work closely with police, military police and government officials."
But it's a formula that's working for Cheavutha, and he's ready to build on it. Fresh News is producing more and more videos and has started its own streaming TV channel with dedicated newscasters. With his expansive audience, Cheavutha is also preparing to spread beyond the news business.
"We can't predict the future, but if you are a business you need to diversify," said Vannak, the news director and government official. "Fresh News has potential to be like [Chinese e-commerce giant] Alibaba. That is Cheavutha's direction."
Additional reporting by Ben Sokhean