Glimpsed from the window of an aeroplane, the shining city of Phnom Penh almost looks like it could nestle in the palm of your hand. As the golden spires of the city's scattered pagodas rise up to meet you, your breath catches in your throat. Once the roar of the wind has settled, you pass through the doors of the plane into the heat of a Cambodian summer and take your first steps into the Kingdom of Wonder.
A growth industry
For 23 years, Cambodia Airports has worked closely with the Royal Government of Cambodia to ensure that the Kingdom's airports usher crowds of Cambodians and tourists alike smoothly onto the next stage of their journeys. And with almost nine million passengers passing through its three airports in Phnom Penh, Siem Reap and Sihanoukville in the past year alone, the trust and dialogue that has been a staple of this relationship has never been more important.
Cambodia Airports CEO Éric Delobel said that his company was eager to meet the challenges of Cambodia's growing popularity as a destination and hub for international travellers.
"Traffic growth momentum is expected to continue and along with it the expansion of the international airports," he said. "Therefore, we will intensify and accelerate our investments in new facilities, human resources and operational efficiencies to accommodate such growth and further serve our customers."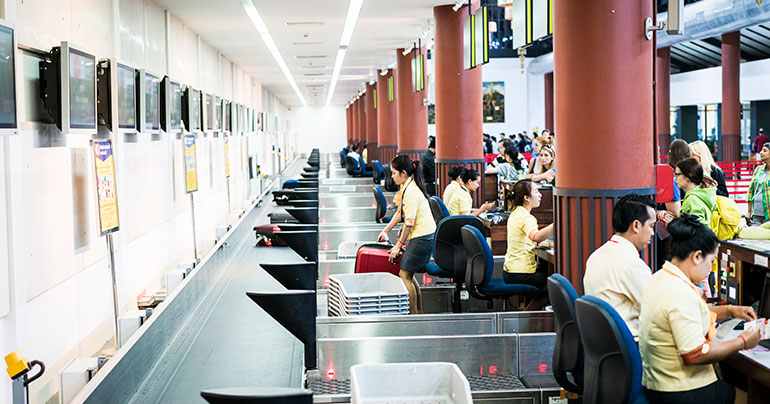 At your service
But just as important as its role as a provider of critical infrastructure for the Kingdom, Delobel said, is Cambodia Airports' ability to provide much-needed services for the millions of travellers who pass through its airports every year.
"The digital transformation is going to significantly reshape the way passengers use airport facilities – self-check-in on and off airport, self-service bag drops and digital signage adjusting to nationalities of passengers," he said.
"We can meet those needs by further enhancing the quality of service and airport experience with more food and beverage and shopping offerings as well as new services adapted to passengers' needs such as unlimited and free WiFi."
Nor is a smooth flight to Siem Reap the only benefit of Cambodia Airports' investment in the nation's future. In 2014-2015, the wider socio-economic footprint of Cambodia Airports' operations amounted to a staggering $2.7 billion of the nation's gross domestic product – almost a fifth of the Kingdom's total GDP for that period. More critically, these operations were responsible for 1.7 million jobs across Cambodia, providing much-needed work for one in five working Cambodians.
Putting people first
Equally crucial to Cambodia Airports' ethos is ensuring that this economic development doesn't come at the expense of Cambodia's unmatched environmental heritage. To this end, Cambodia Airports has set forth a comprehensive corporate social responsibility (CSR) programme making sure that profits are reinvested into creating a brighter future for Cambodia and its people.
"Our CSR programme includes three pillars: environmental, social and societal," Delobel said. "A comprehensive policy for environmental protection – waste water treatment plants, reducing carbon emissions to cope with global climate change; social – providing the best working environment for our personnel in terms of health coverage for them and their family, life insurance, a retirement pension, an employee saving plan; and societal, including a long-term commitment and engagement with neighbouring communities for education, safety, health and preserving Cambodia's heritage."