Indonesia's top Islamic clerical body has issued a religious decree denouncing the burning of forests, a significant factor in the haze problem that plagues neighbouring Singapore and Malaysia every year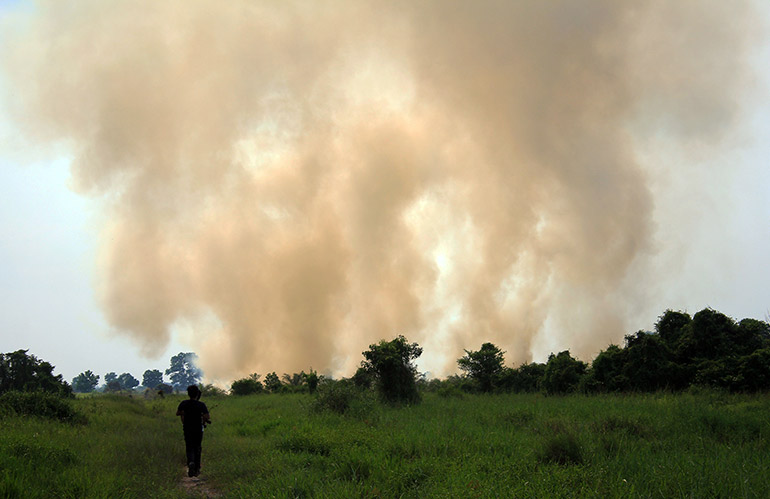 Indonesia's top Islamic clerical body has issued a fatwa, or religious decree, declaring that the burning of forests in the country is against Islamic law, according to media reports.
Chuzaimah Yanggo, a representative from the Indonesian Ulema Council (MUI), the country's highest Islamic authority, told reporters yesterday that burning of land in the country was considered haram, or forbidden by Islamic law.
"The Qur'an states that we are not allowed to harm the environment, and forest burning causes damage not only to the environment but also to people's health – even neighbouring countries are complaining," Yanggo told AFP. Singapore and Malaysia have deployed aircraft and personnel in Indonesia to help combat forest fires, which often lead to unhealthy levels of smog in Indonesia's neighbouring countries.
Fires are often started in Indonesia to quickly and cheaply clear land for pulpwood and palm oil plantations.
Yanggo, speaking at a joint briefing by the MUI and Indonesia's Ministry of Environment and Forestry, told reporters that "an act of facilitating, neglecting, taking advantage of the burning of forest and plantation is haram" and therefore, "the controlling of a forest or plantation fire is mandatory".
Minister of environment and forestry Siti Nurbaya Bakar, who was also at the briefing, said that a religious edict was necessary to curtail the burning of forests in Indonesia.
"Based on our experience, we understand that applying the law in its material form would not suffice," said Bakar. "But there is something more important, which is moral [values]."
Norshahril Saat, a fellow at the Institute of Southeast Asian Studies who studies religious and political behaviour in Indonesia, said that while the MUI likely saw the burning of land as a genuine issue in Indonesia, the fatwa would probably not be effective in curbing the practice.
"A fatwa in Indonesia is not binding and I doubt it will discourage many from intentionally burning forests," he said.
Saat added that he did not believe that the fatwa would pressure local police to act. "Politicians can only ride on the fatwa if they feel a law to prevent the burning of forests can be enforced," he said.
The MUI also issued a fatwa in 2014 declaring the illegal hunting and trading of endangered animals in Indonesia against Islamic law.
Air pollution reached record levels last year and led to the death of at least 19 with more than half a million suffering from resulting respiratory illnesses in Indonesia, according to The Straits Times.