The headlines make for grim reading: "Brunei implements stoning to death under new anti-LGBT laws". "New penal code imposes maiming, stoning".
The tiny nation's plan to implement a strict Sharia penal code has been in the works for more than five years, and finally came into effect on Wednesday.
Human rights groups have slammed the decision, and celebrities George Clooney and Elton John have joined a movement calling for the boycott of Brunei-owned hotels around the world.
The move marks a transition to a more conservative form of Islam in the country, introducing brutal punishments for acts such as same-sex relations and extra-marital sex, and could signal the end of a moratorium on the death penalty that has been in place since 1957.
Defenders of the penal code have pointed out that for such punishments to be enforced, multiple witnesses or a confession are required, therefore making it unlikely that the most violent punishments will be carried out.
That is unlikely to appease human rights groups.
"Brunei's new penal code is barbaric to the core, imposing archaic punishments for acts that shouldn't even be crimes," Human Rights Watch's deputy Asia director Phil Robertson said in a statement calling for the suspension of the punishments.
Matthew Woolfe, founder of an independent human rights initiative called the Brunei Project, has also hit out against the sudden implementation.
"The government's decision to implement these laws is indeed a huge step backwards for human rights in the country," he told Southeast Asia Globe in an email.
"It was only in 2015 that Brunei signed the UN Convention Against Torture and Other Cruel, Inhuman or Degrading Treatment or Punishment and now, less than four years later, it has rushed into effect a raft of laws that clearly violate the convention by sanctioning some of the most extreme and inhumane acts of torture," he said.
In a public address in Brunei's capital Bandar Seri Begawan on Wednesday, Sultan Hassanal Bolkiah, who has ruled for 51 years, said he wanted "to see Islamic teachings in this country grow stronger".
His comments did not explain why the full implementation of the Sharia penal code has been brought in so hastily after such a long delay.
Shinta Eka Puspasari, a news editor and analyst at Concord Consulting Jakarta, told Southeast Asia Globe that the decision could be driven by reasons both political and financial.
Public officials and politicians ride on the Muslim conservatism trend to gain popularity

Shinata Eka Puspasari, news editor and analyst at Concord Consulting Jakarta
"One [reason] is to strengthen Bolkiah's Islamic credentials and popularity among his people – the decision reportedly was supported particularly by the Muslim Malay group – and another [reason] is to increase Brunei's attractiveness in the eyes of investors or visitors from other Muslim countries," she said.
This embracing of Muslim conservatism is not confined to Brunei's small portion of Borneo. Its neighbours on the island, Indonesia and Malaysia, are experiencing politically inspired religious polarisation, and farther afield in the Philippines, ISIS-affiliated terror groups still lurk on the southern island.
Puspasari believes there is rising conservatism in the region that she says "has triggered social division in Muslim-majority regions in Southeast Asia, spurred by global events and local politics."
While it is unlikely to lead to open conflict or wide-scale unrest, she said, an introduction of more Sharia-compliant rules could hinder these countries' efforts to achieve the UN's Sustainable Development Goals, which include fighting against discrimination based on gender or sexuality.
She warned that targets such as countering HIV/AIDS, empowering women and running sex education awareness campaigns may be undermined as "public officials and politicians ride on the [Muslim conservatism] trend to gain popularity."
Nowhere is this more pertinent than Indonesia, home to the world's largest Muslim population.
On 17 April Indonesians will go to the polls to vote on what most experts frame as a two-horse race. Incumbent President Joko "Jokowi" Widodo will face off against Prabowo Subianto – the ex-son-in-law of the infamous Indonesian dictator Suharto.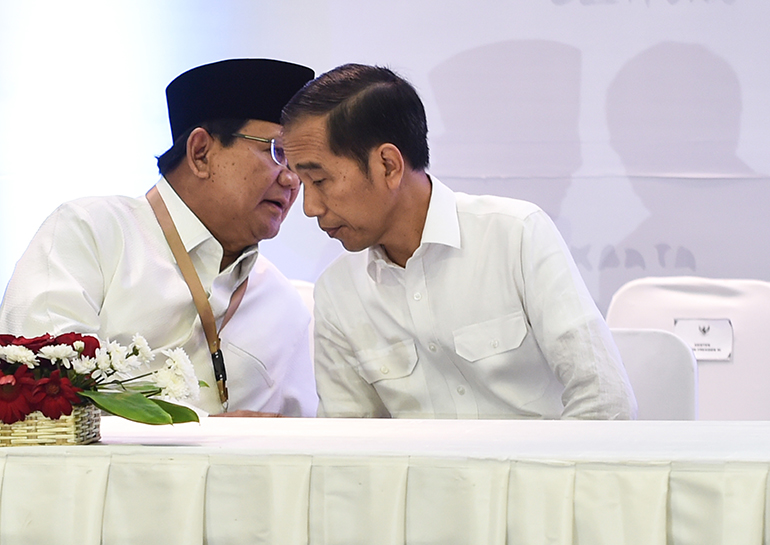 While both candidates have publicly backed Pancasila – the country's foundational political philosophy that promotes religious adherence, equality and democracy – they are attracting very different supporters.
Generally, the secular Jokowi appeals to the more liberal voters, so much so that his religious credentials have been questioned by more hardline Muslims.
Many of these same hardliners have committed themselves to Prabowo's cause.
"Prabowo's core supporters come from modernist-oriented, theologically conservative Muslim clerics, activists, and organisations," stated Alexander Arifianto, a research fellow at the S. Rajaratnam School of International Studies (RSIS), in a political commentary.
While this tactic may indeed cement a strong foundation of support, it is unlikely to inspire the national unity that is so intrinsic to the Pancasila philosophy.
Arifanto argues that despite Prabowo running a "lacklustre" campaign that lacks major financial backing, he may still come out on top by appealing to this base.
"[Prabowo is ensuring that] identity politics continue to play an important role during the election campaign, promoting further polarisation and divisions within the Indonesian society."
This game of identity politics is also being played out in the region's other majority-Muslim country. Malaysia's political landscape was turned on its head in 2018 when political party United Malays National Organisation (UMNO) lost its long-held grip on power in a stunning election defeat.
Now in opposition, the party has slipped into bed with an unlikely ally in the form of the hardline Pan-Malaysian Islamic Party (PAS). The Islamist party's principle mission is the nation-wide implementation of an Islamic penal code – as Brunei has now achieved.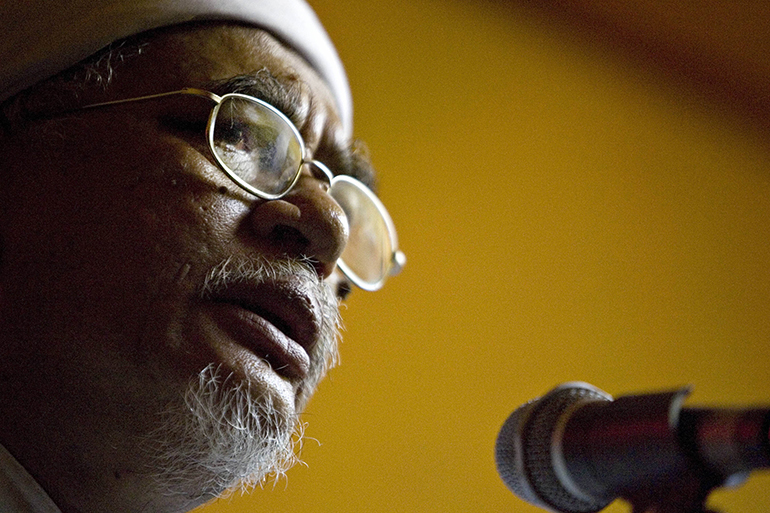 The party governs two states in Malaysia – Kelantan and Terengganu – where it has established stricter punishments such as caning for breaches of Islamic law. Recently there have been a string of canings, including two women convicted of having sex with each other, which prompted outcry from rights groups.
In 2017, PAS attempted to push through a bill in parliament that would have seen parts of the Islamic penal code incorporated into Malaysia's existing Islamic legal system.
It never went through, despite thousands taking to the streets in support of it.
With UMNO now weakened by allegations of widespread corruption and its former leader – and ex-prime pinister – Najib Razak in court this week on charges relating to the massive 1MDB scandal, currying favour with far-right conservatives may be a way back to political relevance for the party.
PAS and UMNO leaders united at a huge protest in Kuala Lumpur at the end of last year in opposition to Malaysia adopting a UN treaty aimed at eliminating all forms of racial discrimination, known as ICERD.
Hew Wai Weng, a research fellow at the Institute of Malaysian and International Studies, told the Diplomat at the time that the rally was less about ICERD and more a way to flare up support for the PAS-UMNO allegiance, while "framing the Pakatan Harapan government as anti-Islam and anti-Malay."
No such politics can play out in Brunei, where the Sultan holds absolute rule. However, the country's implementation of the Sharia penal code will not go unnoticed in the region.
The Brunei Project's Woolfe is still hopeful that with enough pressure activists can still get the laws repealed or amended, "or at the very least, ensure that these violent and abhorrent punishments are never carried out."
The group's Facebook page went down on Tuesday for what Woolfe described as "operational reasons", adding that he was stretched thin with so many media requests. For a few days this week at least, the world's attention turned to tiny Brunei.
Although it is unlikely Brunei's move will have any effect on the wider region, Woolfe believes that Southeast Asia's conservatives will have been watching closely.
"I think Sharia law proponents in other parts of the region, particularly in Indonesia and Malaysia, will be encouraged."