A vital resource runs through the veins of the Cambodia's youth. Life-saving services are battling to ensure it gets to those in need
by Gregory Pellechi, Photography by Sam Jam
When Zach Lampell received a text message asking him to give blood on January 15, his first thought was: "Do they still need blood and how do I give it to them?" An American and resident in Cambodia, Lampell was one of 12 donors that night to provide the rare O-negative blood needed by one of the victims of an unexploded ordnance (UXO) accident, which left four people seriously injured.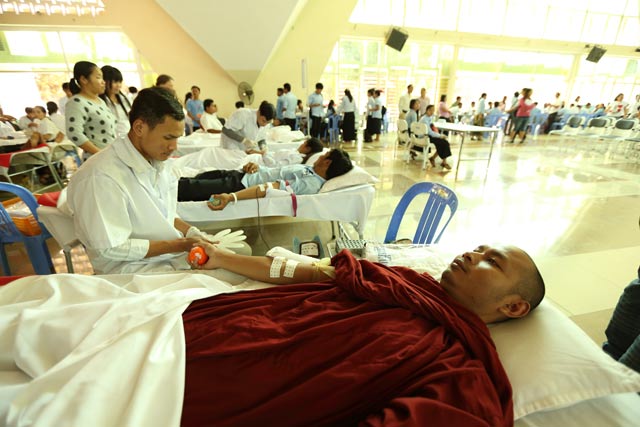 Receiving a plea for blood is unusual for many foreigners visiting the country, but sending out an SOS is a common occurrence for the Kingdom's national blood service, the National Blood Transfusion Centre (NBTC). Like in the rest of Asia, O negative blood is an extremely rare blood type in Cambodia.
"Only 0.3% of the population in Cambodia, including permanent [foreign] residents, is O negative, the majority of which happen to be foreigners given its greater prevalence in European populations," said Dr Sek Mardy, the national professional officer for blood safety seconded to the NBTC from the World Health Organisation (WHO).
In need of rare blood types, the NBTC has established a list of donors. Yet relying on the goodwill of strangers such as Lampell to respond to emergency situations is not a sustainable practice, given that men can only donate every three months and women every four.
Central to a healthy national blood service is a continuous supply of voluntary donations, which should meet 100% of the country's blood needs, according to the WHO. Last year, Cambodia's voluntary donations accounted for 30% of the total need, with 'replacement donors' – family members who donate when a relative is in need – accounting for the rest.
To move away from replacement donors and to boost its anaemic supply of regular voluntary donations, the NBTC has renewed a campaign to connect with a new generation of donors. The project hopes to increase the percentage of voluntary donations it receives this year to 50% of the total – which requires between 21,000 and 24,000 donations, ideally by regular, repeat donors.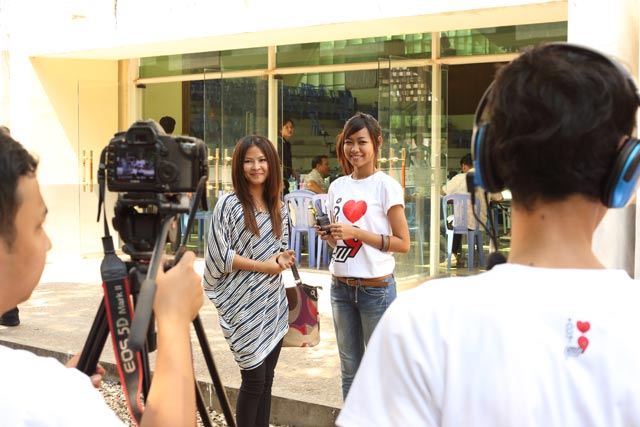 "[The NBTC needs] good blood donors to ensure you have good blood – this is the first thing," said Dr Hok Kim Cheng, director of NBTC, which last year provided 80.4% of the blood required in Cambodia. Non-profit hospitals such as Kantha Bopha provided the remainder.
He added that hospitals should do more to educate the populace about blood use and train their staff in better handling blood stock. "We cannot increase the blood stock if the hospitals are not using it appropriately," said Cheng.
To handle an increased supply of blood the centre needs new facilities to process and store the blood, something they hope to receive within the next two years. The NBTC has also been working with the WHO, United States Centre for Disease Control, Australian Red Cross and University of Nagasaki to improve its blood service.
The NBTC must collect on average 100 units per day to meet its demands in Phnom Penh. About 150 units are needed throughout the country.
To do so the NBTC is working in conjunction with BBC Media Action's multimedia programme Loy9. The television and radio programme incorporates elements of social media to promote civic engagement among the youth of Cambodia. In its first pairing with the centre, Loy9 drew over 400 students to donate at a blood drive held at the Royal University of Phnom Penh.
"Loy9 is about encouraging young people to get involved," said Colin Spurway, programme director for BBC Media Action.
The blood drive was the setting for one of Loy9's scripted drama episodes, where Metrey – the main character played by Srey Rote – sets about organising a blood drive in honour of her stricken boyfriend. Throughout the episode, which is set to air in June, the issue of blood donation is discussed.
Cheng is hopeful that this new partnership will dispel myths surrounding blood donation in Cambodia – such as that you have to pay for blood and you can be too thin to donate – and encourage Cambodian youths to become recruiters.