After years of demining land in northwestern Banteay Meanchey province, Piseth Dara is hoping to move onto recovering explosives underwater. "I want to challenge [myself]," the 21-year-old said, dripping after emerging from a swimming pool. "I used to work to clear mines on the land so this is a good chance for me."
Dara is the youngest of 35 staff from national demining organisation the Cambodian Mine Action Centre (CMAC) who were accepted into a gruelling swim and dive training programme funded by the US Department of State's Office of Weapons Removal and Abatement.
Over four weeks, trainees are taught and tested on skills including swimming, knot tying and underwater search procedures in low or zero visibility. The best of those who pass the course will eventually form a new CMAC dive salvage unit and receive further instruction from salvage divers.
When ready, the unit will scour the murky Mekong and Tonle Sap rivers for sunken ships and barges potentially carrying large stockpiles of explosive remnants of war (ERW) from military conflicts in Cambodia in the late 1960s and 1970s.
The Mekong and Tonle Sap rivers are hazardous even for skilled divers.
"The river environment is the most dangerous part," said Allen Tan, general manager and explosive ordnance disposal (EOD) supervisor at the non-profit Golden West Humanitarian Foundation, which is coordinating the training."A lot of the ordnance [in the river] is in shipping configuration and we'll teach them how to identify when it's not – so the ordnance we're looking at them pulling up is in a relatively safe state."
Tan, a former US Army EOD specialist with experience in Iraq and Afghanistan, said divers must be able to control their bodies, thinking and acting clearly underwater. "You can't panic," he said.
Below the surface, divers will confront a dynamic underwater obstacle course of flapping fish, protruding wrecks and fishing nets, in strong currents and largely without the advantage of sight. Visibility in the Mekong River is roughly 20cm and divers can see nothing in the Tonle Sap River – a condition known in diving circles as 'black water'.
"Everything they see has to be seen with the hands," explained Robert Rice, a Texas-based former US Navy EOD specialist and the programme's lead instructor.
Despite extensive clearance efforts in recent years, landmines and unexploded ordnance (UXO) – commonly explosives that were fired, but did not detonate – remain sprinkled over Cambodia.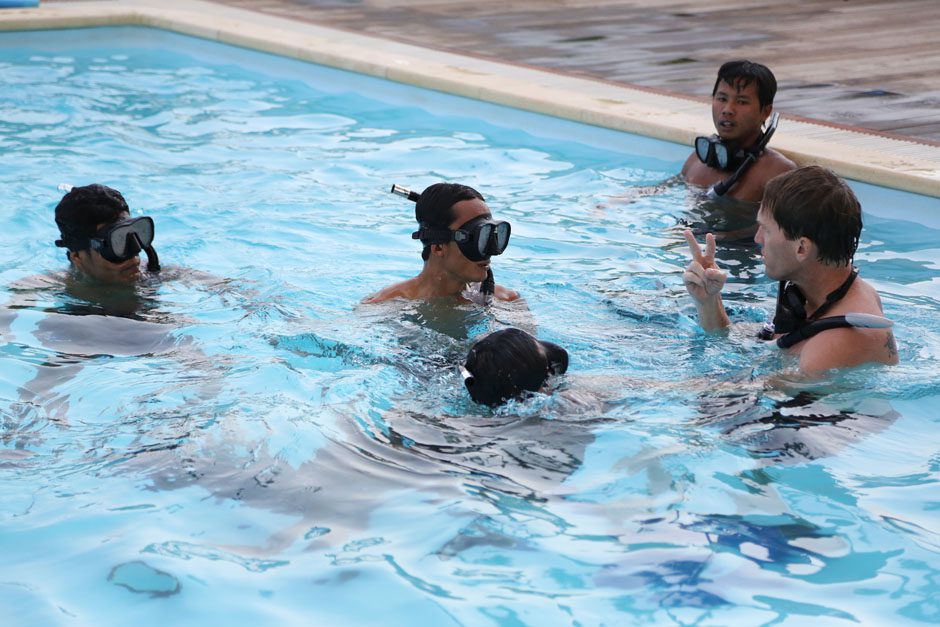 From the late 1960s up to 1975, 2.7m tonnes of ordnance were dropped on Cambodia, according to US State Department data provided to CMAC, though CMAC director-general Heng Ratana said the figure could be higher.
According to figures recorded by the Cambodia Mine/UXO Victim Information System, there were 19,662 deaths, 35,640 injuries and 8,900 amputations resulting from mines and ERW in Cambodia from 1979 to 2012.
Reliable data on the amount of ordnance in Cambodia's waterways are difficult to determine. According to Golden West, US bombing data from the Vietnam War include 207 references to attacks on vessels. However, planned attacks may not have hit targets and key data is missing from the militaries of the Lon Nol regime that ruled Cambodia between 1970 and 1975, and the Khmer Rouge from 1975 to 1979.
Heng Ratana said CMAC had limited capacity to clear large caches of explosives in rivers, which is crucial for the safe development of infrastructure such as bridges.
CMAC and Golden West previously scanned the Mekong River for such stockpiles near Neak Loeung, southeast of Phnom Penh, where a bridge linking Kandal and Prey Veng provinces is being constructed.
"You cannot have a lot of explosives just hidden somewhere like that or openly known by many people," Heng Ratana said. "Diving training will provide us more skills to deal with this problem."
Golden West staffers have been testing and refining equipment and techniques in Cambodia's rivers for some time, combing banks and beds for strong metallic signatures that could signify explosive cargo.
During one dive, they retrieved glass bottles from a boat likely originating from the French colonial period. They also located the wreckage of a boat believed to be from the Lon Nol era in the Tonle Sap River in central Kampong Chhnang province, containing an estimated 20 tonnes of UXO from the US that was partially recovered by CMAC in 2011.
About 11 tonnes of UXO from the boat were 'harvested' at Golden West's training centre at a CMAC site in Kampong Chhnang. Through this process, live ordnance found in Cambodia is cut to extract its explosives, which are used to create charges for humanitarian demining organisations to dispose of landmines and UXO – an alternative to importing explosives from abroad.
For now, the wreckage and its remaining ordnance lie in the river in Kampong Chhnang – a key target for future dive salvage operations, according to Tan.
Despite the obstacles and hazards that await salvage divers in the rivers, Piseth Dara is motivated by the prospect. "I want to clear all the mines in Cambodia on the land or under the water," he said. "The mines can cause a lot of danger to all Cambodian people."