Every detail has been carefully considered at Bangkok's Ma Du Zi Hotel, where personalised service makes guests feel at home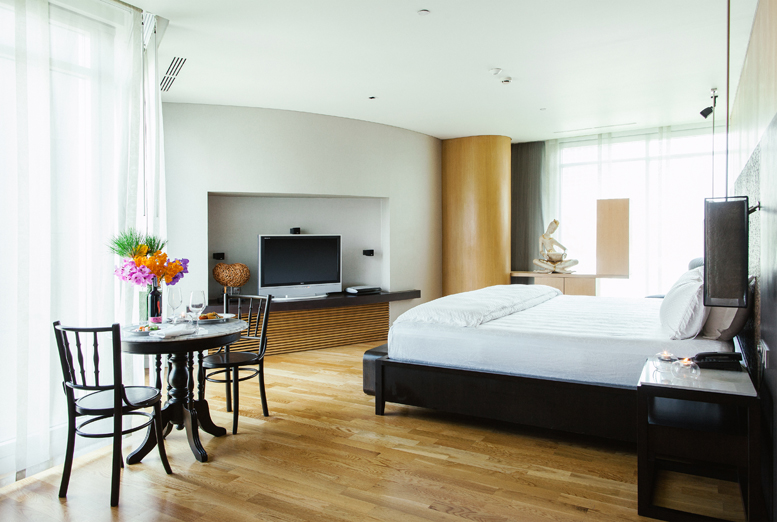 The term 'boutique' is thrown around with a little too much abandon in the hotel industry these days. Far from a "small, exclusive business offering customised service", as per the dictionary definition, the term has simply become a synonym for independent, usually with mixed results.
Bangkok's Ma Du Zi Hotel, however, is offering a boutique experience in the truest sense of the word. It is the small touches here that make all the difference. Guests, for example, choose their own check-in and check-out times; the bar menu's tea and coffee selection is available free of charge, 24 hours a day; and guests can even choose their own happy hour at the bar, any time of the day or night. Not to mention the complimentary minibar and breakfast served until 2:30pm.
Such flexibility is in keeping with a property that manages to feel both homely and welcoming while still incorporating striking aesthetics. A floor-to-ceiling window that runs from one end of the building to the other is shielded by a cast aluminium bronze screen in a floral, arabesque pattern inspired by the Alhambra. This design feature references the owners' ancestry, and such personal touches from the brother and sister team behind the hotel are scattered throughout the property, from a miscellany of teapots unearthed on their travels to their personal book collection, sitting on shelves in the restaurant and available for guests to read.
In the guest rooms, the hotel's dark, masculine design is lightened somewhat, with the brown leather and Lanna-style wooden statues of the bar and lobby replaced by a mix'n'match of global design influences. Swedish leather chairs, Iranian rugs, Thai art and Japanese sliding doors combine to create a feeling of somewhere familiar yet exciting and fresh. And of course, Ma Du Zi's personalised service continues into the rooms, for this is a place where you feel like a guest, not a customer.
Breakfast of champions
Chef Yuya Okuda from Tokyo learned the secrets of French cuisine at La Table de Marçay in Loire, France, and Taillevent Robuchon in Tokyo. His cuisine at Ma Du Zi Restaurant melds these classical influences with his own Japanese ingenuity. The tasting menus at lunch and dinner are enjoyably extravagant, yet most guests will experience chef Yuya's handiwork at breakfast. Ma Du Zi serves up one of the best hotel breakfasts we've experienced, with a 'classic breakfast' menu providing pancakes, sausages and the like, 'specialty breakfasts' taking cues from France with creations such as black truffle quiche, while the 'healthy corner' is packed full of chia seeds and other superfoods.
A world of shopping
Less than a five-minute walk from Ma Du Zi on Sukhumvit Road, lies Terminal 21, one of Bangkok's best shopping malls. Modelled on an airport, replete with a departures board and gates, each floor is themed around a different world city, including London, Paris and San Francisco. But forget the kitschy London buses and miniature Golden Gate Bridge, it is Terminal 21's huge selection of independent designers that makes it stand out. Three out of nine floors are dedicated to local labels, and each is full of unique gifts and clothing at very reasonable prices.
Hitting the high notes
In a city famed for its rooftop bars, the Sukhumvit area had to wait far too long for its own incarnation. Then Octave Rooftop Lounge and Bar opened atop the Marriott Hotel Sukhumvit and the capital's most famous shopping street had a towering bar to match its lofty reputation. Expect a mixture of locals and tourists gaping in wonder from the bar's three levels, all while enjoying inventive cocktails such as the Ocean Drive, which includes Absolut Elyx, cayenne pepper and kaffir lime leaves, or the bar's signature Thai Mojito, which adds mango and the spicy anise flavour of Thai basil to the perennial favourite.
Essentials
Tel: +66 (0)2615 6400. Address: 9/1 Ratchadaphisek Road (corner of Sukhumvit Soi 16) Klongtoey, Bangkok 10110, Thailand. Website: maduzihotel.com. Email: reservation@maduzihotel.com. Rooms: 40 rooms with four different room types, from the 49-square-metre Ma Du Zi Classic to the 79-square-metre, two-bedroom Ma Du Zi Suite. All rooms include Wi-Fi, a Bose sound system and an infinity spa jacuzzi by Kohler bathrooms. Recommended accommodation: the Ma Du Zi Corner Suites provide a little extra space and are popular with honeymooners and other special occasion travellers.