Myanmar's leader told reporters her administration is considering amending the country's Telecommunications Law after the widely condemned arrests of three journalists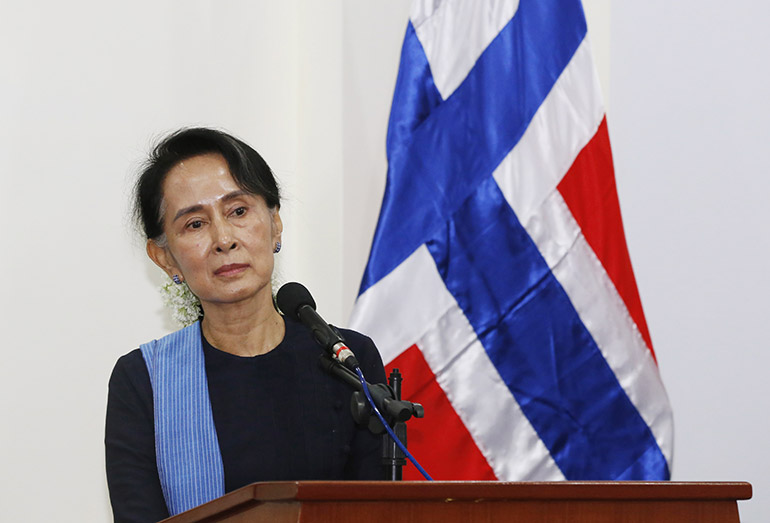 Myanmar leader Aung San Suu Kyi told reporters at a press conference on Thursday that her administration was "considering amendments" to the country's Telecommunications Law, which human rights groups say has been applied selectively to crack down on political dissent.
The announcement follows last month's arrest of three local journalists from independent media outlets the Irrawaddy and DVB for "unlawful association" after they travelled to the northern Shan State to cover a drug-burning event organized by an armed rebel group.
Speaking at a press conference with Norwegian foreign minister Børge Brende on Thursday, Suu Kyi did not announce any specific amendments, besides confirming that the changes would pertain to section 66(d) of the law, but Myanmar officials have indicated that they will enable judges to release on bail those charged under the law, according to Reuters.
Since the law was brought into force by the previous government in 2013, over 70 people have been prosecuted under section 66(d), an ambiguously worded clause that provides for up to 3 years in prison for "extorting, coercing, restraining wrongfully, defaming, disturbing, causing undue influence or threatening any person using a telecommunications network."
According to PEN Myanmar, a group of writers that advocate for freedom of expression, 38 of those arrests have taken place since April 2016.
The Voice Daily's chief editor Kyaw Min Swe is currently on trial under the law for a satirical article making fun of the military.
In a statement released last Thursday, 61 human rights organizations urged the government to make immediate changes to the law, the vague wording of which they said made it open to abuse. The recent spate of arrests related to the controversial law has led to something of a media backlash, captured in the Frontier Myanmar's latest magazine cover, which shows a handcuffed hand holding a pencil.
How much has really changed for Myanmar's journalists in the last few years? This week's cover: pic.twitter.com/GWaMoCjx8U

— Frontier Myanmar (@FrontierMM) July 4, 2017

Following the three recent arrests, Katina Adams, a spokeswoman for the US State Department, called for "immediate action on this matter consistent with international standards of human rights and freedom of the press".
Asked on Tuesday to comment on the arrests, Suu Kyi replied that it was "not for us to comment on … how the various cases should be tried in the court – that's for the justice sector to take care of".
"This should not be seen very narrowly as three journalists against the army or vice versa," she said. "But in general, as to whether the existing laws are in line with our desire for justice and democratization."