With a Monday-to-Saturday working week, most of Phnom Penh's residents spend Sundays at home with the family. Joyously waving their arms to a rousing gospel-ska-reggae hybrid is not often on the agenda. But in an unassuming two-storey house located in a usually quiet residential area, that is exactly what a group of African expats, along with a smattering of Cambodians, is doing – all of them drawn in by the magnetic presence of Pastor Prince Lenee Lahben.
"Praise the Lord!" Lahben exclaims as he bounds up to a podium to address his congregation. The Nigerian pastor is resplendent in a crisp white suit, shirt and tie; the dapper look is rounded off with an impressive medley of shiny rings on his fingers.
"Hallelujah!" the crowd shouts back. "Praise the Lord!" repeats Lahben, louder this time. "Hal-le-lu-jah!" the worshippers respond, with considerably more gusto than before.
Everyone is enraptured, caught between the shards of light refracted off a disco ball on the ceiling and the six-piece dance band's electrifying rhythms, codified by the sound of congas and a bass guitar. A palpable energy engulfs the room as the pastor begins his service.
"People have the wrong idea about the church," Lahben says later. "Being sad and saying 'amen' does not make you a holy person. We believe in liberty and in God's presence. So, wherever there is God, there is liberty to express joy. This is why we dance and we sing to give praise to God."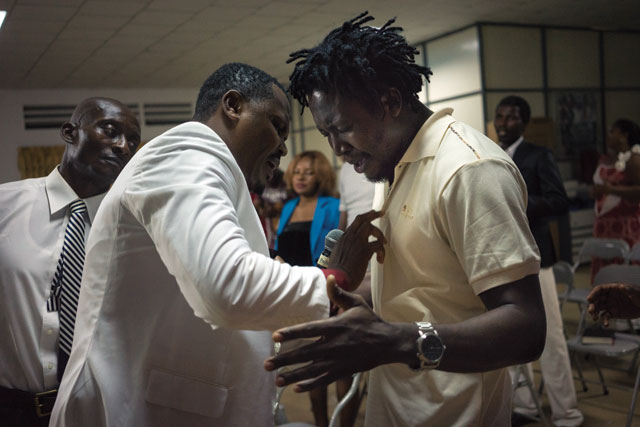 Lahben is the leader of the Cambodian branch of Christ Embassy – also known as Believers' LoveWorld – a Pentecostal mega-church based in Lagos, Nigeria, with branches in the UK, US and South Africa. For those used to typically reserved religious services, Lahben's church seems akin to a holy rave – something he enthusiastically backs up with a reference to the Bible. According to his interpretation, King David danced so hard to the sound of trumpets and drums upon the return of the Ark of the Covenant that he lost all his clothes – hence all the booty shaking in Phnom Penh.
So now you can see that according to the Bible it is OK to dance, this is why there must be some kind of a party going on.

Pastor Prince Lenee Lahben
There is, however, more to the Christ Embassy than enjoying a cheeky rave up. Every three months the pastor holds "divine healing" sessions, during which he claims to cure people "by the touching of hands through the power of the Holy Spirit".
"I hold the divine healing service once every three months because I have to prepare very well for it," he says. "I have to fast for three to seven days before, so that God and the Holy Spirit can come and talk to me. It is also very exhausting, so I cannot do it very often."
For someone not au fait with the pastor's healing ceremonies, the first one can come as a bit of a shock. There are no Exorcist-style crosses brandished or projectile vomiting, but the proceedings are no less fraught.
For these occasions Lahben dresses solely in white. He begins by calling those with an ailment to the front of the congregation and holds on to them one by one, energetically ordering the illness to leave the worshipper's body "in the name of the Holy Spirit". In the charged, strenuous atmosphere a woman undergoing the ritual collapses into the arms of the pastor's wife, who is strategically placed just behind. The woman is not the last to faint.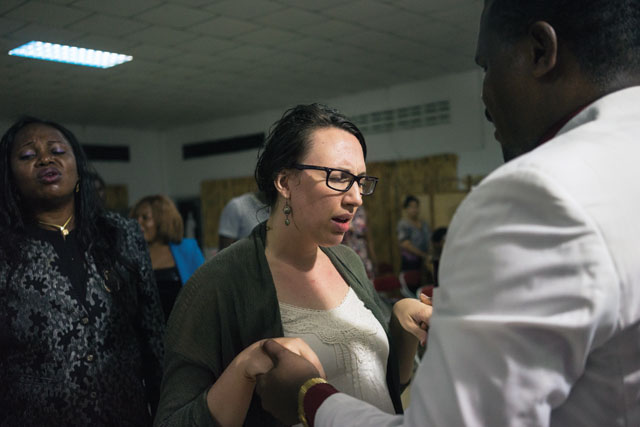 It is these 'Atmosphere for Miracles' sessions that Lahben says convinces most Cambodian converts to join his church. "They come here and they see the miracles and it is different to what they know," he says. "They are really surprised with all the healing because they have never seen such power before. So they say: 'Why go to Buddha? Let's go to Christ.'"
According to Lahben, "people of all denominations, including Anglicans, Catholics and Buddhists" from all over the country flock to the church's doorstep, hoping for a cure for their illnesses. One healing ceremony even had a Ghanaian footballer playing in the Thai Premier League make the trek to seek relief for his leg injury. While he did not faint, he was eager to share his testimony with the congregation and has remained in touch with Lahben ever since.
"He came here for the healing service and now he is doing great," Lahben says. "He just called me and told me. You can call him yourself."
Then he seems to pre-empt the question that has to be asked. "Some people say it's a game, but that's not the case. These things are real," he says vigorously. "Here we've got belief and the Holy Spirit at work."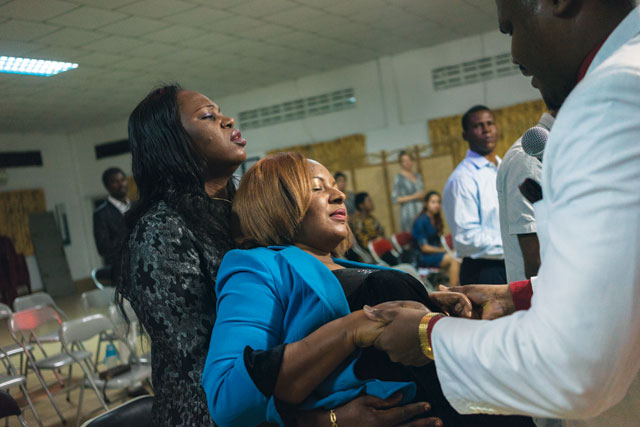 But being the freedom-loving man that he insists he is, the pastor is not one to worry about changing people's minds about his healing abilities.
"Everybody is free to think what they want, and you have the right to question it," he says, a broad smile lighting up his face. "In fact, you have to question it."