Tourism
At Smiling Gecko, luxury meets traditional Cambodian rural living
Set out in Kampong Chhnang province, the Smiling Gecko farmhouse, with its well-equipped traditional wooden bungalows and fine-dining Cambodian menu, provides a taste of rural life in the Kingdom, but with a twist of luxury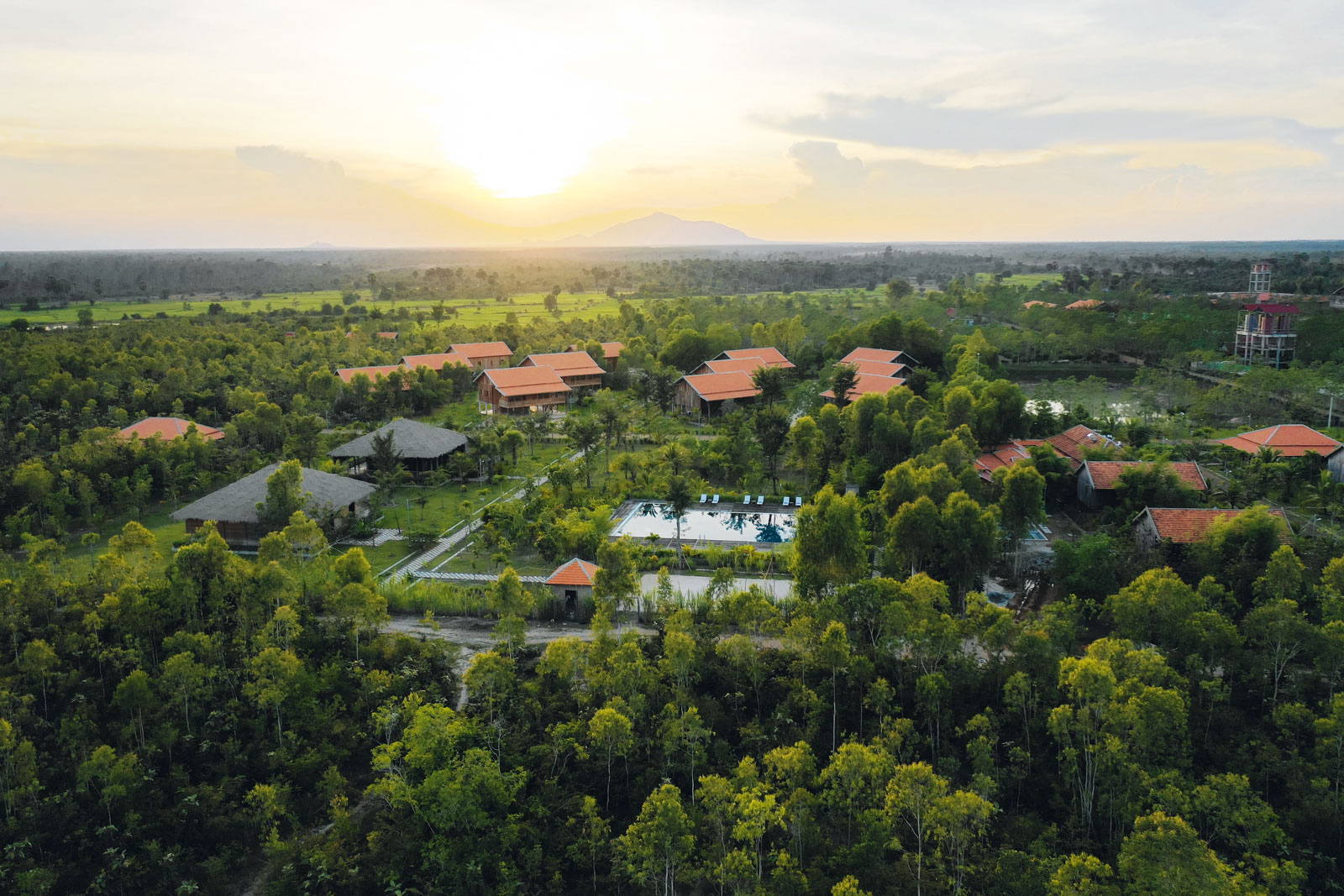 You'd be hard pressed to find a boutique resort with the ambiance, backstory or model of Smiling Gecko Farmhouse.
The resort sits a two-hour, 80km taxi ride from Phnom Penh – an especially scenic journey once crossing the provincial boundary into rural Kampong Chhnang, as the car meanders down quiet roads running parallel to the sleepy Battambang-bound railway line.
Upon turning off the dirt road into the resort, soon apparent is Farmhouses' seamless blend – from the accommodation to the food – of grassroots Cambodian community living with refined comfort.
Populating a quiet cul-de-sac of tiled pathways and manicured lawns are traditional Cambodian stilt houses. Made from locally-sourced wood and fitted with orange-tiled roofs, from the outside they are hard to distinguish from some of the smarter homes in the nearby local community.
Once inside, a spacious and cool air-conditioned room awaits, hosting wooden furniture made on the premises at the resident carpenters. With its spacious bathtub and rainforest shower, the stilt house also plays host to an en suite that wouldn't look out of place in a high-end hotel. The bathroom's eco-soaps, recycled dental kit and waste water recycling system also allude to the ethos of environmental and economic sustainability underpinning all aspects of the resort.
A profit-generating arm of the Smiling Gecko aid project co-founded in 2014 by Swiss artist Hannes Schmid and Cambodian lawyer Ngon Sokleap, all of the profits are funnelled back into the wider initiative.
It was this model that attracted Benjamin Lehmann. Now Smiling Gecko Farmhouse's general manager, he had lived in Thailand for seven years working in luxury hotels before relocating to Cambodia one month ago.
"The money you make with the company, you actually use to help other people," he said.
"Hospitality is hospitality, but here it's more than that."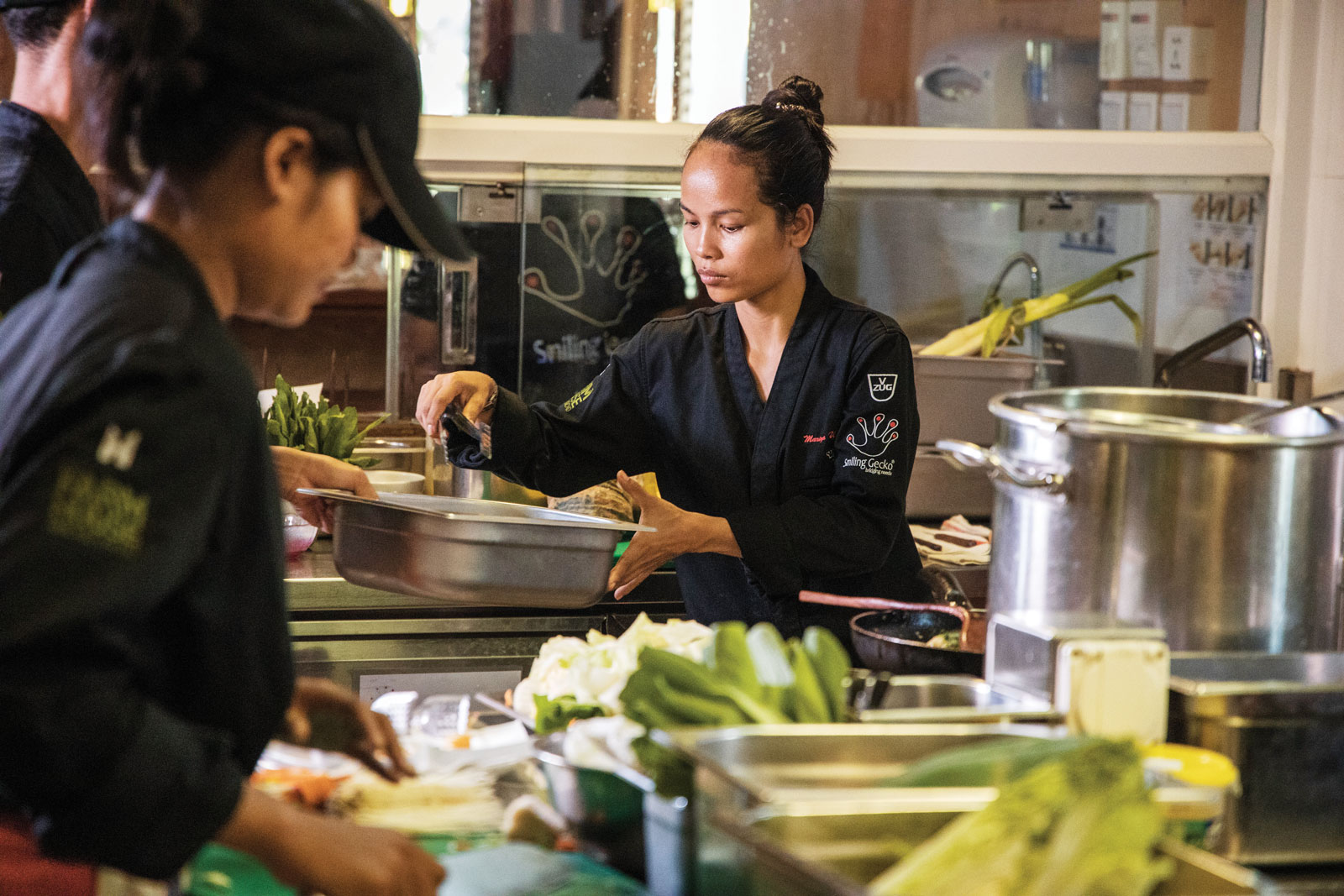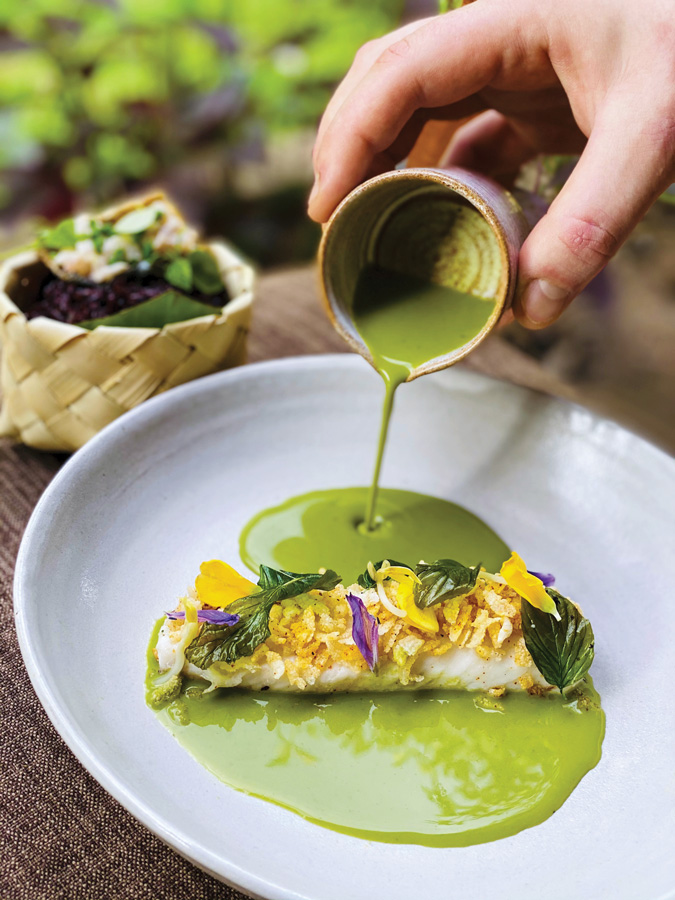 The money you make with the company, you actually use to help other people
The Farmhouse resort has slowly expanded in size and comfort since it was first erected as a homestay and kitchen in 2015. Today, the site has 34 rooms across 17 bungalows, and boasts a tranquil swimming pool nestled within lush greenery, a yoga studio, spa, volleyball court and open-air conference room able to host around 70 people.
But while offering luxury and comfort for guests, Farmhouse remains closely intertwined with the local community surrounding it.
The resort directly provides jobs to some 40 Cambodians from both Phnom Penh and the surrounding community, provided with training in the finer details of hospitality. It also operates on the same grounds that hosts a Smiling Gecko's expansive development initiative, which includes a livestock rearing and agriculture programme run by resident families, a carpentry workshop, a culinary centre, and school.
The operations of both the resort and charity are intertwined in both an organisational and very physical sense, lending the resort its uniquely community ambiance. Gravel paths, traversable with the many bicycles available at the front desk, dissect through agriculture projects – a lake for rearing tilapia on one side, a watermelon patch on the other. This agriculture sustains the community of workers and families living on the land, while at the same time keeps the resort's kitchen pantry well-stocked.
It's a "farm-to-table" concept, says Farmhouse's head chef Mariya Un Noun. The 31-year-old Cambodian woman, a rising young star on Southeast Asia's culinary scene by most accounts, leads a kitchen of eight Cambodian cooks at Farmhouse. The menu features a selection of mostly Khmer classic dishes, but given a refined touch.
"We try to get as much of the produce from our farm and local areas as possible," said Mariya. "In our farmhouse we have almost everything. We have our own pork, our own chicken, our own fish. Sometimes we are lucky and we get buffalo. Some days I run into the kitchen and say 'what do you have, what do you have?"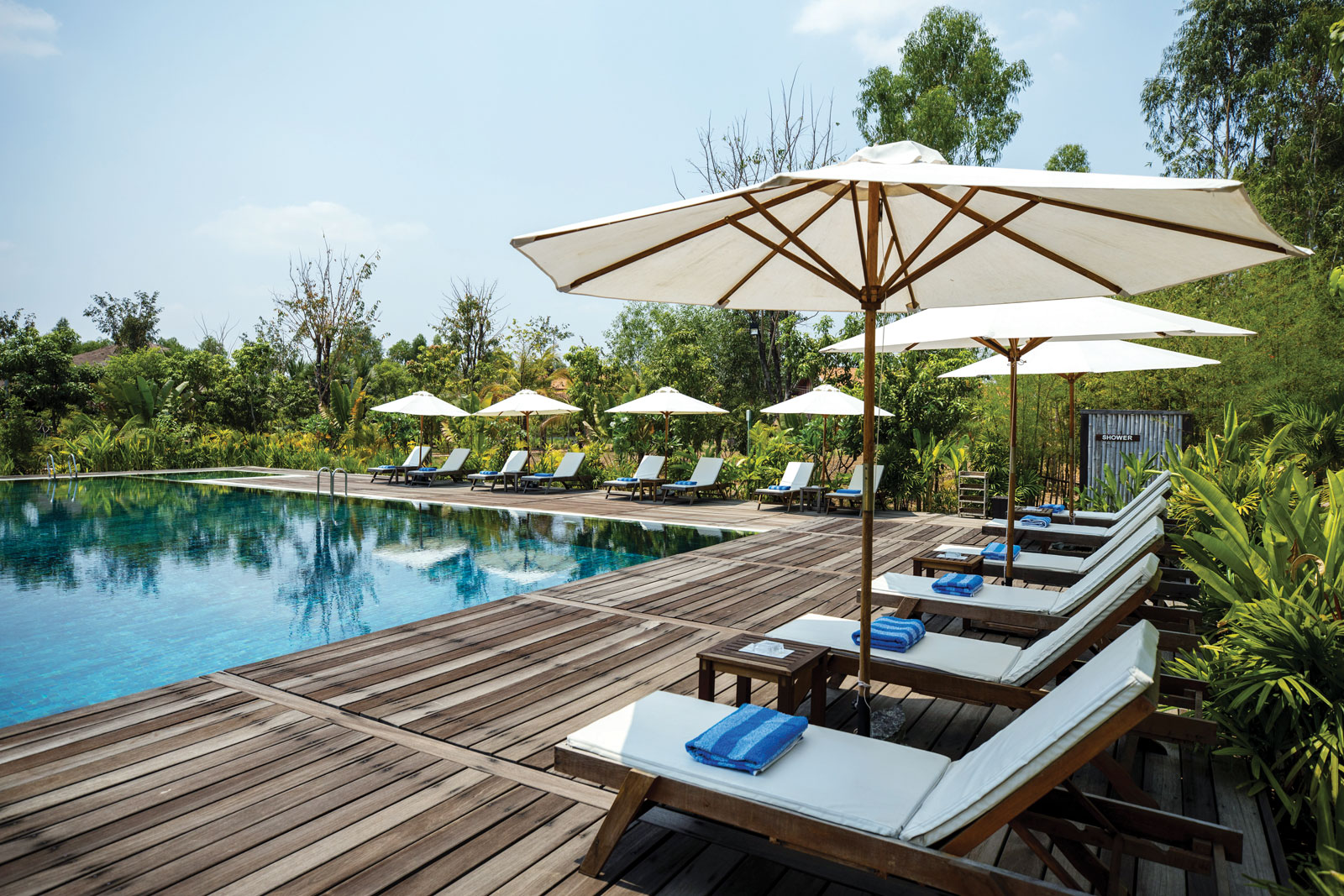 For co-founder Sokleap, Mariya's menu is the Cambodian food he grew up eating, but elevated to the next level.
"What is different in this is that it is more refined. What Mariya is trained to do is Nouvelle Khmer Cuisine," he said. "That's one of our goals, how we can bring Cambodian dishes to another level."
Mariya, too, is perhaps the perfect embodiment of the organisation's wider ethos. Growing up in a slum in the capital, she worked low-paid garment factory jobs until her talent for cooking was discovered in 2014 preparing a meal for guests in Smiling Gecko's Phnom Penh office.
"We had dinner, and a friend of mine from a hotel institute said: 'Hannes, this woman has a talent. I've lived 15 years in Asia and I've never tasted anything like this'," said Hannes, taking a break from shooting a cooking video with Mariya for prestigious French restaurant guide Gault Millau. Hannes is himself a celebrated Swiss photographer-turned philanthropist, who today harnesses his skills towards documenting projects at the site.
"So I said to him, if she's talented, we'll get her a passport and send her to Switzerland to enrol in international hotel schools."
What's followed has been a rags-to-riches story, as the young Cambodian has honed her skills in Michelin star kitchens across Switzerland, Italy and France. Today, her chef's uniform features the logo of high-end Swiss homeware brand V-zug – a sponsor of the up-and-coming talent.
In-keeping with Hanne's tireless vision for Mariya and Smiling Gecko, the ever-improving Farmhouse resort has plans to upgrade and expand its facilities on the organisation's vast 150-acre plot throughout 2021.
"We are set to build a gourmet restaurant, an air conditioned meeting room, a luxury lounge area," said Ben, pointing out to a patch of open grass from the current restaurant's shaded dining area.
"They will all be connected by walkways – it will be a bit of an oasis."
---
Read more articles