Asean trade with China is skyrocketing, but the region's great benefactor is holding all the cards
By Steve Finch
Speaking at the annual Asean-China economic forum at the end of September, Chinese Vice-President Xi Jinping's speech was as predictable as his carbon-copy Communist Party hairstyle.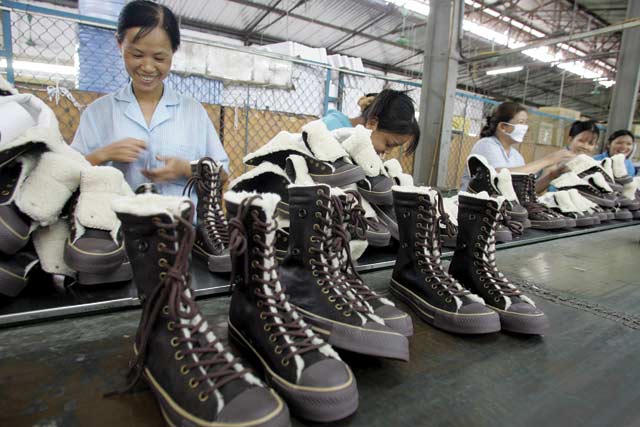 He talked of raising trade and investment, cutting tariffs and building friendly relations as more than 300,000 businessmen from China and Southeast Asia milled around trade kiosks at the event in Nanning, Guangxi Province.
"The future destinies of China and Asean have never been so closely linked with each other," he told the region's leaders and their deputies.
The man who will almost certainly become China's president when the party chooses its new leader this month, Xi used the phrases "win-win" and "mutually beneficial" a combined eight times when describing China's economic ties with Southeast Asia.
But how much do Asean's ten member states benefit from trading with the world's second-largest economy?
On the surface, things could not be better. Trade climbed a staggering 24% last year to $362.8 billion, cementing China as Asean's biggest business partner for the third year running.
Although trade growth slowed to 10% in the first half of this year, Asean and China are well on track to reach their goal of $500 billion by 2015, just as they have smashed previous targets. Economists partly attribute this phenomenal expansion to a free-trade deal called the Asean-China Free-Trade Area (ACFTA), which came into effect at the start of 2010, reducing tariffs on food items in particular.
Yet beneath these figures is a more nuanced picture that does not always mean advantage Asean, especially since ACFTA. Last year, trade between Cambodia and China expanded a massive 74% to $2.5 billion, "the highest … bilateral trade [growth] between China and an Asean country" in 2011, noted the Chinese Embassy in Phnom Penh.
Yet it was markedly one-sided. Some $2.31 billion represented Chinese exports and only $184m Cambodian, an imbalance greater than Cambodia's overall trade deficit last year at $1.73 billion.
China's trade with more developed Asean economies like Singapore and Malaysia is less dynamic in terms of growth, but many times larger and far less lopsided.
"So far, the negative impacts of ACFTA have been felt most in small Asean countries," said Shintaro Hamanaka, an economist with the Asian Development Bank's Office of Regional Economic Integration.
Such trade imbalances put a strain on foreign currency reserves, but there is an upside. Many of the garments imported from China are made from raw Cambodian cotton, said Hamanaka, while the reduction in tariffs on imported farming machinery prompted by ACFTA also spurs Cambodia's farming sector.
In Laos, preliminary studies into the effects of the free-trade deal show similar results for the wood industry. China has imported ever-growing quantities of raw timber, turned it into furniture, and then sold it back across the border.
This is great if you sell wood in Laos but creates longer-term structural problems for developing Asean economies as they fall into a cycle of selling their raw materials rather than adding value, the key to true economic progression.
"Small and medium enterprises have to shift to more competitive products or look for ways to boost their productivity," said Hamanaka.
Even Vietnam – the most developed of the late-blooming Asean quartet that also includes Cambodia, Laos and Myanmar – has faced similar problems when it comes to trading on a level playing field with China. At a business conference last year, economist Le Dang Doanh noted that Vietnam exports rubber and "then imports car tyres" from China, a scenario similar to that of the country's garment industry.
In Yangon recently, an Israeli businessman who runs a number of factories in China that make high-end backpacks noted that the Chinese have become masters at producing every conceivable fastening, material and logo an investor may need to make a product. Vietnam can produce most of these too, he added, while Myanmar was capable of manufacturing only a tiny fraction. The businessman said he wanted to invest in Myanmar, but only if wages were low enough. Productivity-wise, Myanmar doesn't cut it yet, he added.
Staying ahead of the China productivity curve has proven difficult for countries like Cambodia, Laos and Myanmar in particular, where Chinese companies have invested heavily, but often in industries like mining, oil and gas and electricity production used to fuel China's inevitable economic rise.
As China has become bigger it has also become bolder, as witnessed increasingly this year in spats with Vietnam and the Philippines over islands in the South China Sea that have further skewed economic relations with Asean.
After Cambodia helped block an Asean statement in July that would have included reference to these islands, China offered $420m in soft loans for unspecified projects in Cambodia, adding to similar agreements earlier this year. Analysts point to a direct correlation between an escalation in this financial aid and Cambodian backing behind closed doors at Asean meetings.
In August, around the time tensions were at their peak over the Spratly and Paracel islands, Vietnam's state press issued a little-noticed report that China had sent an army of customs inspections officers down to the border at Mong Cai. They held up truckloads of goods, the report said.
One executive of a Vietnamese frozen food company complained that his containers had been stalled for a month and he could no longer afford the electricity to prevent his goods from turning bad.
Meanwhile, the Philippines – which depends on China as the number one importer of its goods – saw China block shipments of bananas over claims they were "riddled with insects", shortly after a recent flare-up in the territorial dispute over the Scarborough Shoal, called the Huangyan Islands in China. Like the Vietnamese frozen foods, the Filipino bananas passed their sell-by date.
"If the Huangyan Island situation keeps developing, bilateral ties, including the trade relationship, will surely be affected," the Chinese ambassador to Asean Tong Xiaolong said in a warning to Manila, as quoted in the state-run China Daily.
Whether there will be a substantial impact on trade between the two countries remains to be seen. China has talked about economic sanctions but they are yet to materialise, while the trade figures that cover the period in question are not yet known.
The message, though, is clear: China, which counts Asean as its third-largest trade partner, has more leverage and less to lose if and when things don't work out the way Beijing sees fit. For all Xi's talk of "win-win" scenarios in China's trade relationship with Asean, the reality is far more complex as these ten countries bind their economic interests ever more tightly.
There are already losers within the China-Asean trade relationship and – with tariffs set to reduce further – there will no doubt be more. So far, they haven't been Chinese.