Asean has long had a reputation as being an enervated institution, one with no real power that simply follows the caprices of each of its ten member states. The embodiment of such inactivity is often seen as the secretary general, a position that changes hands every five years and is tasked with heading the Secretariat, Asean's coordinating body.
In 2008, the Economist described Asean's secretary generals as "usually a senior regional official rewarded with the post as the crowning boondoggle in a career of not rocking the boat".
In one way, Le Luong Minh, who took on the role in January 2013, fits this vignette: he is a senior official, formerly Vietnam's deputy minister of foreign affairs, as well as an ambassador to the UN. Also, when compared to his gregarious predecessor, the former Thai foreign minister Surin Pitsuwan, Minh can often appear "low-key", said Jörn Dosch, chair of International Politics and Development Cooperation at the University of Rostock, in Germany.
This should not come as a surprise; the secretary general cut his teeth in the murky world of the Vietnamese Communist Party, known for its abstruse bureaucrats rather than extrovert personalities.
However, in terms of rocking the boat, a number of Asean scholars believe he has been instrumental in fomenting a more forceful Secretariat and strengthening the regional bloc's institutions, which will be his "best achievements", according to Edmund Sim, an international trade attorney and adjunct associate professor of law at the National University of Singapore.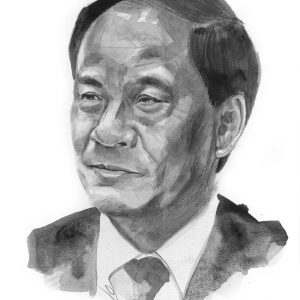 This has been a necessity. In 2012, Cambodia assumed responsibility as chair of the regional bloc – a position that rotates annually in alphabetical order – and at the annual meeting of foreign ministers failed to issue a joint communiqué over the South China Sea dispute, which has pitted China against several Southeast Asian nations over maritime territory.
In the aftermath of this incident, a number of experts suggested that to curb the flaws and caprices of the rotating chair, a stronger and more guiding Secretariat was essential. The secretary general needs "to be less of a secretary and more of a general", Donald Emmerson, head of the Southeast Asia Forum at Stanford University, wrote in Asia Times Online.
As a response, Minh has overseen plans to expand the offices of the Secretariat, based in Jakarta, in order to house its augmented staff pool. He also led the drive for the EU to open a permanent mission in Asean, which inaugurated its Jakarta office in January, and recently agreed the Asean-US Plan of Action 2016–2020 that will see the US provide logistical support and training to Secretariat staff.
Minh has also taken a tough stance on the South China Sea dispute, calling on China to terminate its land reclamation programme on contested islands. In August, he criticised Beijing for "eroding the very trust and confidence… between Asean and China", a move that showed Asean would no longer take a back seat on the issue, as several newspapers commented, and signalled a unified response.
"Balancing China and the US is a difficult, ongoing task, which he's done well," said Sim, adding that he hopes when Brunei selects the next secretary general, who will take control in 2018, the successor continues what Minh has started.
His tenure has also coincided with the launch of the Asean Economic Community (AEC). "For someone with relatively little economic policy experience, Minh has performed well in rolling out the first stage of the AEC. This reflects well on the entire team at the Asean Secretariat that supports the AEC effort," said Sim.
Nevertheless, with two more years to go until he steps down there is still much work to be done. "Making Asean relevant to the daily lives of its citizens is something all Asean leaders, including Minh, have strived to achieve," said Sim, "but we are not there yet."
"Can Jakarta's police chief prevent another terror attack?" – Jakarta's police chief, Tito Karnavian, will need to draw on his extensive counter-terrorism experience if he is to prevent further attacks on the capital