As Art Stage Singapore flung open its doors to more than 40,000 visitors, Southeast Asia Globe explored whether it's time to open art museums inside malls
After walking past an enormous brass rhino hanging in a harness, crossing the walkway beneath an elongated archway made of bright bird feathers and passing giant matchsticks that have morphed into human faces, Southeast Asia Globe is ready to interview Lorenzo Rudolf, the artistic agitator who helped redefine the contemporary art fair with Art Basel Miami.
Here at the sixth Art Stage Singapore, the fair that he founded in 2010, Rudolf can be seen charging this way or that, giving his time to VIPs, collectors, journalists.
His eyes concealed behind circular, mirrored sunglasses, Rudolf takes a seat and reels off an almost perfect interview, his answers neither too long nor too short, always engaging with the question asked, and never giving the impression of delivering a pre-prepared spiel. It is textbook stuff, doubtless honed over hundreds, if not thousands, of interviews. He even finds time to chat about music for a few minutes and laments the recent passing of David Bowie, a man he describes as "a good friend, and one of the most charismatic persons I ever met".
Despite moving in such A-list circles, and even though there are almost certainly commercial interests at play, Rudolf does seem to have a genuine desire to make art more accessible to the people of Southeast Asia and beyond.
"Contemporary art is still something quite marginal across this entire region, except maybe for Singapore," he says. "We have to find ways that we can bring people to art, make them understand what art is, and perhaps they begin to be interested in it. If we do that only with intellectual events or talks in museums, that's wonderful, but first we have to get people to a museum."
The democratisation of art is a perennial topic at events such as Art Stage and, while access to art, or a lack thereof, is also an issue of social structure and stratification, there is little doubt that more can be done.
"How engaged are Southeast Asians with art? It depends on how you define art," says Kwok Kian Chow, a curator and museum consultant who was previously the director of Singapore Art Museum and of National Gallery Singapore. "If you talk about museum art and fair art, that's pretty restricted. But if you talk about whether my grandmother has a sense of aesthetics in terms of patterns, then it means a lot to her. So in an anthropological sense there is engagement, but in an art historical sense that engagement may be limited. Meeting points are very important, and institutions certainly play a key role, but they have limitations."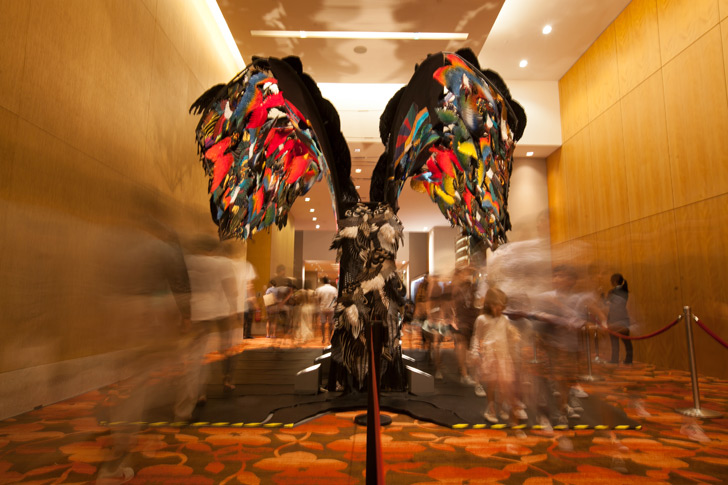 Malaysian photographic and visual artist Sherman Ong is considering the idea of artistic meeting points and urban spaces while sitting in a coffee shop on the third floor of Marina Bay Sands, the home of Art Stage. For him, there is one form of public space that dominates Southeast Asia more than any other.
"I quite like the idea of art museums being in shopping malls," he says, with a glint that suggests he knows he is being controversial. "Malls have become such a centre for most people's daily lives; the mall culture in urban centres is so important. If you have museums in the mall it gives a different dimension to the position of art and how it's relevant to the daily lives of the community… There's a certain group that goes to museums, but how do you develop your audience beyond this group of people that is already interested in art?"
In modern Southeast Asia, mall culture already dominates Singapore, Kuala Lumpur, Bangkok and, to a lesser, but growing, degree, Manila and Jakarta. Phnom Penh and Yangon are both undergoing building booms that will include a number of malls. The notion of putting dedicated public art spaces into malls requires the opening up of the idea of art and not simply discussing it in terms of high culture. It would be a huge step, perhaps an impossible one, but Thai multimedia artist Piyarat Piyapongwiwat, whose work at Art Stage was about giving a voice to Thailand's unheard, thinks it is worth exploring.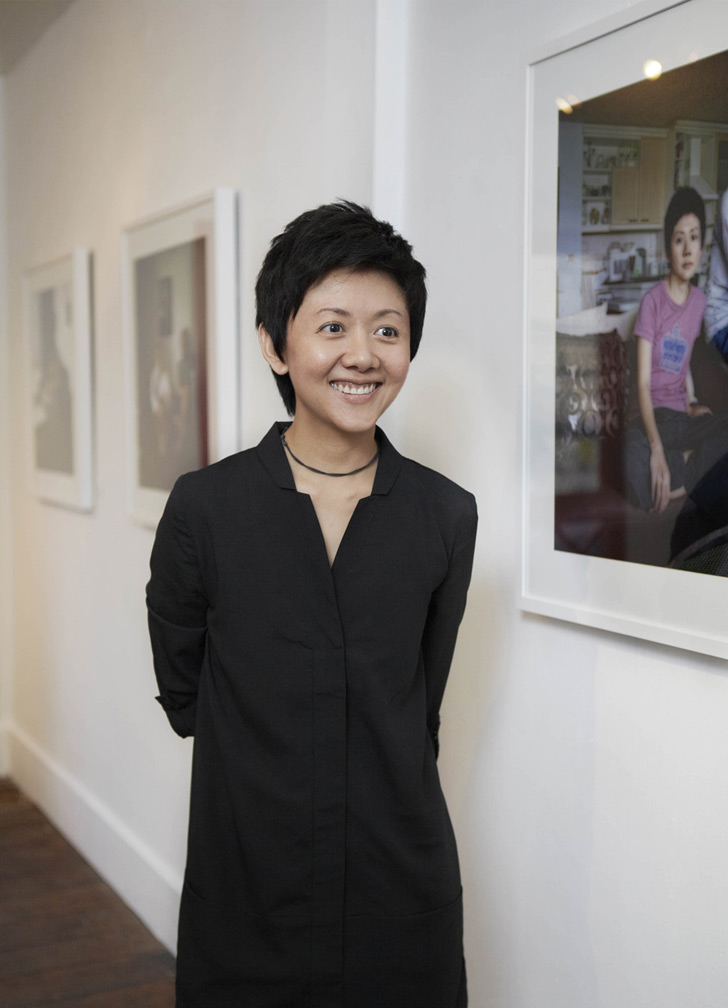 "I agree with Sherman because, aside from high society and art students, contemporary art can be quite unreachable for other people. It's a high-end pursuit," she says. "So I think it would be a good idea to place it in an area that attracts many people."
Rudolf says he has already had a hand in large art events and exhibitions in shopping malls – the most recent being in Singapore's Marina Square – but never a standalone, long-term museum. He also reveals a recent conversation with a mall owner, who he declines to name, about taking an event there and increasing cooperation.
"I think you have to go out, and you have to ask yourself where are locals going. And they're going to the malls. It's clear," he says. "Is the idea of having an art museum in a shopping mall going too far? Everything is possible. We have to think of new ways, move away from what happens in Paris and New York. We have to adapt ourselves. But if we do it, we have to show good art. No compromise there. I think that if you go to places like that then you must be even more serious."
There is little doubt that the art world is blinkered when it considers access to art. For many people, access simply does not exist, and an art museum in an accessible space such as a mall could be a crucial first step in tackling that challenge.
"Sometimes you have to take people by the hand to lead them," says Rudolf. "In this case, in my experience, the Asian culture is totally other when compared to, say, American. The American brazenly says: [adopts a deep American accent] 'Hey, explain to me, I dunno what this is.' The Asian, if he's not secure and doesn't know something, he will shut his mouth; the worst thing is to lose face. That means you have to take him and lead him there. And those are the things we have to understand."
Zoe Butt prefers to ruminate on this topic on a deeper level. She is executive director and curator of Sàn Art in Ho Chi Minh City, and her almost-perfect elocution gives little indication of her Australian roots. She says she is unsurprised by Rudolf's apparent enthusiasm for the idea – "He's the director of an art fair after all" – but feels that the concept of art museums in shopping malls needs to be rooted in more than
a desire for foot traffic.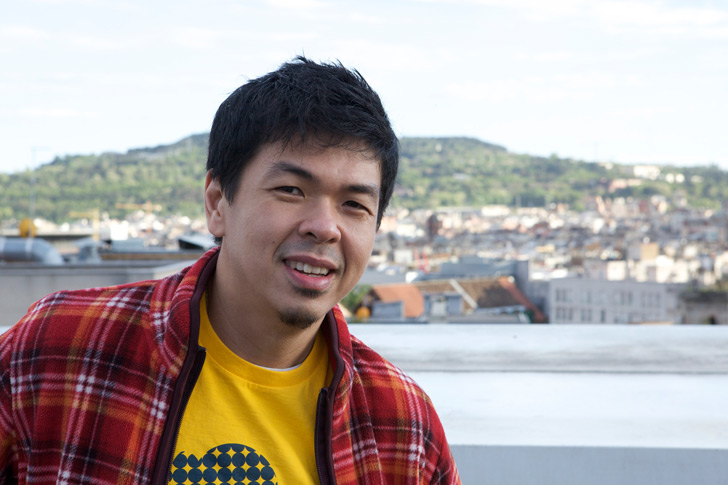 "I'll be frank, I think that contemporary art should critique or give a message to the reality in which the artist is living," she says. "I think context matters, the space matters, it gives meaning. So if you're going to hold a museum inside a shopping mall then have purpose, an articulated one that defines your relationship to the space. Those kinds of models I think will succeed. But if it's merely anchoring itself in a shopping mall because that's where everyone is, that's not really critically giving back… That's just a practical move, and I don't find that so interesting."
The location in a shopping mall might also affect the art being produced. Knowing one's art is slated for mass consumption in a building that also houses H&M and Topshop would almost certainly have some effect on the artistic process. However, Ong says that any mall museum should incorporate a larger ideal of education and community outreach and that any impact on the quality of work produced could be contained.
"Whether the art gets dumbed down depends on the artist and on the museum. It makes the role of the directors and the curators more important than ever," he says. "In Singapore, there was a debate: on one side the government wants art to be accessible, but the artists said art shouldn't be like that, it shouldn't be dumbed to the lowest level to make it accessible, that's not what art is. You can make it accessible in different ways."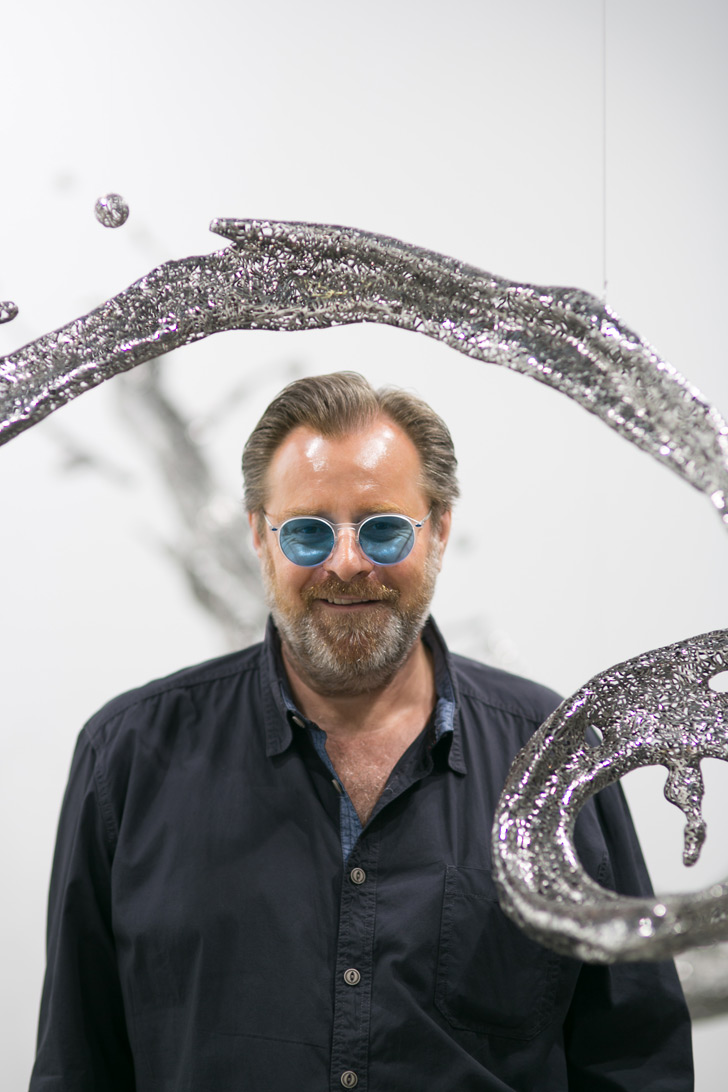 Even the assumption that it is positive to have hundreds of thousands, or perhaps millions, of visitors to an art space is open to debate. With visitor numbers comes diversity, and with diversity comes limitations on the types of art that could be shown. Catering to an audience of millions is not straightforward.
"Once art reaches a wider audience, the essence of the art, such as seeking the truth, the knowledge-building part, will never really get to that wider audience. The wider audience likes the art because it's cute and it's really nice to look at, those things. So they enjoy it as a part of entertainment," says Mami Kataoka, the chief curator of Mori Art Museum in Tokyo.
"If you're just wanting to reach a mass – why? What's the point?" adds Butt. "We are today far too programmed to think that we must reach a mass. That's what technology and mass media culture has drilled into us, that we must be on Facebook to have our 3,000 followers, but what happened to having five cultivated good friends? My personal opinion is that quantity is too much of a focus."
There are also far more pragmatic considerations. The characteristics of the mall and the placement of a museum within it would be paramount, as would other variables, right down to the proximity of the toilets.
"I would be thinking about constraints such as resources, rental, whether it should be commercially done, what is the ambience," says Chow. "All around you would be shops having all sorts of promotions with sounds and music to sell things; the ambience would not be correct. The feeling you get while approaching a gallery needs to be a certain way, and a shopping mall is too frantic."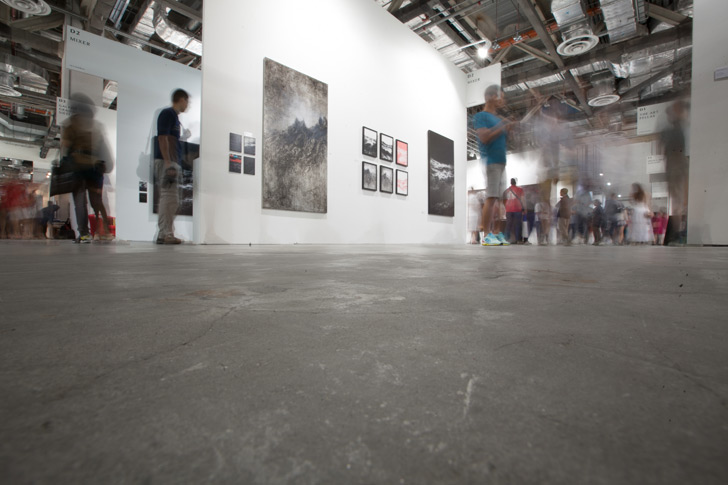 This might not be the case for all art and all artists, though, according to Butt. Given the topics some of them engage with, she says, the goal is to reach a mass audience; others want nothing more than to experiment with paint and colour; some aim to engage a community with a social problem. There is room for them all. Some of it might work in a shopping mall; some of it would not.
"It's a question of time," concludes Rudolf. "When we start to understand that contemporary art is part of our daily life, and that part of daily life here in Southeast Asia is malls, then we are already a step closer. Don't get me wrong, it should not be the goal to bring all art to the mall. I would be much happier to bring the people from the mall to the museum. That would be the best way." 
So much for the city
"Chiangrai Ferrari" by Anon Pairot was one of the most eye-catching works at Art Stage Singapore by a Southeast Asian artist. Bangkok-based Pairot set traditional rattan weavers the challenge of creating a 'supercar', a symbol of modern urban mores, from their materials. He was struck by the community members' increased communication and pride in their resourcefulness during the project, and one can see the creation as a neat juxtaposition between old and new, urban and rural.
Tell us about the roots of this work…
I worked with people in Chiang Rai who have never seen cars before; they've just seen them on TV. Their slow life and staying with family brings them happiness. It makes me think about urbanisation and how it isn't about technology but about attitude. Urbanisation brings comfortable things, a better standard of living, but it also comes with a lot of negatives… I think the slow life is a very special life.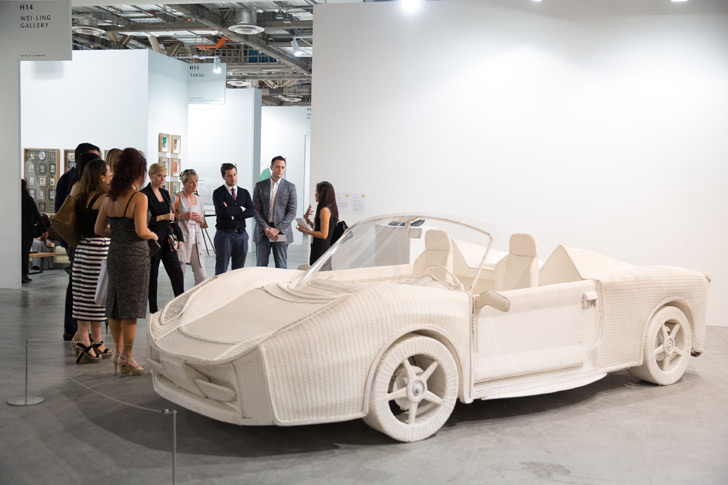 Do you think there is something inherently wrong with urban life?
Well, right now it seems like money is God. We work to find money, but many times people lose themselves. In Thailand, many people from the countryside come to Bangkok to find a better salary, but many people from Bangkok go to the countryside to find more land. It's a strange cycle… If you ask someone what they want to do for their holiday, they will choose something far away from their life.
So people should think twice before pursuing an urban life?
People think the big city is beautiful, modern and the perfect life. But it's like
a trap. I like those traps for cockroaches where a smell entices them into a plastic house and then they get trapped inside. City life is a bit like that.