Thailand's Supreme Court postpones verdict after the former Thai leader said she was too sick to attend a sentencing hearing in a case that could see her face 10 years in jail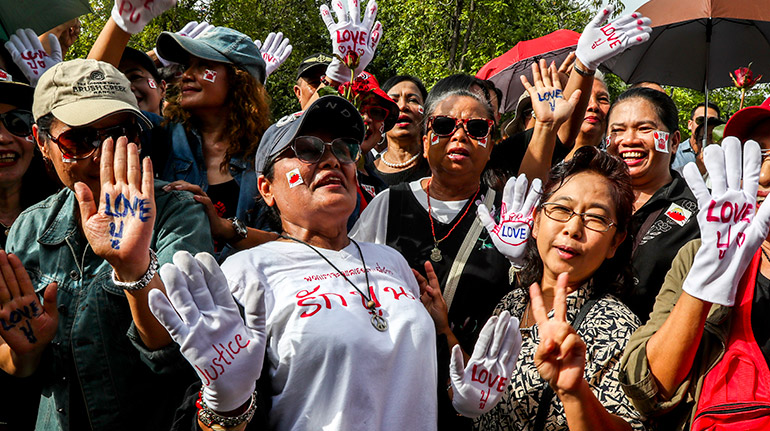 Update: Since this article was published, reports emerged that Yingluck Shinawatra has now fled Thailand. 
Thailand's Supreme Court has announced that it will issue an arrest warrant for former Thai Prime Minister Yingluck Shinawatra after she failed to appear in court to hear the verdict in a two-year trial over her government's failed rice-buying scheme.
Thousands of supporters had gathered outside the court in Bangkok on Friday morning to witness the outcome of the trial, in which Yingluck faced up to 10 years in prison and a lifetime ban from politics if convicted of negligence during her time as prime minister.
However, Yingluck did not arrive and her lawyer told the judge that she was suffering from illness related to having fluid in her ear. The judge said the court would issue an arrest warrant and order the seizure of her bail bond.
"We don't think that the defendant is ill. We think that the defendant is hiding or has fled," said a statement from a Supreme Court.
The rice subsidy programme – a flagship policy of Yingluck's administration – saw her government buy farmers' crops at prices up to 50% higher than market rates. The policy was succeeded in garnering support from farmers, but left Thailand with huge rice stockpiles and ultimately caused US$8 billion in losses.
In a Facebook post on Thursday, Yingluck asked her followers to stay home for the trial because she was worried that people with "ill-intentions" might cause trouble.
"I want all of you to give me support by staying home and monitoring the news to avoid any risk of an unexpected incident by people with ill-intention against the country and us," she said.
Ignoring her plea, thousands of peaceful protesters showed up outside the court holding roses and wearing white gloves with the word 'love' on them. In response, some 4,000 police were deployed around the area.
Resentment against the rice policy led to street protests starting in 2013, and Yingluck was eventually ousted by a coup in 2014. She would be officially impeached by Thailand's military-appointed National Legislative Assembly, banning her from political office for five years.
Yingluck said at the time of her overthrow said she had acted with integrity and honesty during her time in power. "I pledge that I have followed correct proceedings of the constitution, laws of the country in every way," she wrote in social media post.
The case against Yingluck is the latest battle in a decade-long fight between the royalist establishment and the political movement started by her brother, Thaksin Shinawatra, who was also prime minister before being toppled in another coup in 2006.
Thaksin remains in exile, along with many senior leaders of his "Redshirt" movement, which has been largely suppressed under the military junta, which has systematically crushed dissent since taking power and repeatedly delayed plans to hold another election.