When Apollo Quiboloy was born, his story goes, God came to his mother in the form of a cloud. As divine revelations go, this one left little room for interpretation.
"That's my Son," declared the cloud, before vanishing.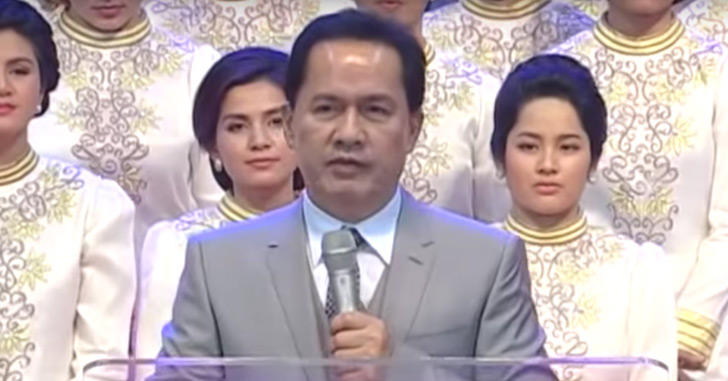 More than 60 years later, Pastor Quiboloy has come into his kingdom. As the self-proclaimed Appointed Son of God and founder of the Kingdom of Jesus Christ the Name Above Every Name, the once-humble preacher now claims more than six million followers across the world, most of whom are in the Philippines. Through his Sonshine Media Network International, Quiboloy claims to evangelise to 600 million viewers in 200 countries worldwide. It is this congregation that Quiboloy now seeks to turn toward more worldly matters – the 2016 Philippines election.
In February, Quiboloy endorsed his long-time ally, Philippine presidential candidate Rodrigo Duterte, saying he had prophesied the controversial Davao City mayor's ascension to the presidency in a dream almost two decades ago.
Duterte – currently the frontrunner to win the May 9 poll – has been accused of overseeing extrajudicial killings during his tenure in Davao, on the island of Mindanao, where Quiboloy is also based. And the televangelist has wasted no time plumping the feathers of his friend, who is on the cusp of wielding a great deal more influence – providing Duterte with use of his private jet and buying him lavish gifts.
For a group of indigenous tribes outside Davao, who accuse the polarising preacher of illegally grabbing their land and strongarming their communities, the rise of Pastor Quiboloy under Duterte could be their worst nightmare.
Thy Kingdom Come – the death of Datu Diarog
The crown jewel in Quiboloy's "Kingdom", commonly referred to as Prayer Mountain, squats in the foothills of Mount Apo outside Davao. Affectionately dubbed "the Garden of Eden Restored" by its admirers, it is a sprawling compound of gardens, music and meditation. It was to this spot that Quiboloy retreated after claiming hearing the word of God. And it is here where the hand of his "Son" falls heaviest.
On the night of April 29, 2008, Bagobo K'lata tribal leader Dominador Diarog was gunned down in an attack on his home that left his wife and two of their children badly wounded. For a community already pushed to their limit by more than a decade of aggressive land transactions, it was unbearable. More than thirty families fled the district, finding refuge in neighbouring banana plantations or with distant relatives.
The next month, Diarog's widow petitioned the Philippine human rights commission seeking justice for the attack. In a letter to regional director, Emily Diarog repeated allegations she had already made to the police, accusing local district official Greg Canada of threatening her husband for refusing to sell two hectares of land to Pastor Quiboloy to expand Prayer Mountain.
In her letter, she accused Canada – a known follower of Quiboloy – of finishing the job he had already tried to outsource to members of Diarog's own family. "Captain Greg Canada himself had offered PHP20,000 [$423] to my nephews to kill my husband," she wrote.
Diarog's son, Diolito, told the media that Canada had made two previous attempts to buy out his father's land on Quiboloy's behalf for $1,000. As Diarog rebuffed these attempts, his farmhouse was almost burned to the ground three times by unknown perpetrators. A fourth attempt succeeded.
Thy Will be Done – Quiboloy's private army
Emily Diarog's letter identified some of her attackers as belonging to Task Force Davao and the military-trained Special Civilian Active Auxiliary (SCAA) personnel assigned to Pastor Quiboloy. Although ostensibly there to act as a safeguard against an ongoing insurgency in the region, indigenous rights groups have long accused the security forces in the Davao hinterlands of serving as private armies for powerful landowners.
Former Davao Task Force commander Allan Luga admitted to Philippine media that the SCAA drew their salaries directly from Quiboloy. After the assault, the men – identified by the armbands on their uniforms – were reportedly seen withdrawing into Quiboloy's compound. According to Emily's account, none of the guards posted at the border of the pastor's property responded to the gunfire.
Pastor Quiboloy unequivocally denied any involvement. A statement published as full-page advertisements in several major community newspapers denounced the tribe's accusations as unfounded smears.
As could be expected of the Appointed Son of God, Quiboloy was quick to invoke a higher power to confirm his innocence – though not the one that might be assumed.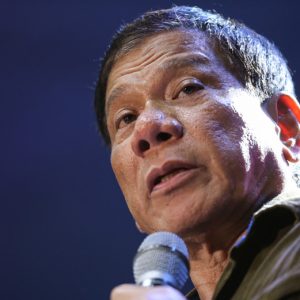 "Mayor Rodgrigo R. Duterte, as the 'Father of Davao City', who has direct control over the political jurisdiction of the city, has spoken dismissing the rumours as untrue," he wrote.
Though Duterte assured the public that his friendship with Quiboloy would not interfere with the course of justice, during his weekly TV address, Duterte expressed doubt that a man of Quiboloy's stature could be involved in such a brutal, petty crime.
"There has to be a reason, there has to be a motive, there has to be a cause," he said. "Pastor Quiboloy would risk his honour and prestige for a measly two hectares?"
Despite the Diarog family's testimony, the case was dropped due to insufficient evidence.
Forgive us our Trespasses – the land grabs of Mindanao
Since the death of Datu Diarog, attacks on the indigenous peoples of Mindanao, known as lumad, have only increased. Thirteen lumad homes were burned to the ground in 2012, before dozens of families were driven from their community by armed thugs two years later. Both times, indigenous rights groups laid the blame on Quiboloy and his expanding kingdom. Both times, Duterte dismissed the accusations out of hand.
Professor Myfel Paluga, chair of the social sciences department at the University of the Philippines Mindanao, said lumad peoples' lack of support networks made them easy targets for persecution.
"Lumads who are residing in areas less accessible to quick responses by lumad advocates or concerned media groups are vulnerable to state or paramilitary violence," he told Southeast Asia Globe.
"The majority of these lumads, it should be underlined, are in the resource-rich and people's resistance-high areas. These make these areas subject to continuing state intervention – or militarisation – and development aggression."
For Thine is the Kingdom – endorsing Duterte
Ramon Beleno III, a political science professor at Ateneo de Davao University, said that a presidential win for Duterte could help shield Quiboloy from further allegations of unlawful land-grabbing. "I think having a president as a supporter could really help protect him in situations like that," Beleno said.
He pointed out that although Quiboloy was a significant presence in Davao City, the pastor's influence did not extend far past the borders of his hometown – though a Duterte presidency could well change that. "I think it would really boost his influence – both inside and outside of Davao," Beleno said. "His influence would increase not just in a religious sense but in terms of his position in society."
Acting executive director for the Legal Network for Truthful Elections Rona Ann V. Caritos said Quiboloy's position as one of Duterte's earliest supporters would undoubtedly have an impact on the pastor's influence in the Philippines. "What that is remains to be seen," she said.
Both Beleno and Caritos pointed to Duterte's use of Quiboloy's private helicopter and jet during his campaign as evidence the pastor was financially supporting Duterte, though no official record of financial support has been released. Duterte has said in the past that should he win the election he will use Quiboloy's private jet to commute to the presidential palace of Malacañang from his home city.
Since then, Duterte has admitted that Quiboloy had bought him three properties in Davao City and two private cars, potential violations of the Philippine Anti-Graft and Corrupt Practices Act. And, separately, Duterte recently defended himself against allegations that a joint bank account with his daughter received nearly $5m in undeclared deposits in 2014.
Ever in his old friend's corner, Quiboloy brushed aside Duterte's critics at his 66th birthday celebration in April.
"You cannot fight the devil if you are a saint. You can only fight the devil if you are more of a devil than the devil himself."