Authorities say the suspects were looking to raise some $225,000 to fund a coup against the Indonesian president after upcoming elections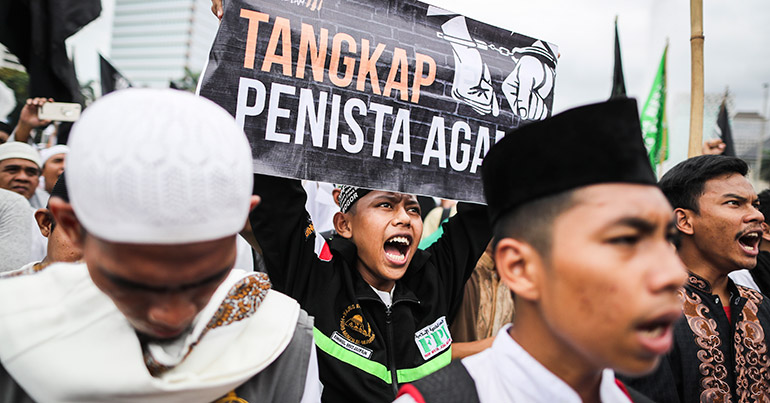 Five men arrested ahead of last Friday's protests in Jakarta calling for the ouster of the incumbent governor were said to be planning a coup against President Joko Widodo, according to Indonesian police.
Police say the men met on several occasions to discuss staging a coup against Jokowi following Jakarta's April 19 runoff election, which will pit the runner-up in February's Jakarta gubernatorial election, education minister Anies Basweda, against incumbent governor Basuki "Ahok" Tjahaja Purnama, who failed to secure the 50% majority necessary to win outright in the first round.
Jakarta police spokesman Argo Yuwono has said that the suspects, arrested on charges of treason, were also seeking roughly $225,000 to fund their scheme.
"That's how much money they needed to topple the government," Argo said at his office, adding that police are looking into possible financial sources for the plot.
Friday's gathering was the latest in a long series of protests by Islamic hardliners calling for the resignation of Ahok, who has been charged with blasphemy over comments he made allegedly insulting the Qur'an. While earlier protests saw up to a million take to Jakarta's streets, Friday's event drew a relatively paltry turnout of 13,000 to 15,000 people.
Among the suspects detained is Muhammad Al Khaththath, leader of the Islamic People's Forum, a hardline Islamic group that has headed anti-Ahok protests.
Some analysts view the Jakarta gubernatorial election as a test of religious and cultural pluralism in Indonesia, the world's largest Muslim country and Southeast Asia's largest economy.
A December poll by Manjani Research and Consulting showed that the blasphemy case had largely ignited the conservative religious base against Ahok, a Christian from the ethnic Chinese minority – 45% of respondents said his comments were blasphemous, despite 88% admitting they were unsure of what he had actually said.
The final day of Ahok's blasphemy trial was set for Tuesday, when the governor is expected to present evidence for the first time.