With a handful of top-class courses and glorious weather, Cambodia is proving a hit with golfers looking for some tee along with their temples. David Baron, director of golf at Angkor Golf Resort, talks us through the options for a quick round in the Kingdom
From Discover magazine
How popular is golf in Cambodia?
The game is definitely growing in popularity. About 90% of our business is from golf tourism, not really local players, but I would estimate that the number of golf rounds is growing by about 25% year on year, which is good for us, but it's also good for the general economy. People are coming in, they tend to play all three courses up here in Siem Reap – there is us, Phokeethra and Boo Young Country Club – and they spend money in hotels and restaurants as well, so it's a win-win for everybody really.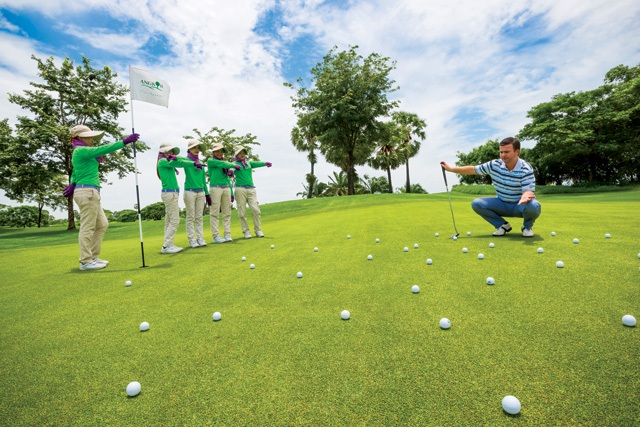 Is there a lot of room for growth?
Yes, for sure, and particularly in terms of tourism. In Southeast Asia, golf tourism is worth about $3 billion a year, with a fair chunk of that generated in Thailand. Of course, there are many courses there and Thailand is a popular destination anyway, but Cambodia is definitely starting to grow. We're finding that people might concentrate on playing in Thailand or Vietnam, but they're also adding Cambodia onto their itineraries.
Is there much local interest in golf?
Again, it's a small market but it's growing significantly. In the low season, there's a local Korean expat community that really enjoys golf and then there's a growing number of Siem Reap-based middle-class Khmers who are taking up the game.
What do you think Cambodia offers as a golfing destination?
You can play all year round for a start. Obviously there's the rainy season, but we still have golfers coming through. Siem Reap being on the doorstep of the Angkor temple complex is a great draw, as we have many guests come through for a few rounds of golf and then finishing off their holidays with a couple of days at one of the world's greatest sights.
If you had to choose the top three courses for people to play in Cambodia, what would they be and why?
Obviously I'd start with us at Angkor Golf Resort, because it's a good challenge but it's fair. It's a Nick Faldo design and his courses are particularly well received. We have a lot of bunkering around the course and a lot of water features, and it's just an interesting, unique challenge. Then I'd go for Garden City Golf Club in Phnom Penh. It's the newest course in the country, so it has some modern features and it's very well maintained. Finally, I'd recommend the Sofitel Phokeethra Country Club up here in Siem Reap. It's a good challenge, one of the most testing layouts, particularly given the fact that it's quite long.
You mention that Nick Faldo designed your course. How involved was he?
The course construction usually takes between 18 months and three years, depending on the project. During that time, the course designer would come in regularly, particularly in the first six months to a year, when they'd probably be making monthly visits because they need to sign off all the key aspects of the design. Nick was certainly very active. Even before the course was grassed, he walked all 18 holes several times and he had a lot of input. We've got some nice pictures of him at the time of the construction, wandering around in his shorts and wellington boots. He was very hands on, which was nice to see.
Being a Brit yourself, was it a big thrill to have Nick Faldo around?
Growing up, he was definitely my hero. He's the most successful British golfer of all time and his peak was right around the time that I was getting into the game. I was also fortunate enough to caddy for him at the Hong Kong Open in 2008, the year he was the Ryder Cup captain. So to now be the club pro at a course designed by him kind of finishes things off nicely.
Have you had many other high-profile players coming through?
We've held Asian tour events before, so the leading professionals have all been through. Then there have been a number of Khmer excellencies and, of course, Prime Minister Hun Sen, who is a big golf lover. He hasn't been for a while, but he was coming quite regularly at one stage. Apparently he's quite good, but I'm not sure what his handicap is. Perhaps it depends how much he's playing for!