Sofitel Phnom Penh Phokeethra will be launching a new exhibition next week by Cambodian artist Channy Chhoeun, with a collection entitled "Out of Control" to be showcased for three months in the hotel's Gallery. Both visitors and locals of the capital are invited to discover unique art pieces illustrating colourful birds, where the artist hopes to urge his audience to protect our environment and reflect on our society.
Born in Cambodia in 1988, Channy has always been passionate about arts and wild birds. His father quickly noticed the young boy's talent and enrolled him in Phare Ponleu Selpak, a non-profit arts school in Battambang. In 2016, his first exhibition in Siem Reap undoubtedly launched his career.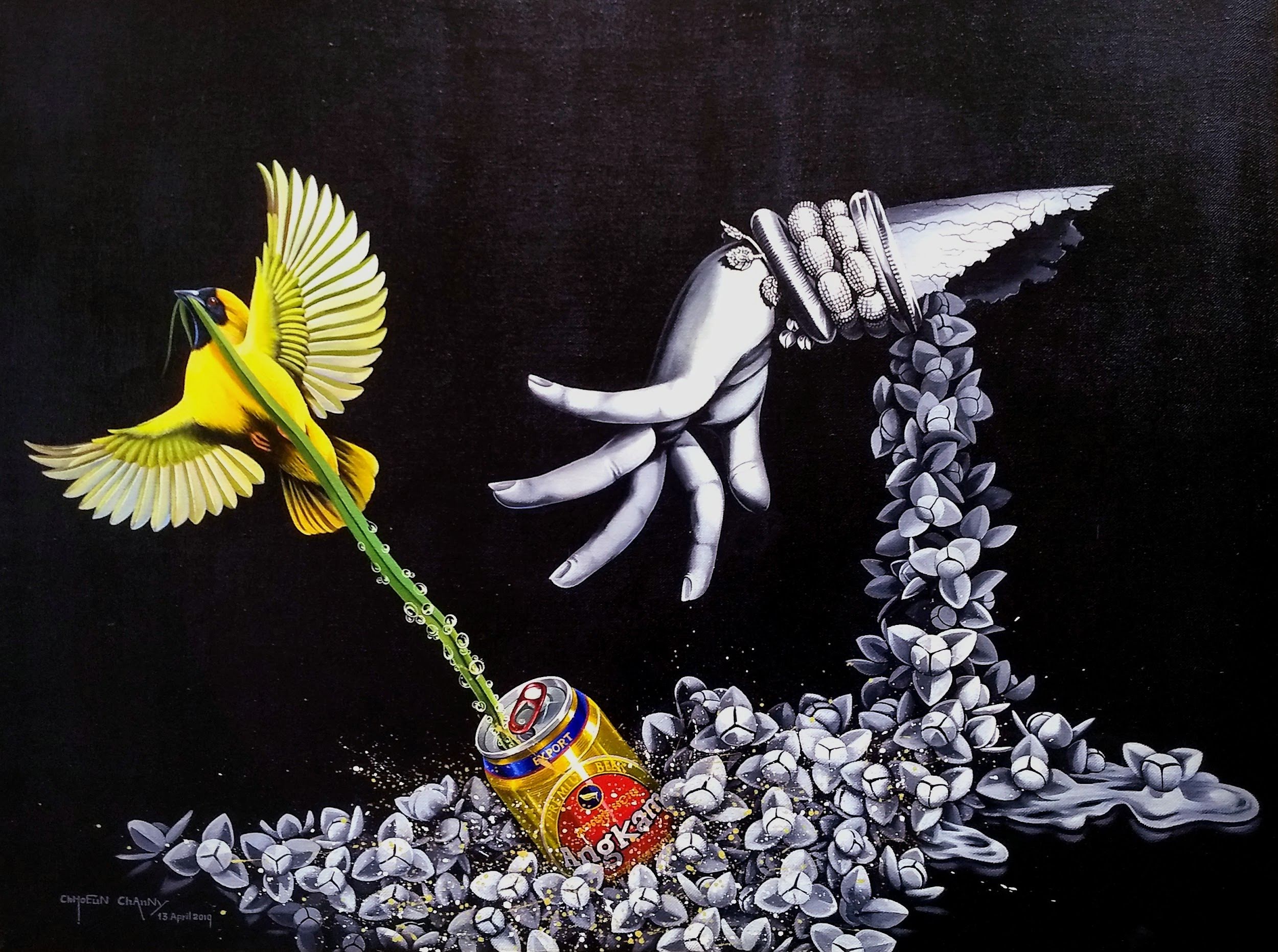 As a committed artist, Channy has decided to name his exhibition "Out of Control" to express his frustration regarding societal and environmental issues, representing the relationship between humans and wild life. He associates both the beauty of nature – and the need to protect it, to what seems to be a social element out of control. Channy uses birds as an excuse to criticize the drifts of our society and to support what he conveys. For instance, through the paintings in this exhibition, he reprehends the lack of control in the consumption of alcohol and cigarettes. Channy hopes to educate people, and he urges us to start protecting the planet before it's too late and reflect on the excesses of our society.
"After all the famous artists this Gallery has hosted in the previous months, it's an honour for me to take over this exhibition and exhibit my work in this dedicated art space at Sofitel Phnom Penh Phokeethra. Painting has always been a source of happiness for me. I like to arouse attention through my work – it pushes me to create even more. I hope this exhibition will raise public awareness about our society and our environment"

Channy Chhoeun
Arts and culture are part of Sofitel's main brand passions, and Sofitel Phnom Penh Phokeethra is no exception. As a strong supporter of the culture of the arts in the Kingdom of Cambodia, the hotel opened earlier in the year its Gallery to showcase various Cambodian artists. Charles-Henri Chevet, General Manager of Sofitel Phnom Penh Phokeethra commented: "We are happy to be hosting once again a talented artist in our Gallery to promote arts in Phnom Penh. This exhibition is definitely an opportunity to reflect on our environment through vivid and surprising paintings". Local art organisation 'ReCréation' assisted to curate the exhibition, with extensive history in Cambodia, promoting local artists to the international stage.
The exhibition will take place from August to October with free admission.