Wayan Tuges cradled the guitar under one arm and drew his fingertips across the instrument's open strings.
"It sounds so warm," Tuges said, the wood resonating in his workshop storage room. "I really love this sound, but I don't know why it sounds so good to me."
It could be the deep grooves etched against the grain; it might be the local rosewood that other luthiers told him wouldn't be good enough; or maybe it was the hands of gods descended from the heavens, he liked to think, to guide his arms as he chiselled out the patterns.
Tuges wasn't sure why he loved the sound echoing from his guitar, but these days, unearthing that elusive tone is his life's work.
With his Canadian business partner, Tuges is muscling into the specialised market of high-end guitars long dominated by established brands such as Martin and Gibson. It's all the more improbable considering that until a few years ago, this traditional Balinese wood carver had no idea how a guitar was supposed to sound.
Ubud, in central Bali, doesn't just hint at its cultural heritage – it trades on an image of lush green rice paddies, mystical temples and pungent incense wafting through the air. On Ubud's increasingly clogged main drag, boutique clothing shops wedged are between relaxation spas and organic juice bars while sun-burnt tourists shop for bargains.
But Ubud remains the heart of what has traditionally been a flourishing cultural and artistic centre. The town has grown to buttress the surrounding artisan villages, including Tuges' community where he was raised, where his father showed him how to carve, and where he taught his own three sons the same intricate skills.
In 2005 Danny Fonfeder, a vacationing Montreal businessman, was sitting in a taxi in Ubud, waging a losing battle against a hopelessly out-of-tune guitar he had just bought. Outside his window, the cab drove past rows of artisan shops. Carvers sculpted elaborate figures and patterns from whole blocks of wood.
"I looked at my cheap Chinese guitar and then I looked at the beautiful carvings on the street," Fonfeder recalled. "You can't imagine how naïve I was back then."
Fonfeder asked his taxi driver to take him to the best woodcarver in town; the cab pulled up to Tuges' workshop.
"Can you make a guitar like this?" Fonfeder asked the carver, holding up his knockoff guitar. They took the guitar apart.
"I think I can do this," Tuges replied, running a hand over the bracing inside.
But what Tuges created was an intricately carved – but unplayable – piece of wood in the shape of a guitar.
"Both of us had no idea about acoustics and whatever it took to build a guitar," Fonfeder said. "We knew how to build the shape."
Fonfeder was intent on finding someone to work with Tuges to teach him the science and art of making instruments, but the luthiers he approached back home balked when he described his vision. You can't carve into the guitar itself, they told him – you'll ruin the very structure of the instrument.
A few hung up on him.
Eventually, he found an American luthier who agreed to take on the task.
The guitars took shape over nearly two years of trial and error. By 2007, Fonfeder and Tuges had launched a new guitar brand, Blueberry, with a distinctive twist.
Typically, most acoustic guitars are understated – natural wood hues and clean, sloping curves. Many of Tuges' instruments, in contrast, are extravagantly decorated. There is a swirling Celtic dragon etched into the back of one guitar, an elaborate pastoral scene incised into the face of another, and religious motifs on yet another model.
Since guitars were so new to Tuges, he wasn't limited by the conventions of Western luthiers. His first faux-pas was carving his signature patterns directly onto the soundboard – the face of the guitar, and the piece most integral to the instrument's sound.
Tuges found he could boost the guitar's resonance – amplifying that ringing tone – by etching in shallow grooves across the soundboard. He experimented with prototypes for different kinds of guitars: twelve-strings, electric, double-sided and double-necked. His latest creation is a double-neck, acoustic/electric hybrid.
Inside the workshop, an assistant snapped two unfinished fretboards into place, then Tuges manoeuvred a chisel to fine-tune a floral pattern bursting across the face.
"I was worried about the feedback from the electric guitar," Tuges explained, tapping the end of the chisel with a mallet. "But we've tried it out with the strings already and there's no feedback."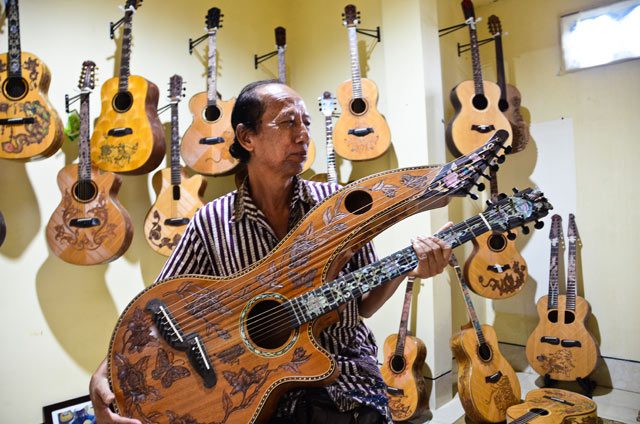 Outside, men crouched on the ground, sanding down the top of a guitar or outlining a rough design for another instrument. Inside, others varnished nearly complete guitars and sketched patterns for future ones.
For Tuges, making guitars has evolved into a full-time enterprise that employs 25 people from the community, including his three sons.
For all the time he spends crafting the instruments, Tuges has never actually learned how to play one of his own guitars.
"I like it when someone who can play guitar comes to me," he said, "because I only know how to build."
Back when Fonfeder asked him to build that first guitar, Tuges headed straight to his computer. He needed to google the instrument, because he wasn't sure what the guitar he was about to build was supposed to sound like.
Even as Blueberry prepared to launch their first guitars in Montreal two years later, Tuges was uncertain if his instruments were good enough to play the strange music he had heard on the internet. Then, at a concert during the city's signature yearly jazz festival, a guitarist picked up one of his instruments.
A warm, ringing tone shot out across the venue, and Tuges smiled. That, he realised, is what a guitar sounds like. "Oh," Tuges recalled thinking as he stood in the crowd. "My guitar sounds good."