Judges say decision made to give prosecutors more time, not as response to request from police to keep city calm amid political tension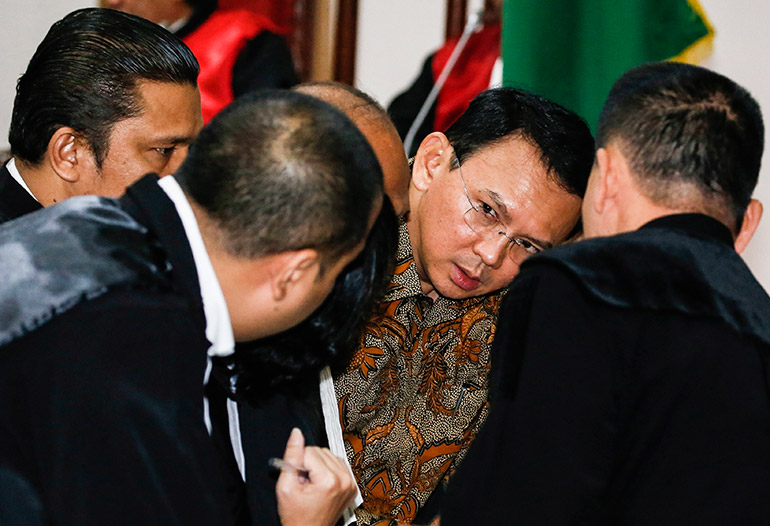 The judges overseeing a high-profile blasphemy case against Jakarta Governor Basuki "Ahok" Tjahaja Purnama have agreed to a request from prosecutors to delay a sentencing demand hearing until the day after the gubernatorial election set for April 19.
If the schedule had proceeded as planned, prosecutors would have given sentencing demands on Tuesday and Ahok could have delivered his final defense on April 17, a hearing that would have offered a powerful platform for the incumbent to proclaim his innocence ahead of what is expected to be a tightly contested vote.
Though Jakarta Metro Police had submitted a request for the North Jakarta District Court to delay the hearing until after the election to help maintain security in the days leading up to the election, the court said prosecutors simply needed more time.
"To give a chance to the public prosecutors to put together their sentencing, this hearing is postponed until Thursday, April 20," said head judge Dwiarso Budi Santiarto, according to Coconuts Media, citing the Indonesian-language news website Detik.
Ahok, a Christian and ethnic Chinese politician who replaced Indonesian President Joko Widodo as governor, is on trial over remarks about his opponents use of Qur'an that allegedly insulted Islam. He faces up to four years in prison if found guilty; prosecutors were expected to recommend jail time.
Representatives of the Muslim groups who have led mass protests against the governor told the Reuters news agency that they believed the decision to delay the trial was politically motivated.
"The election, a political factor, is affecting this legal process," said Pedri Kasman, a member of the moderate Islamic group Muhammadiyah.
Prosecutors, who apologized for not following the anticipated schedule, will now deliver sentencing demands on April 20 and the defense team will give their closing statement on April 25, said a Jakarta Post report.
Ahok's main opponent, Anies Baswedan, was dropped as education and culture minister by Joko. He is seen by many as a favorite in the election, though Ahok has also won widespread praise for his efforts to tackle traffic congestion and flooding in the capital.