Davin Mao loves to cook and make pastries. Now she's making it her career. The 24-year-old Cambodian chef sat down with Southeast Asia Globe on the last day of classes of her third semester at the Academy of Culinary Arts Cambodia, in Phnom Penh. She said she worked as a cashier at a car dealership before entering the program, and that she wants to be an executive chef someday. Davin received one of the 15 privately funded scholarships made available to Khmer students each year. She's also preparing to leave Cambodia for the first time in her life when she flies to Switzerland for a month of training through the academy.
Her graduating class made a two-year commitment to learn both cooking theory in regular classrooms and practical skills in classroom kitchens. Students also learn or brush up on their English, and do two six-month internships in a restaurant or hotel. The entire program costs $3,975 for Cambodian students, more for foreign students. Davin's is the first ever graduating class of the two-year-old school, and they will receive their diplomas in April 2019.
The academy has a complicated operating structure that its founder, Pierre Tami, explained like this: It is a public-private partnership governed by the Royal Government of Cambodia in the private sector with the Swiss foundation Shift 360, with funding from the Swedish government and the UN's European Investment Fund. Graduates receive a two-year diploma in culinary arts that's based on the curriculum of the Swiss Hotel Management School in Lucerne, Switzerland, which has been in the business of training chefs for a century. Its schools have 6,000 students globally.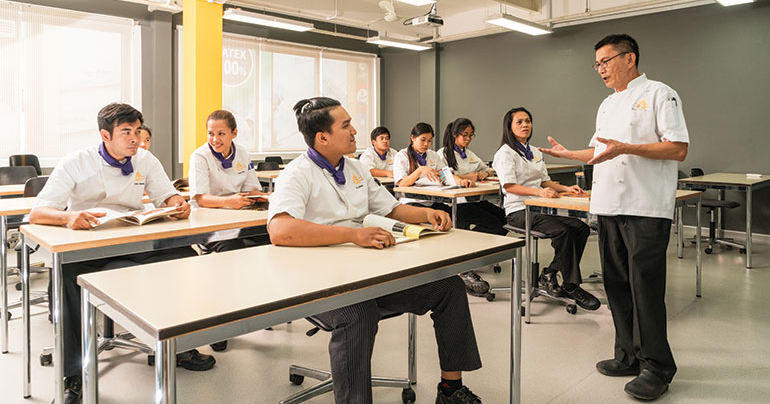 The operation is partnered with roughly 85 restaurants and hotels throughout the Kingdom that participate in the internship program, often hiring those interns as full-time cooks and chefs. Phnom Penh's Sofitel hotel is one property that uses the school's grads.
"We have enjoyed a strong relationship with the Academy of Culinary Arts Cambodia since its opening and have assisted in providing work experience opportunities to students," said Sofitel's general manager, Charles-Henri Chevet. He said it's a challenge to "attract and retain top talents" here, and that Sofitel supports schools like this one: "We are strong supporters of hospitality schools… which are training a new generation of skilled and passionate chefs. We see a clear difference in the calibre of students graduating from this school, which will eventually have a positive impact on the hospitality and tourism sector in Cambodia."
The school has eight cooking instructors from several European countries and Cambodia, including a French pastry chef, plus an English teacher and a food service instructor. A tour revealed several cooking classrooms, including one for pasta making and another just for making bread. An industrial-size kitchen is used to prepare meals for corporate parties in the on-site private dining room, as well as for regular meals for students in the adjacent cafeteria. Students do all the cooking.
So, joked Bruno Cardone, head of academics, "If Davin makes a terrible soup, we all have to eat it." Cardone and Davin shared a glance and a laugh before the tour continued.
Cardone, originally of Italy, started his cooking career at a Four Seasons in Hawaii in 2001, and started teaching cooking in the Middle East nation of Jordan in 2010. He's been at the Phnom Penh academy for two years. Cardone enjoys sending his students out into the real world to ply their new skills in professional kitchens that provide feedback on the performance of his student interns.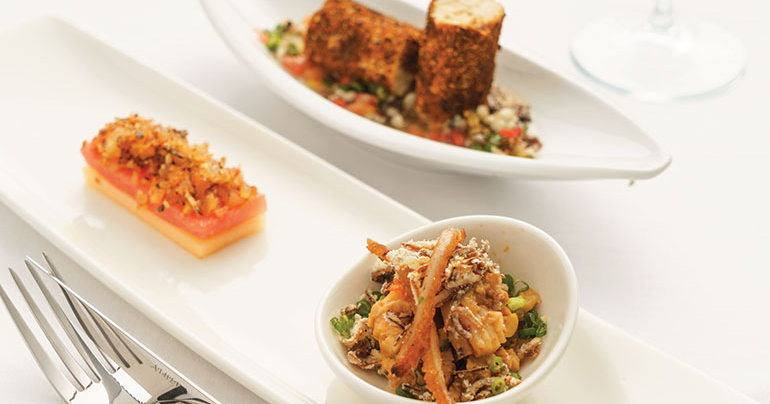 Davin did her internship at Oskar Bistro in Phnom Penh's riverside district, where executive chef Antony Pagani said academy graduates have both better cooking skills and core skills like being on time and treating their work like a career.
"Their skills are very basic unless they come from very high-end [restaurants]," said Pagani of nongraduate employees. "But mainly you have guys that have no idea how to cut an onion or make a soup. What I realised with Davin, my first intern, she already had those basics. And she had this attitude that she learned in the school – being on time and respecting the teammates, working as a team, she knew about the knives, the different products that I show her. Of course she's a beginner, but she already comes with a very interesting package. As a chef or a restaurant owner, it's a great opportunity to be able to teach them and have them help you as well."
The two-year program starts with six months of theoretical learning in regular classrooms, and then students do their first six-month internship. They come back for six more months of advanced classes in the classroom kitchens, followed by a second six-month internship, and conclude with a final exam.
Cardone described a successful internship: "After that they come back, and… if Antony gives a 'go', Davin will come back and she will [resume her coursework]."
The hope for Academy of Culinary Arts Cambodia grads is that they will go on to become leaders in the country's travel and tourism sector, which is expected to grow 4% over the next decade, with 120,000 new jobs.
"The aim is to have a base framework that each chef can work with, then bring it to the next level. The idea of becoming a manager is seeded in the brain of the students," said Cardone. "This is like opening a door to the future, and it takes a while to become leader in the kitchen. We stimulate the intent in their mind to see that this as a profession, it's not just a summer job or a period in life, but there is a progression, an opportunity."