Political meddling may topple the Khmer Rouge tribunal – an outcome that would suit the government just fine
By Sacha Passi
Marking one of the most important trials since Nuremberg, the initiation of the Khmer Rouge tribunal was one of Cambodia's surest signs of reform post-1979.
To date nearly $150 million has been spent on proceedings by the Extraordinary Chambers in the Courts of Cambodia (ECCC) to deliver justice for the estimated 1.7 million people, and their surviving families, who died under Khmer Rouge rule.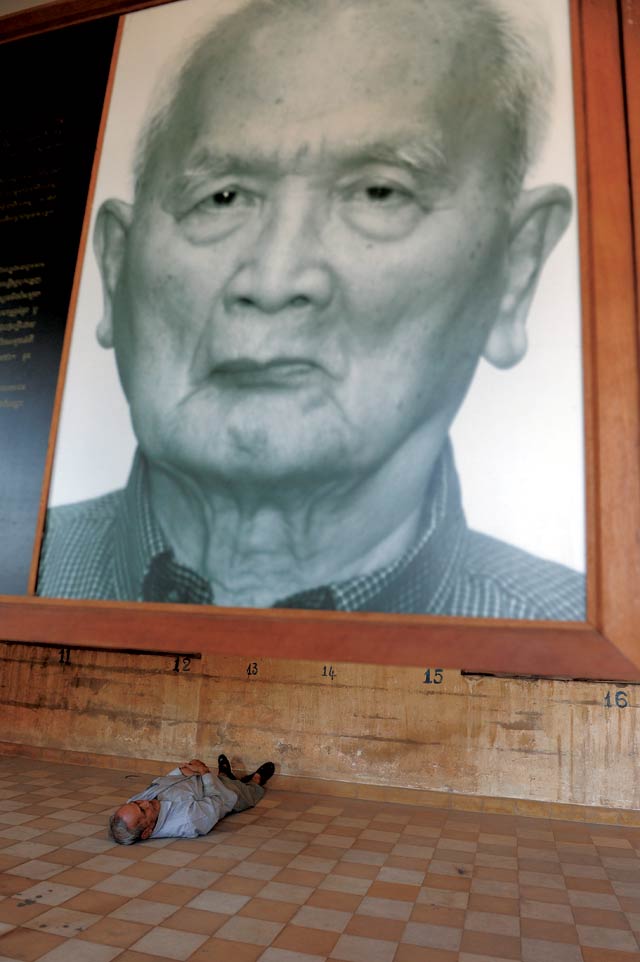 Unable to break free from the shadows of a system marred by corruption and fragmented laws, some observers fear the tribunal teeters on the edge of collapse.
"Cambodia's judicial system is as corrupt and politically controlled as they come in Southeast Asia," said Phil Robertson, deputy director of the Asia division of Human Rights Watch. "Prime Minister Hun Sen and the ruling Cambodian People's Party have systematically turned the judiciary into a pliant tool to protect their power and rubber stamp their corrupt dealings."
In stark contrast to the achievements of the first case – where Khmer Rouge jailer Kaing Guek Eav, also known as Duch, was sentenced to life imprisonment on appeal for crimes against humanity and war crimes – and the ongoing trial of former Khmer Rouge leaders Nuon Chea, Ieng Sary and Khieu Samphan, the sparring over cases 003 and 004 threatens to derail the tribunal.
The government has been vocal in its opposition to the two cases, which reportedly involve five former mid-ranking Khmer Rouge cadres. Critics say alleged government meddling to thwart investigations has called into question the independence of the court and its national co-investigating judge, You Bunleng.
In what Amnesty International described as 'a significant setback', international reserve co-investigating judge Laurent Kasper-Ansermet announced his resignation in March.
"Judge You Bunleng's active opposition to investigations into cases 003 and 004 has led to a dysfunctional situation within the ECCC," he said in a statement.
Set to become effective as of May 4, his resignation follows hot on the heels of Siegfried Blunk's decision to step down as international co-investigating judge in October, citing perceptions of attempted official interference in cases 003 and 004.
The consecutive resignations have raised "serious concerns" about the ECCC judicial process in relation to cases 003 and 004, according to a statement by a spokesperson for UN secretary-general Ban Ki-moon.
"The circumstances that have given rise to these two resignations remain worrying," the statement said, adding it is "essential" the government extends "full cooperation" to the new international investigating judge and reserve.
The very role of the reserve international judge exists in order to ensure the absence of a judge does not distract or delay proceedings, but Bunleng, who said any procedural action taken by Kasper-Ansermet is not legally valid as he had not be officially appointed  and subsequently refused to work with him, trumped this safeguard.
"If the [Supreme Council of the Magistracy] refuses to appoint [Kasper-Ansermet's] successor, the court will likely be forever viewed as politically tainted and controlled by the Cambodian government," said Ou Virak, president of the Cambodian Centre for Human Rights. "If that does occur, the United Nations will have to review its commitment to the court."
Critics say Bunleng's actions have wasted time and money and have fallen in line with Prime Minister Hun Sen's position that there will be no further prosecution beyond case 002, as it may threaten the Kingdom's "stability". Some observers have linked the government's opposition to fear that the cases, which could see the suspects in cases 003 and 004 held responsible for atrocity crimes, may implicate other former Khmer Rouge members, some of whom are now in government.
"Those who argued that the Cambodian justice system could somehow be improved and its capacity built by this exercise should be crying in their coffee by now," said Robertson. "Faced with this current situation, the UN has some hard questions to answer about how much is enough, and how much more will they take."
With international donors seemingly losing faith in the tribunal, the UN says the court faces a "serious funding challenge". In the budget proposal for 2012-2013 the ECCC has requested approval for a total of $89.6m, more than two-thirds of which requires international contribution. If the funding request fails to attract donors, the list of obstacles facing the courts will grow, leaving some fearing justice will never be served.