Canon's Shimomaruko headquarters, in the south of Tokyo, stands before us, a huge fortress -like building seemingly forged from no other materials than brushed steel and glass. After completing the necessary security procedures, our group is herded into a cavernous elevator that accommodates 20 people with ease and climbs to the 17th floor in about four or five seconds.


The view over Tokyo's incredible expanse is underwhelming on a grey February morning, but there is little time to dwell. Within minutes, 20 journalists are ensconced in a conference room fit for world leaders. Between the polished wood and dazzling array of beverages, the only thing missing seems to be Obama snapping a selfie with his peers.
Soon we are down to business. A flurry of presentations by Canon's top brass are interesting enough, revealing some attention-grabbing numbers, such as Canon's estimation that 1.3 trillion photo images were saved in 2011. That number jumped to 1.9 trillion last year, and is expected to reach a staggering three trillion within two years.

We are also informed by Go Takura, the head of Canon's DSLR products group, that this year will mark the point at which there are 70 million of Canon's EOS line of products in the world. Perhaps the most interesting point, however, comes when the executives discuss the impact of the smartphone on the traditional camera market. It has been nothing short of immense.
According to Mickey Matsudaira, who leads Canon's compact digital camera and compact photo printer business, the film camera market peaked in 1997, when it achieved 37 million sales. Around the same time, the digital camera was launched commercially and had surpassed film camera sales by 2002.
"What happened is that those who had film cameras went out and bought digital cameras, and those who did not have much interest in taking photos started to buy digital cameras because they were easy to use," explains Matsudaira.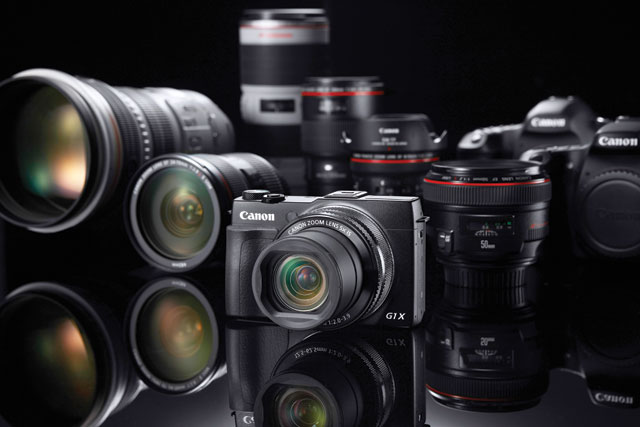 It was boom time for the camera industry. By 2008, about a decade after the digital camera became widely available, sales had reached 123 million, more than three times the peak market size of film cameras.
"Those were the times when people who wanted to take impromptu snapshots, they only had digital cameras," remembers Matsudaira.
In 2006, though, disaster had quietly struck with the release of the smartphone. Within two years of their launch, sales had outstripped digital cameras and current estimates put smartphone sales at more than one billion, almost ten times that of digital cameras' peak.
"The film camera peaked in 1997, with sales of about 37 million, and we believe that in a few years' time, the market size of the digital camera will fall to that level and stay there," says Matsudaira.
This is why Canon (and other camera manufacturers) is increasingly courting developing markets, such as those in Southeast Asia.
Canon's annual sales in Asia are currently at about $7 billion, which includes not only cameras, but also the company's other products such as printers and camcorders, according to Hideaki Nishimura, senior director of Canon Singapore's consumer imaging group. However, in terms of cameras alone, Asia now provides about 30% of Canon's global revenue, making it the company's most significant region sales-wise. And attentions are increasingly turning to the continent's less developed nations.
"The Asean market will become very important in the next five years," says Nishimura. "We are expecting Indonesia, in particular, to grow and become our biggest market in the region. And of course, markets such as Cambodia and Laos also have great potential."
With factories in Thailand, Vietnam and Malaysia, the latter of which has been operational for more than 20 years, Canon's manufacturing incursions into the region began long ago. It is only relatively recently, however, that the Japanese giant has begun to truly sit up and take notice of certain Southeast Asian nations.
"Asia's emerging countries are some of the fastest growing economies in the world and we place great importance on these markets," says Masato Okada, head of Canon's lens products arm, while sitting in a small meeting room at the Shimomaruko headquarters. "Especially for cameras, we have past experiences that we can learn from. We have seen that if a country's GDP is growing, gradually we will see the proliferation of camera products into the market. Places such as Myanmar, where the Canon brand is not well recognised, are very attractive markets for us."
"Compared with developed nations, the brand awareness of Canon is quite different in Southeast Asia," agrees Matsudaira. "Fifteen years ago in China, brand awareness of Canon was also quite low, so we carried out various promotions to raise it. There are all manner of activities, from putting up signboards to carrying out socially responsible activities and supporting sports events. Raising brand awareness in Southeast Asia is going to be very important for us."
Indeed, events such as the Canon Photo Marathon – a manic one-day photography competition – have already proved hugely successful in cities across the region, including Jakarta and Phnom Penh, while Canon was the main corporate sponsor of the most recent Southeast Asian Games, held in Myanmar last December.
Within the group of countries known as the CSPL5 (Singapore, Malaysia, Indonesia, Vietnam and Thailand) Canon currently has the largest market share of both the DSLR market (with 41% market share) and the digital compact camera market (with 24% market share). The company sees this as proof that its initiatives are already paying off. Even in smaller regional markets, the numbers are growing significantly – last year, 30,000 cameras were sold in Cambodia, compared to 20,000 in 2011.
"From just a few years ago, on average, sales have increased threefold across the region," says Masaya Maeda, chief executive of image communications products operations. "Without the growth of Asia, Canon cannot grow."