In the remote reaches of northwest Thailand, a new trek far from Chiang Mai's congested routes provides a window into the lives of hilltribe people on their terms
From our February 2016 issue – download the complete issue via our app here
Life here is simple and easy," says Rang-sri Prasopturm, a member of northern Thailand's Red Lahu tribe. We're sitting cross-legged on the floor of the trekking guide's kitchen, a spacious room made from bamboo. Water for tea boils over the fire in a blackened kettle, while Prasopturm's wife and daughter chop vegetables for dinner. Occasionally, a boisterous puppy and bold chickens searching for scraps wander in, but otherwise this is a peaceful place to sit and learn about rural village life in these remote forested hills close to the border with Myanmar.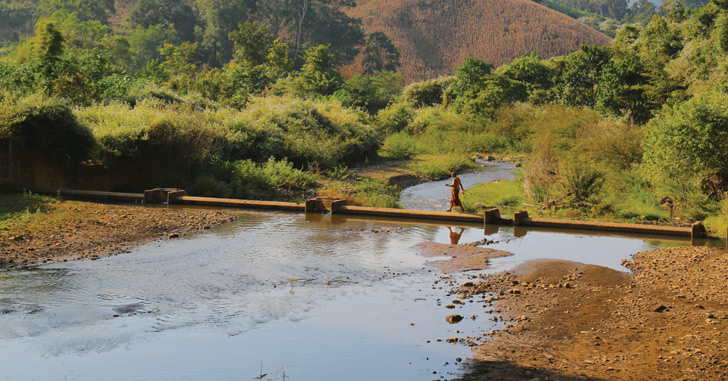 "If you live in the city, people have too many things to do every day," Prasopturm continues, explaining his preference for village life. "They rush. They never go slow, like in this village. The simple life is better."
Simplicity is a big part of the appeal of this trip, a new 'hilltribes trek' into Thailand's little-known Mae Hong Son province, staying in homestays with locals along the way. These small, rural villages aren't places to come for luxury hotels or abundant creature comforts. Accommodation is stripped back, with basic mattresses on the floors of wooden houses. 'Showers' involve filling a saucepan with bracingly cold water from
a trough and pouring it over one's body. Needless to say, there's no WiFi.
The trek was established to help bring more income to these remote villages and to aid development. Trekking in northern Thailand is already popular, some say too popular, with some hiking routes in the areas around Chiang Mai, such as Mae Tang, having a reputation for being overrun with tourists, including alcohol-fuelled group trips designed for partying backpackers. Routes have become too commercialised, travellers grumble, with local hawkers doggedly pursuing hikers along the trails to get them to buy handmade jewellery, crafts or beer. For those seeking a more peaceful experience, venturing further afield to an area that's
a 4.5-hour drive northwest from Chiang Mai presents an agreeable alternative.
Before starting the trek, it is necessary to travel to Chiang Mai, the 'capital of the north', where a day exploring the Old Town's historic temples comes highly recommended. There are plentiful accommodation options available, but 137 Pillars House is an attractive option. The quiet boutique hotel feels a million miles from the rush of the moped-clogged streets, especially at night when the lawn and trees are lit up with lanterns. The hotel's original teak houses were built and owned by Louis Leonowens, son of Anna, upon whom the main character in the film Anna And The King is based. It's a world away from the pared-down simplicity of the
northern hills.
Early the next morning, the trekkers drive out of Chiang Mai, spotting monks young and old in bright saffron robes walking the streets, collecting alms. The road snakes, twists (we were warned of '2,000 bends') and gradually climbs higher into lush, green hills.
After a long drive, we reach the Pa Mai Deang (Red Wood Forest) trailhead to start our trek in the Pang Mapha district of Mae Hong Son province. Our guide, Aviruth Meesupa, who goes by the nickname Ball, introduces us to the locals who'll be leading us through the forest and inviting us into their homes, including the more reserved Yajoe Sankampoe from the White Karen tribe and the outgoing Rang-sri Prasopturm from the Red Lahu.
The forest takes effect instantly; it's relaxing to hike through the peaceful shade of the trees, with no noise from traffic or machinery, just birdsong and our footsteps. Sunlight bounces off the greenery. Through gaps in the trees, limestone peaks can be seen towering above.
As the group progresses, Prasopturm demonstrates how local people use their knowledge of the forest in daily life: the bark from one tree is stripped and tightly twisted to make a thread to form rope; a certain flower indicates a plant whose leaves are used to treat scratches and bruises.
At a bamboo shelter, women from the Red Lahu tribe have laid out lunch (rice, aubergine and pork, fried cabbage and egg, grilled snakehead fish), which is consumed eagerly before the colourful hike continues with a few short climbs, the forest opening out to hills and a green valley. After cutting through fields of corn, the crops give way to the village of Pha Mon, where roosters, pigs and dogs amble through the streets.
About 72 families live in Pha Mon, many of them working in agriculture. The village is more developed than one might expect, with trucks and motorbikes parked outside large wooden, and occasionally concrete, houses. Many of the buildings have satellite dishes and several villagers own smartphones or iPads. This isn't the picture of traditional 'tribal' life travellers might expect on a 'hilltribes trek' – local people wear jeans, T-shirts and sweatshirts, rather than traditional costumes, ornate jewellery or make-up.
Daylight fades over the hills as hikers settle into Sankampoe's home for the night, where mattresses and mosquito nets are set up on the floor. Sitting on a mat for dinner, Sankampoe gives his perspective on rural versus city life: "I feel free here. I eat what I want to eat. I go where I want to go. I feel safe and comfortable. We have little money, but it's good here."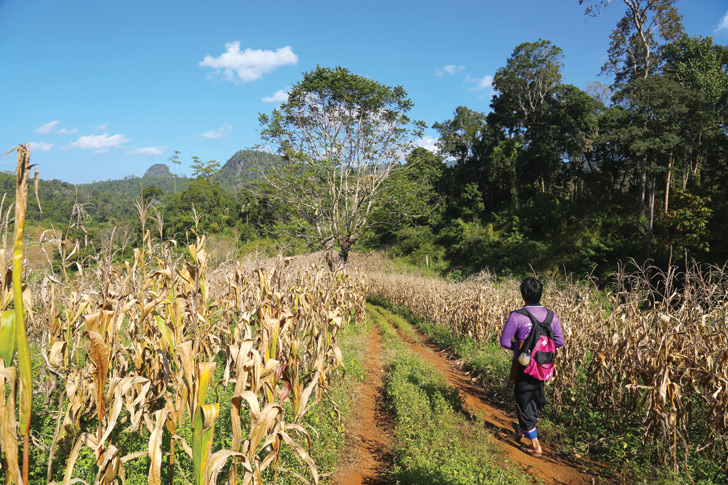 Villagers hope tourism can help bring in money to the area, which was previously dominated by opium production. "Many villages in the past developed in this way, the 'black business'," Sankampoe explains. "And still it was small money. But now we can grow anything: rice, corn… It's better money. And we feel less scared of soldiers coming because opium was illegal."
A chorus of roosters and a cacophony of squabbling pigs signal an early start the next day. Smoke from kitchen fires drifts across the village as I take a walk, making some local women giggle with my attempt at the Lahu 'hello': "A-bo-da-ya."
The day's hike takes in the area from Pha Mon across to the White Karen village of Muang Pam, passing through a wide green valley and up steep forest trails. Prasopturm sings and whistles while the path winds along a river, crossing in and out of the shallow water. Large spiders hang in webs across tree branches. "They're poisonous, but not deadly," Prasopturm says.
Further along, a crab climbs the riverbank. "They taste very good," Prasopturm says. "I eat all animals in the forest: crabs, cicadas, spiders, worms… And beer and whisky," he says, laughing.
Lunch is prepared by local White Karen villagers, followed by bamboo leaf tea served in bamboo cups. In the afternoon, we pass buffalo lazing by a river, and then climb a ladder to a cave where Prasopturm shows us the Saedi pagoda. "This is 600 years old, maybe built by the Shan people," he says.
Prasopturm breaks off some leafy branches from an aubergine tree and carries them to a river that's teeming with big soro brook carp. The water thrashes, a frenzy of fish heads and tails, as he dips the branch into the water. Seconds later, the branch is bare, stripped of leaves.
We reach the village, which, with a population of 600, is larger than Pha Mon. Prasopturm shows us into his home and we relax by the kitchen fire. Among the dishes at dinner, there's a bowl of tasty fern and meaty mushrooms Prasopturm picked up from the forest during our hike.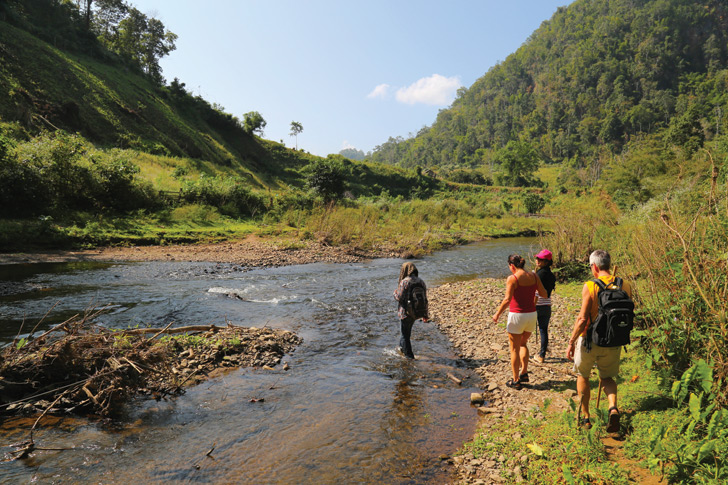 Prasopturm points to the television, the first to come into the village. Electricity is a relatively new addition, only arriving in the past ten to 20 years, followed by the internet. Other changes have arrived, too. "We've lost some of our traditional skills, like weaving baskets. Some old people can still do it, but young people might just buy a plastic basket," Prasopturm says. "Life is more convenient. People buy what they need from the city. But the way of living is the same. Agriculture is the same."
"In the past, the doctor didn't come here," he continues. "We used a lot of local herbs and medicine. Sometimes we used opium if we were in a lot of pain. We smoked opium for pain relief or drank opium tea for our stomach. People in the past also had a very strong magic and prayed a lot."
The new day starts with another rooster alarm call. The trekking group gathers together to hike out of the village, spending the morning crossing a winding river, wading in and out of knee-deep water. "This is the Lang River," Prasopturm says. "It comes in here from Myanmar. The border is just 20 kilometres away."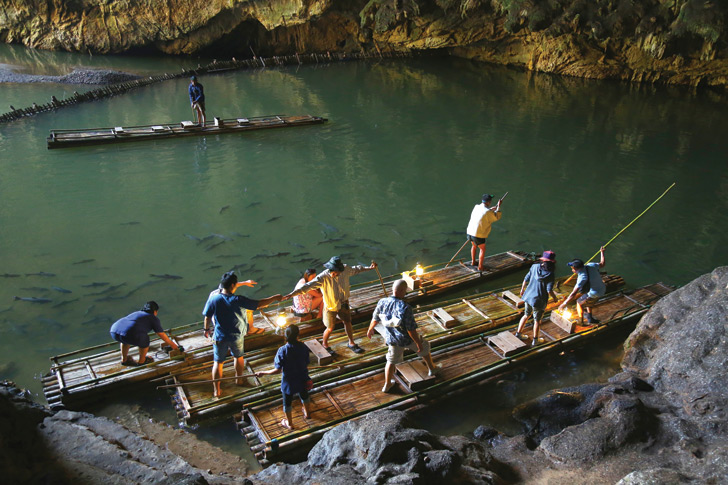 We cut through small farms and come out at a river where teenage boys are throwing nets to catch small fish. A van is waiting here at the trek's end to take us to nearby Tham Nam Lot Wildlife and Nature Education Centre, a vast cave system. Bamboo rafts carry us inside into the veiled darkness before
a guide takes the lead through the caves with torchlight, allowing massive columns, stalactites, stalagmites and a rock formation shaped like a crocodile to come into view.
Back in daylight, our group piles into the van to head back to the bustle of Chiang Mai. We start the return journey along the '2,000 bends' of the road, dropping off first Sankampoe and then Prasopturm, who make their way from the roadside and quickly disappear among the greenery of the forest as they return to their homes in the peaceful hills. 
Essentials
The author travelled with G Adventures (gadventures.co.uk), whose new, five-day Northern Thailand Hilltribes Trek starts from $330 per person, including two nights at a hotel in Chiang Mai with breakfast, all meals during the trek, van transport and guides.
In Chiang Mai, the author stayed at 137 Pillars House hotel (137pillarshouse.com).
Thai Airways (thaiairways.com) fly to Chiang Mai (via Bangkok). For more on Thailand, see tourismthailand.org
Keep reading:
"Liquid midnight" – Searching for the ever graceful giant manta ray in the remote depths of southern Myanmar's Mergui archipelago