Milestone anniversary
Prudential celebrates five years in Cambodia with plans to expand in Kingdom
With Prudential recently celebrating five years in Cambodia, CEO David Nutman discusses how the company aims to grow with the country and reflects on its finest achievements to date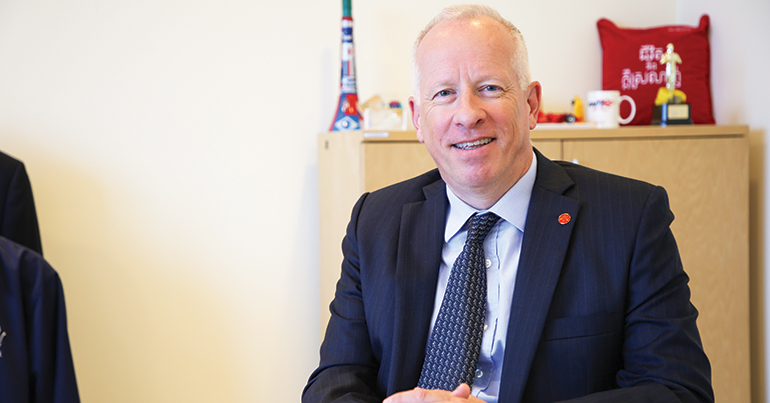 You must be very proud to be celebrating your five-year anniversary in Cambodia…
Of course it's a significant milestone and one we are all extremely proud of, although it really only represents the beginning of our journey here in Cambodia. We have achieved a great deal in that time – notably building a brand from scratch in a new market, building a fantastic partnership with Acleda Bank and putting together a team of smart, passionate people with great integrity. Above all, celebrating this anniversary is as much a tribute to our customers as to anyone else, and we are so grateful for their support and trust.
What makes Cambodia's life insurance market unique?
One of the things that made Cambodia so different was just how new the whole concept of life insurance was to potential customers and how we needed to focus a large part of our initial efforts here on improving awareness and general financial literacy.
With a rising middle class and the country's young population growing up in a modernising Cambodia, how do you see Prudential growing along with the country?
There is the potential for a big 'demographic dividend' in Cambodia for companies like ours that rely on long-term relationships with customers for our success. But there's also the challenge of keeping our products relevant in a fast-changing world. We like to think we have the best of both worlds – a long history of trust, reliability and service, coupled with a passion to change and innovate to meet our customers' ever-higher expectations.
What would you rank as Prudential's finest achievement in these five years? Number one would have to be the trust that our customers put in us every day as we help them plan their financial futures. It's really gratifying to come in to such a new market for life insurance and be able to build that trust from the beginning with a new generation, a whole new country, of people who are growing to understand the importance of financial planning and preparing for the future for them and their families. In large part, we have our great team of people across the organisation to thank for that – their integrity and passion are the building blocks of this trust and we would not be here without them.
Everybody who is familiar with Prudential is aware of its commitment to community investment. What are the company's plans to continue this and continue benefitting Cambodians and their families?
I am extremely proud of the community investment work we do to give back to a society we plan to be a part of for a long time to come. We support some great programmes like First Read, an early childhood learning in rural communities; Safe Schools, where we ensure schools are made as safe from natural disasters as possible; Cha-Ching, teaching children about finances through cartoons and in-class activities; and Safe Steps, a pan-Asian initiative to encourage people to be safer road users or to better prepare for natural disaster like flood and typhoons to keep themselves safe.
---
Read more articles