Myanmar has reached its crossroads. How can it regain its position as a regional leader?
By Joshua Brown
The past year appears to have truly heralded a new beginning for a long-isolated country once considered the 'rice bowl' of Southeast Asia: Myanmar, or Burma, as it is sometimes called.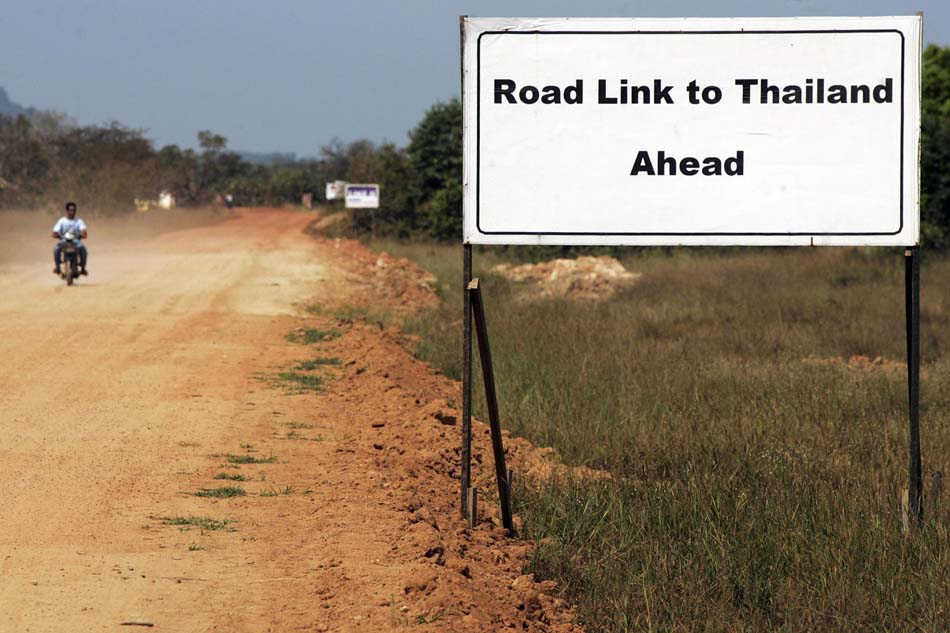 Investors should take heed and remember that the road toward development is long and arduous. Eager investors expecting to ride the rising wave of rapid economic growth stand to be disappointed as the hard reality of reforming and building a new economy almost from scratch comes up against the enthusiasm generated by untapped markets and unexploited resources.
Sweeping reforms in Myanmar's political and economic environments have helped to generate a huge amount of interest in almost all sectors of the economy including mining, oil and gas, power, industrial estate development, manufacturing and many others. As the country begins to implement its new foreign investment law (FIL), Myanmar continues to be a land of both risk and opportunity, where reliable information is scarce.
Inundated with foreign business delegations and government officials eager to learn how to tap the opportunities presented by what is certainly one of Asia's last frontier markets, the country and its leaders will struggle to keep up with outside pressures to liberalise markets and implement much-needed reforms, if recent history in Southeast Asia is any guide.
Despite ranking amongst the leastdeveloped economies in the world, Myanmar benefits from a large, relatively young and underemployed labour force, abundant natural resources – including substantial reserves of minerals, petroleum and timber – and a geographic position that borders almost 40% of the world's population, including India and China.
Some analysts have predicted annual GDP growth rates as high as 8.8% for the foreseeable future. Meanwhile, the government has set admirable targets to triple GDP per capita by 2016, the same year by which they plan to reduce absolute poverty from 26% to 16%. Independent assessments by the International Monetary Fund and Asian Development Bank have suggested many of Myanmar's ambitious goals may be achievable if well-managed reforms stay on track; but such an isolated economy will take time to grow.
Tripling GDP per capita in four years would require a compound annual growth rate in the economy of 31% annually, a rate that no country has achieved or could sustain without unimaginable strains being placed on the economic, social and political fabric of the country.
The more realistic forecasts of an average of 8.8% growth – an enviable rate for any developed economy, but one that has been sustained in some Asean countries – would triple Myanmar's GDP per capita by 2025. Such performance could catapult the country from a low-income country as defined by the World Bank (GDP per capita of less than $1,005) to a lower-middle-income country (GDP per capita of less than $3,975), placing it in the same club as regional neighbours Cambodia, Laos and Sri Lanka.
While Myanmar's labour force, estimated at 37 million people between the ages of 15 and 64 – representing almost 68% of the population – is large and relatively young on a global scale, it is largely comprised of underemployed agricultural labourers. Agricultural and agri-business labourers produce about 36% of economic output and related industries employ 56% of the labour force, more than double the percentage of neighbouring Thailand.
A large majority of these farmers are living in remote areas of the country long dominated by sectarian strife with the central government. Bringing underemployed agricultural labourers into the real economy will be key to supporting investments in manufacturing, which currently employs only 15% of the labour force and has been key to driving economic growth in countries such as China, Indonesia and India.
Given low levels of economic development and high underemployment, Myanmar's manufacturing labour rates are some of the lowest in Asean, heightening the country's prospects as a manufacturing destination. There is currently no minimum wage – lowest skilled labourers earn about $60 per month compared to statutory minimum wage rates of $61 in Sri Lanka, $66 in Cambodia and Vietnam, $71 in Laos and $79 in Indonesia. However, a series of strikes at firms in Myanmar which were paying up to 25% less than these rates, prompted recent wage increases in and around Yangon.
Despite its active labour market, major structural challenges abound. An antiquated financial and banking system disconnected from the outside world by decades of economic sanctions and years of macroeconomic mismanagement – resulting from a lack of bureaucrats experienced in managing a modern economy – present unique challenges as waves of foreign direct investment chasing high returns threaten to overwhelm this newly opened economy.
At the same time, Myanmar can benefit from lessons learned in other Asean countries, some of which suffered from 'too much, too fast' reform agendas or irrational expectations that growth could be achieved and sustained without structural reforms within the economy.
The country's decades-old import licensing system stifled the garment manufacturing sector, requiring Myanmar-based contractors to develop a Cut-Make-Pack (CMP) system whereby textiles were purchased and provided at no cost to garment sewing companies who would only provide cutting, sewing and packing services without taking title of raw materials for which they did not have an import license. With the reforms of these licensing requirements in 2011, the industry can now operate like others in the region and will likely continue to attract investment and customers.
While improvements to the finance and banking sectors, alongside fiscal, monetary and legal reforms, remain paramount to ensuring growth, the country will have to quickly address huge gaps in infrastructure, train a poorly educated work force, improve agricultural productivity, expand existing sources of government revenue and reform the tax code to increase collection.
Only 23% of the country's 46,975 kilometres of road are paved, and those that are paved support truck speeds of only about 40km per hour on average. International trade out of Myanmar relies exclusively on one international container terminal and the country continues to suffer dramatically from power shortages. Only 70% of those that begin primary school finish and many do not even begin. The agricultural sector, which still accounts for more than half of total employment in the country, is in serious need of improved access to hybrid seeds, modern farming techniques and post-harvest storage.
While the opportunities presented by a liberalising economy can be large, so are the demands placed on antiquated or non-existent government administrative and judicial structures. The challenges of building an effective bureaucracy using a woefully inadequate tax base that is also needed to pay for many of the required projects, loom large.
Financing the forecasted growth will be a major challenge and Myanmar will likely rely heavily on international support, both from inter-governmental organisations like the World Bank, International Monetary Fund and Asian Development Bank, as well as bilateral government assistance, public-private partnerships and build-operate-transfer arrangements for a wide range of investment in human capital capacity building and hard infrastructure upgrades.
A mixture of approaches and partners will be needed to tackle these policy development needs, human capital and social initiatives and especially large-scale, badly-needed infrastructure projects, a lack of which is a huge impediment to fast economic growth.
The foreign investment law – announced in early November – and reforms to legislation governing key industries such as mining and telecommunications will also have to be carefully managed and adopted to provide foreign investors with the requisite confidence to invest and partner with local public and private sector organisations.
Concerns from certain quarters about the sudden emergence of competition in the long-closed economy have helped to galvanise economic and political interest counter to existing reform trends, putting at risk much of the positive support generated by initial efforts of reformers in the ruling party to open the economy.
The recent promulgation of the FIL, however, has revealed that the reformers have triumphed in this latest round of liberalisation. The new law should jump start foreign direct investment (FDI), which skyrocketed to $20 billion in 2010 – more than the sum total of the previous 20 years combined – on the back of major investments from China, Hong Kong, Thailand and Korea. Compare this to Vietnam and Thailand, which attracted $57.9 billion and $137.2 billion in FDI in 2010 respectively.
While political and economic reform are moving forward quickly, human rights issues and unrest in certain states have tested the efforts of President Thein Sein's administration to seek reconciliation with Myanmar's different ethnic groups including those in Rakhine State, home to the Rohingya Muslim minority who say they have been persecuted by Myanmar's military for decades under authoritarian rule.
As recently as October, ethnic clashes saw at least 84 people killed and 3,000 homes destroyed. In June, at least 90 people were killed in similar clashes and 3,000 homes were destroyed, leaving tens of thousands in refugee camps. An inability to address issues at the core of ethnic tension threatens to unravel much of the economic and political reform that has been made since 2011.
These issues combined produce an unquestionably unstable cocktail for development. Vital components of this recipe include: improved macroeconomic management; a strengthening of public institutions, particularly legal and economic institutions; greater government transparency; improved protections for investors; responsible development of natural resources; new investment in hard infrastructure; and education.
With a large population, vast natural resources and increasing capital inflows, the country already has the basic ingredients for an economic renaissance. Improvements in access to capital for small and medium-sized businesses and stronger legal protections remain vital to developing a middle-class economy. Rapid vertical expansion of extractive industries such as mining and hydrocarbon exploration and production – which tend to be extremely lucrative, but only benefit the few – must be balanced with measures to build a healthy middle class, reduce poverty and generate equitable and inclusive growth.
Myanmar has reached a watershed moment in its political and economic evolution. The country's development will likely be much slower than anticipated, but if Myanmar's leaders continue to exercise the pace and management of reforms, the country will be headed towards regaining its position as a regional leader amongst the economies of its fellow partners in Asean.
Joshua Brown is a consultant and chief representative for Myanmar at Tractus Asia Ltd, a management consulting and business advisory firm advising clients on investment and business practices in Asia from offices in China, India, Indonesia, Myanmar, Thailand, the United States and Vietnam.
Related Articles
"From prison to parliament" – National League for Democracy MP Phyo Min Thein discusses torture, ethnic violence and Myanmar's long road towards democracy