The three farmers looked at the audience with a mixture of resilience and exhaustion. It was their latest sojourn from Oddar Meanchey province in Cambodia's north to Phnom Penh. That day in March 2017, they had come to the capital to tell the public about the land dispute they had endured for almost ten years.
"They took our land. We lost our livelihoods," said Smen Te, a community representative of Samrong Town. "I'm tired."
The three, and hundreds others, had been promised jobs when the Angkor Sugar company came to their village in 2008. Later, the company pulled out of the investment again, leaving villagers without jobs – or land.
When the European Union introduced its Everything But Arms (EBA) agreement in 2001 to aid the economic growth of dozens of developing countries, praise and hope were ripe due to a clause within the agreement explicitly linking preferential market access to the protection of fundamental human rights. But after the arrest of opposition leader Kem Sokha and the dissolution of his Cambodia National Rescue Party (CNRP) last year, the EU issued a statement saying the EBA could be in jeopardy as a result of what it describes as a crackdown on political freedom, a litany of alleged human rights abuses and an upcoming election that looks to be neither fair nor free.
Over the past year, the ruling party has launched an assault on the rights of its citizens to engage in political activity through the closure of print and radio news outlets and the banning of 118 opposition figures from politics – and the EU's patience is beginning to wear thin.
"A situation in which all parties, including the CNRP, their leaders and their supporters, are able to carry out freely their legitimate functions must be swiftly restored," the statement read, as reported by the Phnom Penh Post. "Respect of fundamental human rights is a prerequisite for Cambodia to continue to benefit from the EU's preferential Everything But Arms scheme."
---
Percentage of preferential imports from EBA beneficiaries in 2016; Cambodia is the second largest exporter to the EU among these countries
Cambodia is one of the 49 Least Developed Countries exempted from tariffs by this agreement for all sectors except weapons. In March this year – 17 years after the introduction of the agreement, which has been critical for Cambodia's garment, sugar and rice industries – the European Commission announced a monitoring mission to the Kingdom in June.
The European Union "is closely monitoring the situation in Cambodia to assess compliance with the relevant human and labour rights conventions," said European Union Ambassador to Cambodia George Edgar in an email to Southeast Asia Globe. "The EU needs to see real and sustained improvements if further steps are to be avoided."
But the monitoring mission now has been postponed until early July. For weeks, the Cambodian government has not agreed on a date, casting additional doubts over the effectiveness of human rights clauses in the EBA agreement.
The "programme [is] under preparation, but [we're] definitely expecting [a] fact-finding mission in early July", Edgar said in a message in late June.
The mission would cover all EBA-chosen areas under the 15 United Nations and International Labour Organisation conventions, said Kinga Malinowska, press officer for trade at the European Commission.
Malinowska said EBA is "an important driver of Cambodia's economic growth", with 40% of Cambodia's exports going to the EU last year. In 2016, Cambodia contributed 18% of all EBA imports to the EU, amounting to almost $5 billion – second only to Bangladesh.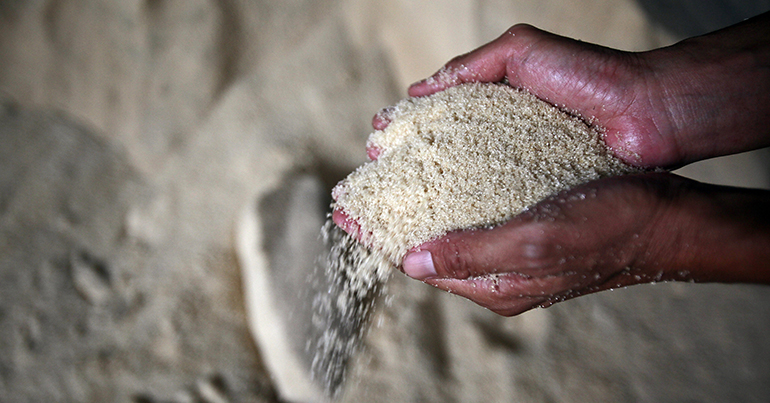 But as farmers such as Smen Te know only too well, the EBA's human rights cause has done little to protect Cambodians from being exploited by companies benefitting from the vast new opportunities under EBA. Along with the Kingdom's unprecedented economic growth came human rights breaches by actors taking advantage of the preferential agreement. One example is in Cambodia's sugar industry, which was fully pulled into the EBA agreement in 2009.
"We argue that EBA preferences have become an incentive to invest in the sugar industry that is now associated with [human rights] violations," said Karin Ulmer, senior policy officer for food security at ACT Alliance EU.
Ulmer said the size of the Cambodian sugar industry was negligible before the preferential tariff treatment was extended to that sector, but had grown substantially since. One reason behind the sugar industry's rapid growth was the economic land concessions provided to companies by the government – up to 10,000 hectares of adjacent land that in theory should be empty, but in practice wasn't always. Some companies have adjacent ELCs, giving them control of even larger swaths of land.
Thousands of people were forcibly displaced and, as a result, lacked adequate housing or an income to sustain themselves and their families. Some lacked access to adequate water and food. Many have not received any compensation, and others have received what they claim is inadequate compensation.
Sugar land disputes have been brewing in Cambodia's Koh Kong, Preah Vihear and Kampong Speu provinces. Phong Sokit, 58, a rice farmer from Oral district in Kampong Speu, lost 25 hectares of his land in 2010. It has hit his family hard, he said: "We do not have enough land to do farming." Sokit explained that before sugar came to his province, he and his family could harvest enough rice to sell some of it. Now, they were growing barely enough to feed his family, he said.
---
Value of preferential imports the EU by Cambodia from 2014 to 2016 (in thousands of euros)
Many people have been arrested when protesting against their land being grabbed. Villagers report cases of intimidation by local authorities or sugar company representatives.
In June, 200 villagers from Koh Kong province headed to Phnom Penh on buses to protest an alleged land grab by sugar interests ten years ago. The protesters were forced to walk part of the way after authorities stopped their buses, reported Cambodian rights group Licadho. A month before, villagers on their way to the capital were met by police roadblocks and aggressive officers who allegedly harassed them as they walked to the Ministry of Land Management, Urban Planning and Construction to air their grievances, according to Licadho.
Despite repeated calls by human rights organisations and the European Parliament to investigate the sugar industry in Cambodia, the European Commission has yet to trigger a formal procedure under Article 19 of the EBA agreement allowing for suspension of the EBA for serious and systematic human rights abuses. In 2014, the commission sent technical experts to Cambodia to conduct a joint audit with the ministries – but without the government's approval, the audit has yet to see light.
Roman Herre, expert on land disputes at Europe-based food rights organisation Fian, said the European Commission had ignored human rights concerns in the sugar sector, which he said had violated the rights of 10,000 people.
"They on purpose interpreted the directive in such a conservative way that it has been impossible to trigger a formal investigation procedure," said Herre. "Amid all justified criticism of the Cambodian government, one should not forget that this is also about the respect of our human rights obligations in Europe: we massively subsidised sugar plantations in the form of [the] trade initiative EBA, and are jointly responsible for its aggressive expansion."
Yet, while the EU did not investigate the sugar industry despite repeated calls to do so, it announced in March that it is investigating the rice sector for posing a threat to Italian rice farmers' competitiveness. That raises questions about the EU's priorities, ACT Alliance's Ulmer said.
EU Ambassador Edgar expects the investigations to be concluded within 12 months after they begin. "Should action be necessary… the Commission will aim to take measures that, while protecting EU producers, [will] least harm the countries concerned and the operation of the scheme," he said.
The CPP government might conceivably make a concession or two in response to European pressure, but nothing that would knowingly threaten its hold on power

Sebastian Strangio, author, Hun Sen's Cambodia
After remaining silent about human rights concerns for years, the European Commission is now reminding Cambodia of its obligations under the treaty and threatening to suspend the agreement.
The European Commission's Malinowska said the EU was "closely monitoring" the situation "to assess compliance with the relevant human rights and labour rights conventions" though this remained a measure of last resort.
Cambodia observer Astrid Norén-Nilsson, an associate senior lecturer at the Centre for East and South-East Asian Studies at Lund University, suggested EU officials may have assumed that maintaining political stability was necessary for democracy promotion, and consequently overlooked steps backward by the Hun Sen administration.
With the political crackdown came the realisation that this strategy of pushing democracy was not working, she said. A suspension of EBA would be the only way to put pressure on the Cambodian government. A withdrawal after the elections, she said, "appears fully possible".
Sebastian Strangio, author of Hun Sen's Cambodia, agreed that the current political situation in Cambodia made it impossible for the European Commission to ignore abuses any further: "The curious thing is, Cambodia has never really been a democracy, despite holding regular elections and allowing some media outlets and NGOs to operate without hindrance. What has disappeared in recent months is simply the pretence. This brings us to what I think is the heart of the issue. By putting on a democratic show for so many years, Hun Sen actually did donor governments a favour – that is to say, he allowed them to resolve the contradiction between their avowed commitment to human rights and democracy in Cambodia."
---
Cambodia's recent rights crackdown, said Strangio, has exposed the central deceit of the West's democratic agenda in the Kingdom.
"Now, by abolishing any believable pretence of democracy or individual rights, Hun Sen has exposed this contradiction and the shaky assumptions upon which years of European and Western policy have been based," said Strangio. "The EU has to respond somehow, and EBA membership is the only real leverage that it has to affect Cambodian behaviour."
Observers, meanwhile, disagree on the likelihood of a suspension of the agreement – and whether a suspension would even help improve human rights in Cambodia. Political analyst Lao Mong Hay said a suspension of EBA was entirely possible but that it would harm those who weren't responsible for human rights abuses at all, the hard-working people on the ground: "Suspension of EBA means punishment of the innocent. Is it fair? Is it ethical to do that?… There can [however] be punishment against senior government officials, our leaders." That punishment might include travel bans, freezing of assets and naming and shaming leaders under a global spotlight.
Ulmer, of ACT Alliance EU, said a sector-focused suspension could put pressure on the government without harming the general population since sugar exports are low compared to those of other sectors. This could positively impact human rights in Cambodia, she said, since the "elite is directly involved in the economic interests in the sugar sector".
Strangio, however, said he was "sceptical" that a suspension of EBA would make a difference to democracy in the Kingdom: "The CPP government might conceivably make a concession or two in response to European pressure, but nothing that would knowingly threaten its hold on power. And then we will be right back where we were before the recent crackdown: the realm of legalistic box-ticking and empty gestures."
Land dispute expert Roman Herre said the likelihood of a suspension was low in the first place since the EU opted for dialogue instead. The consequences of an EBA suspension are often portrayed "too polemically", he said: "Should the EU Commission start the suspension process officially, the Cambodian side would have over a year to take measures, such as giving land back and compensating victims. Only if nothing of the sort happens would the suspension be implemented."
And even if suspension did happen, the economic fallout wouldn't see immediate devastation for Cambodians, according to Herre: "The EBA suspension process is a long one, so the EU wouldn't just announce it and the next day thousands of people lose their jobs."
"If the situation doesn't change, my children might have to go migrate to work [as] construction workers."

Sokhit, farmer
Suspension of the agreement would cost Cambodia $676 million in tariffs, Minister of Commerce Pan Sorasak said in a leaked 2017 document, as reported by the Phnom Penh Post.
Meas Sokdesan, spokesman for Cambodia's Ministry of Economy and Finance, has stressed that EBA is of crucial importance to Cambodia – while insisting that the Cambodian government had not done anything that should trigger suspension.
Workers would be hit hardest by a suspension. In Cambodia's garment industry, for example, which employs around 700,000, thousands could face layoffs. But economic downturn affects more than just workers. Kaing Monika, deputy secretary-general of the Garment Manufacturers Association in Cambodia, estimated that about two million people depend on the income of garment workers in Cambodia, including families and food vendors around the factories. Despite this, he remained unconcerned about the threats. "EBA will continue until Cambodia graduates to a middle-income country," he said, arguing that the garment sector had improved significantly in its respect for labour rights. "We don't see any possibility of EBA being suspended for Cambodia."
A loss of income would be difficult to replace, said political analyst Mong Hay: "How could they earn their livings? Return home with nothing to do on the countryside – and do seasonal farming?"
With elections set for 29 July, it remains to be seen when the EU will conduct its monitoring mission and whether it will trigger an official investigation.
Farmer Sokhit, from Kampong Speu, hopes the EU will take action: "If the situation doesn't change, my children might have to go migrate to work [as] construction workers. We want the EU to push our government to immediately solve this land dispute so that we don't suffer any longer."
---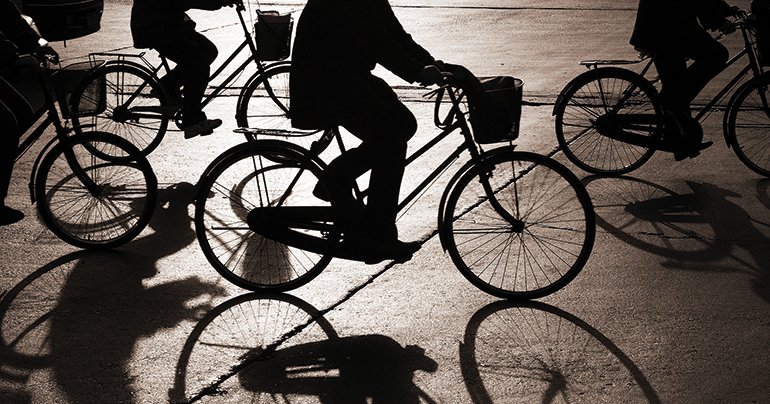 The Everything But Arms agreement with Cambodia came under additional scrutiny in 2015 over accusations of laundering in the Kingdom's bicycle industry.
Under EBA, Cambodian bicycle manufacturers could export bicycles duty-free to European Union members. But a nine-month investigation by the European Commission found that cut-rate Chinese bicycles were exported to Cambodia and then to Europe as a loophole around the EU's 2013 ban on bikes from China. The commission imposed a 48.5% anti-dumping tariff on Cambodian bicycle imports (with an exemption for three companies it said had not been exporting Chinese bicycles). Anti-dumping measures are valid for five years and can be renewed.
Cambodia is the largest supplier of bicycles to the European Union, with 25% of the EU's imported bikes by weight having come from Cambodia in 2017, followed by Taiwan.
At the beginning of June this year, the European Bicycle Manufacturers Association requested an expiry review of the anti-dumping measures for imports on Chinese bicycles to prevent future dumping.