5:30AM
Chhurn Samrach wakes up on a single bed in his humble dormitory room. The shelves are full of books and not much else. Bright orange robes hang from the washing line above his bed and a 1990s English football poster hangs on the wall. He shares this small room with a 19-year-old student, who sleeps on the floor with one pillow. The pagoda often takes in young boys from poor backgrounds, providing food and shelter while they carry out their studies to join the monkhood.
6:30AM
Samrach begins his daily four hours' study of the classical Pali language at the Buddhist University. "If I didn't become a monk then I could not study," he says. The monkhood is often the only way for young boys in the countryside to get an education.
Samrach, who grew up in a remote part of Siem Reap province, needs to save $500 a year for his studies, which he raises from pagoda donations and assistance from his mother. Some monks also collect alms in the morning to raise money for university, but Samrach studies during this time instead. By virtue of living in a pagoda in the comparatively wealthy capital, he benefits from higher donations than monks in rural areas, who often struggle to afford their education. Those in Phnom Penh and Siem Reap, he explains, have a better chance.
11:00AM
It costs the pagoda $10 to prepare lunch for 13 monks and 20 students. The kitchen is basic and dark; a crack in the wall lets in a sliver of sunshine, the only source of light. An elderly woman walks slowly around the room, delegating tasks. Some young students cut up vegetables and small prawns, ignoring the cat that casually nibbles at the ingredients as they prepare them.
The monks sit cross-legged on the floor as they eat their lunch and discuss the day so far.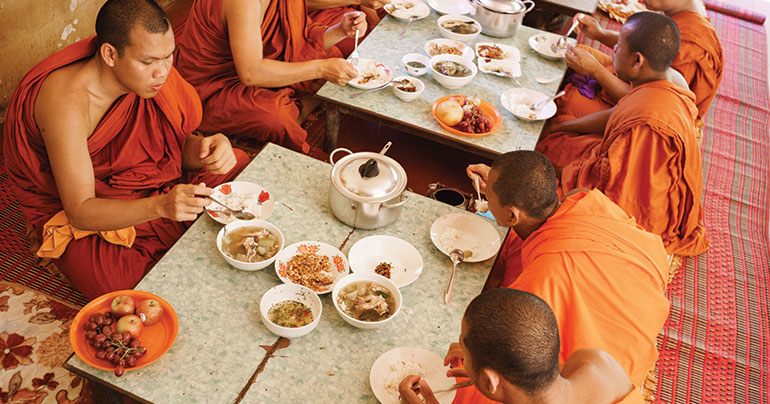 1:00PM
After napping for an hour, Samrach uses the early afternoon to study and brush up on his English. He often reads, but he says that sometimes reading makes him feel stressed, so instead he watches YouTube videos on the $600 laptop he saved for two years to buy.
The dark bedroom provides a welcome escape from the afternoon heat. Samrach sits at his desk beside his bed and begins to watch clips of old Barack Obama speeches. "Public speaking helps me develop my English and come up with ideas for class," he says, without tearing his gaze from the screen. Not all his viewing choices are so educational, though: he's a big fan of The Voice Kids Cambodia and perks up to speculate on who will win the competition this year.
3:00PM
"The coffee in the pagoda is bad for my stomach," says Samrach, so we venture out to the popular Amazon Coffee chain, where there is air conditioning, sweet coffee and Western pop music playing in the background. By Cambodian standards, the coffee isn't cheap, and he can't afford it very often. "This is a treat," he says.
As he drinks his coffee, Samrach begins to relax and open up about his life. His father was a medical soldier who was killed during the civil war in the 1990s, leaving his mother alone to care for Samrach and his three siblings. His brother joined the monkhood before him, and Samrach followed at 15. "Most people become monks because they are poor," he says. Despite the element of necessity, however, he is keen to continue his study of Buddhism and hopes to one day study for a master's degree in Pali in Sri Lanka.
He finishes his coffee and wanders over to the well-kept lawns in front of the Royal Palace – a popular picnic spot – to relax with other young monks before his evening classes begin.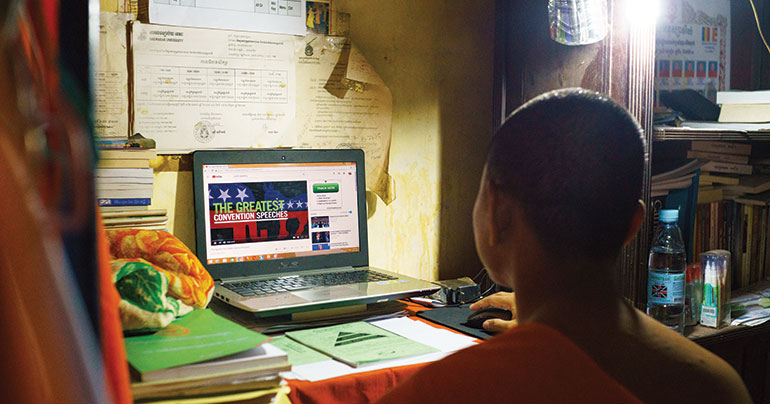 5:30PM
Samrach studies English for three hours each evening at Build Bright University. Some monks choose to study philosophy or specific aspects of Buddhism, but Samrach is more interested in languages. He thinks that English will be useful in helping him find a job.
When he leaves the monkhood, which he will likely do after completing his master's degree, Samrach hopes to become a high school English teacher. "Once a monk has enough knowledge, then he can serve society in different ways," he explains. "Most former monks still try to stick to a Buddhist way of life," he adds, although he admits he is also looking forward to trying a beer.
8:30PM
After class, Samrach walks home, meditates for 15 minutes and bathes. He and his roommate are usually asleep by 10:00pm.