In recent years, Myanmar has shaken off its hermetic status and been embraced by the international community. However, the country's constitution remains a significant stumbling block to overcoming its militaristic past


By Sebastian Strangio
In late May, the National League for Democracy (NLD), the political party led by democracy icon Aung San Suu Kyi, launched a public campaign seeking far-reaching changes to Myanmar's 2008 constitution. For the first time since April 2012, when 'the lady' was elected to parliament amid scenes of celebration, party supporters decked out in the NLD's red peacock-and-star insignia have reappeared on the streets in their thousands.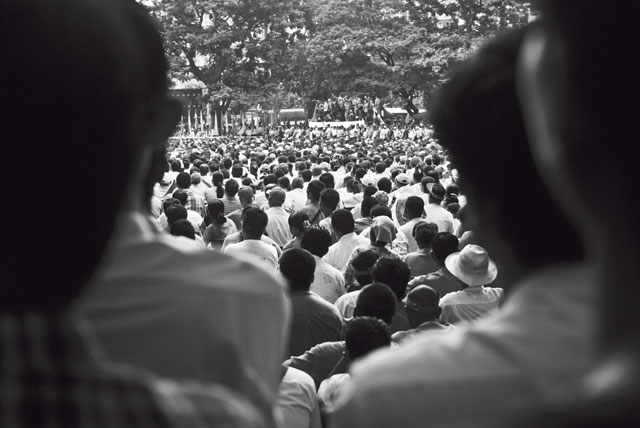 Myanmar's constitution looms as a key political issue as the country approaches national elections scheduled for late next year. Formulated by the former junta government and passed in a bogus referendum in 2008, the constitution cements the military's dominant role in politics and effectively bars the popular Suu Kyi from the presidency. Since the reformist government of President Thein Sein took office in 2011, opposition parties, political activists and ethnic minority groups have campaigned for sweeping changes, while others have called for an opportunity to scrap the document and essentially start over.
On May 17, on an overcast morning in Yangon, Suu Kyi and members of the '88 Generation' of student activists appeared at a rally, where they called for Myanmar's powerful military to throw its support behind the idea of constitutional change. "I would like to ask the army whether they want to back down in a way that's dignified, in a way that earns them the cheers of their people," Suu Kyi said, eliciting cheers of her own from the 15,000-strong crowd. "Think of the country's future and respect the public's will, which is for you to back down from parliament, and to do so willingly when the time comes."
Ko Ko Gyi, a former student activist and current secretary general of the 88 Generation Peace and Open Society, which is partnering with the NLD in its campaign, said the groups decided to petition the public after months of sluggish progress by the official parliamentary Constitutional Review Joint Committee, formed last year to propose changes to the charter. "Even the existing constitution allows [us] to have freedom of speech," he told Southeast Asia Globe during a recent interview in Yangon. "We will give speech to the people and try to gather signatures from the people. That's all – no violence."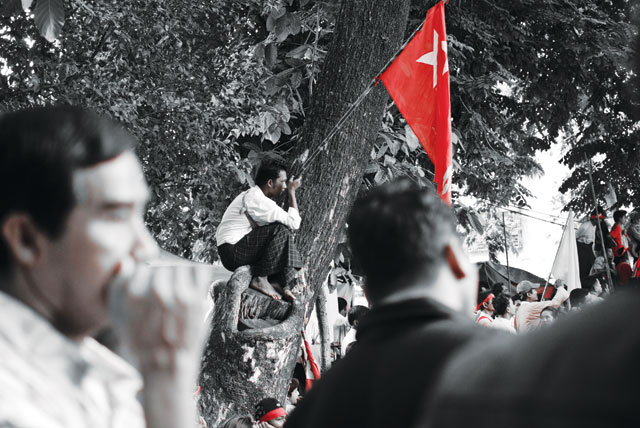 The campaign's main focus is on amending Article 436, which requires more than 75% of the parliament votes to approve any changes to the constitution. Since the constitution also reserves 25% of the seats in the lower house for military candidates, Article 436 gives the Myanmar military, or Tatmadaw, a de facto veto over any changes. The NLD and the 88 Generation have now begun gathering signatures from the public in support of tweaking this key provision, and will submit them to the parliamentary review committee late this month.
After that, it's unclear what will happen. There is no doubt about the importance of constitutional change if Myanmar is to remove the military from politics and finally embrace parliamentary democracy. Tomás Ojea Quintana, the United Nations Special Rapporteur on the human rights situation in Myanmar, said in a recent statement that constitutional reform in Myanmar is "a crucial step in the transition to a more democratic nation". The theory is simple enough. But the current constitution has to be seen in the context of Myanmar's 'seven-step roadmap' from military dictatorship to a sort of hybrid constitutional autocracy – what the old junta esoterically termed "discipline flourishing multi-party democracy".
Penned by the old military junta, analysts say Myanmar's constitution was designed to protect the military's interests ahead of the reform process that began when President Thein Sein took office in 2011 and has since seen Myanmar shrug off its status as an international pariah and open itself to foreign investment. As such, the constitution is rife with safeguards against any outbreak of "undisciplined" democracy. In addition to reserving a quarter of the seats in the lower house for the military, it also allows the commander-in-chief of the Tatmadaw to appoint the Ministers of Defence, Home Affairs and Border Affairs, effectively ruling out any civilian control of the armed forces.
Another provision grants legal immunity to members of the former regime who committed crimes while in office, while the constitution's Article 59 bars any candidate from the presidency whose spouse, children, or parents are foreign citizens, preventing the popular Suu Kyi – whose children, like her late husband Michael Aris, are British citizens – from holding the country's top office. These provisions are in turn controlled by the master key: Article 436 – the military veto over any constitutional changes. "They need to protect the generals and the former generals, they need to protect the former senior-general, and they need to protect the military's business interests," said Thiha Saw, editor of the Myanma Freedom Daily, "so I think they will try to retain some old styles, some old clauses, at least for a while."
With this in mind, the NLD and 88 Generation activists now face a circular dilemma: how to force an entrenched military and the military-backed, ruling Union Solidarity and Development Party (USDP) to make concessions that they have no obvious political interest in making. "Aung San Suu Kyi has enormous popular support. But you know, power comes out of the gun's barrel, and the biggest challenge is the Tatmadaw," said Myat Thu, the founder of the Yangon School of Political Science. "Article 436 is the entrance to the amendment of the whole constitution. The Burmese military knows that very clearly, so they will resist to the end."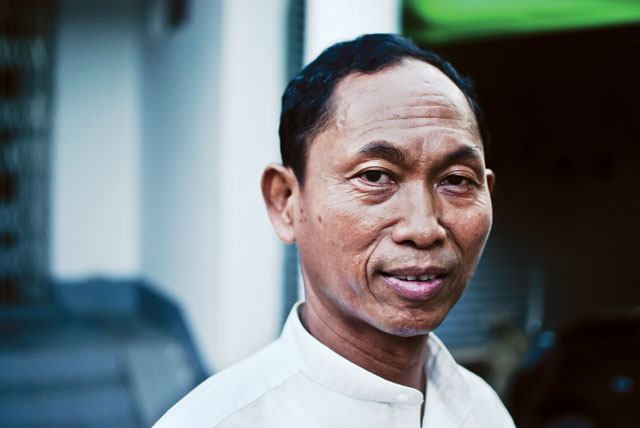 In late May, after the NLD held large rallies in Mandalay and Yangon, Hla Swe, a central executive committee member of the USDP and a former lieutenant-major in the Tatmadaw, warned that mass demonstrations posed a threat to social stability. "The NLD and 88 want to cause public disorder by stimulating people to change the constitution. They shouldn't do that," he told The Irrawaddy newspaper. The head of the Union Election Commission then warned Suu Kyi that by the very act of calling for charter amendment, she was "speaking outside of the boundaries of the constitution".
Government officials argue that the NLD should instead work through the official channels of the Constitutional Review Joint Committee in parliament, but progress on that front remains slow. The 31-member committee, which includes members of the opposition and ruling parties – as well, inevitably, as the military – has suggested some important changes to allow greater power sharing between the government and ethnic groups – a key gripe along Myanmar's troubled ethnic periphery – but has remained vague on core provisions. In June, the committee reportedly voted against amending Article 59 – dealing a blow to Suu Kyi's presidency hopes – but has previously stated it was open to changing Article 436. However, Ko Ko Gyi said it remains unclear how, or when, it will be amended.
Even then, it will still require military support if it is to pass parliament. "This is kind of like a diversion," Myat Thu said of the committee's work, "and it will end short of the desired amendments. They may amend some sections, but not very important sections." Thiha Saw agreed that time was on the side of the Tatmadaw and the USDP. In the meantime, the NLD and its 88 Generation allies will have to walk a tightrope, pressing their demand for constitutional change while doing enough to reassure the military that it would retain an important national role in any future system. "They shouldn't push too far," Thiha Saw said. "If [the generals] feel intimidated, if they feel insecure, they will fight back. The trick is to make the military feel secure."
However, Ko Ko Gyi said the democratic forces were being realistic, recognising that, after half a century at the helm of Myanmar's politics, the Tatmadaw would be an inevitable ingredient of the democratic mix in the run-up to the 2015 election – and beyond.
"We realise that we cannot put aside the army in politics, for the time being," he said. "We are just trying to convince the army, and also the ruling party, that we don't mean to threaten anybody."
Keep reading:
"A quiet struggle" – Myanmar's LGBT community suffers abuse, stigma and the legacy of colonial and dictatorial rule. Slowly, however, it is mobilising and finding a voice