The Malaysian government is said to be cracking down on those suspected of promoting the ideology of Isis and recruiting new members for the Islamic organisation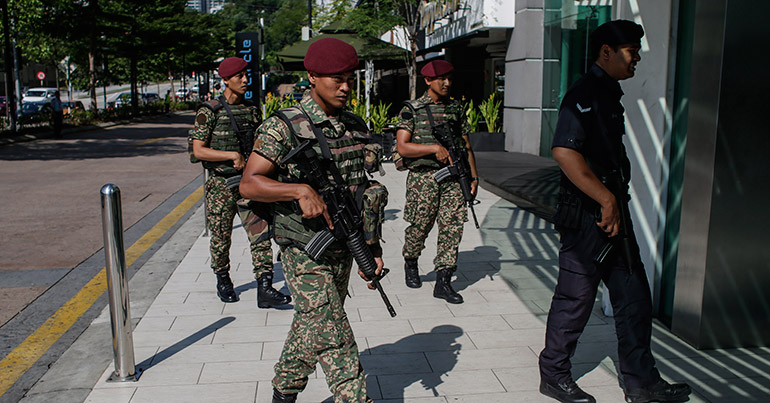 Malaysia's Ministry of Home Affairs has announced that 234 Malaysians suspected of having links to the Islamic State (Isis) have been detained by the police as of 22 February, according to a report on Malaysian news site Bernama.
According to the ministry, police have also identified 95 Malaysians who have joined Isis in Syria.
"Of this, 30 have died while another eight were arrested as soon as they returned to Malaysia," the ministry said in a letter to lawmaker Ikmal Hisham Abdul Aziz – who had asked how many Malaysians were involved in Isis – at a meeting of the lower house of parliament on Tuesday.
The ministry also stated that the Malaysian government has ramped up security at all major entry points to the country, as well as intensified the enforcement of existing laws such as the 1959 Prevention of Crime Act, with the aim of enabling the government to prosecute those expected of terrorism.
The letter added that cooperation between police and the Malaysian Communications and Multimedia Commission has increased in order to monitor the internet for sites and users promoting Isis' ideology and recruiting new members.
"This is aimed at curtailing the growth of the [Isis] influence. The police are also working hard to prevent [Isis] ideology from influencing Malaysians by conducting operations and making arrests, from time to time," it said.
Isis, a Middle Eastern-based group that is waging a bloody war to establish a worldwide Caliphate, has seen its influence grow in Southeast Asia. The Philippines' Abu Sayyaf and those associated with last year's Jakarta bombing are some of the groups that have had suspected ties to the Islamic organisation.