As a photo, it was never going to win any awards. A middle-aged woman stands on a nondescript Metro Manila street at night-time, her back to the camera, dressed in faded jeans and a striped top, waiting for a bus. But Leni Robredo, the woman in the picture, is now vice-president of the Philippines.
After being taken and going viral on social media in early December, in the midst of the vice-presidential race, the image did much to cement the impression of a down-to-earth contender in the public's eye.
Until being elected to Congress as a member of the Liberal Party in 2013, Robredo lived most of her life in her hometown of Naga City in the Bicol region, southeast of Manila. Being a new face in politics, along with her distance from "well-entrenched" politicians, could work well for her, said Jan Robert R. Go, assistant professor in the Department of Political Science at the University of the Philippines Diliman.
"She knows how people live and how life actually is, especially that national politics in the Philippines is dominated by Metro Manila interests," Go said.
But her appeal does not end there. She has some of what Mark Thompson, director of the Southeast Asia Research Centre at Hong Kong's City University, calls "inherited charisma". This was acquired from her late husband, popular statesman Jesse Robredo, who died in a 2012 plane crash. Many Filipinos see parallels with the late Corazon 'Cory' Aquino, who became president after the assassination of her husband and the overthrow of the Ferdinand Marcos dictatorship.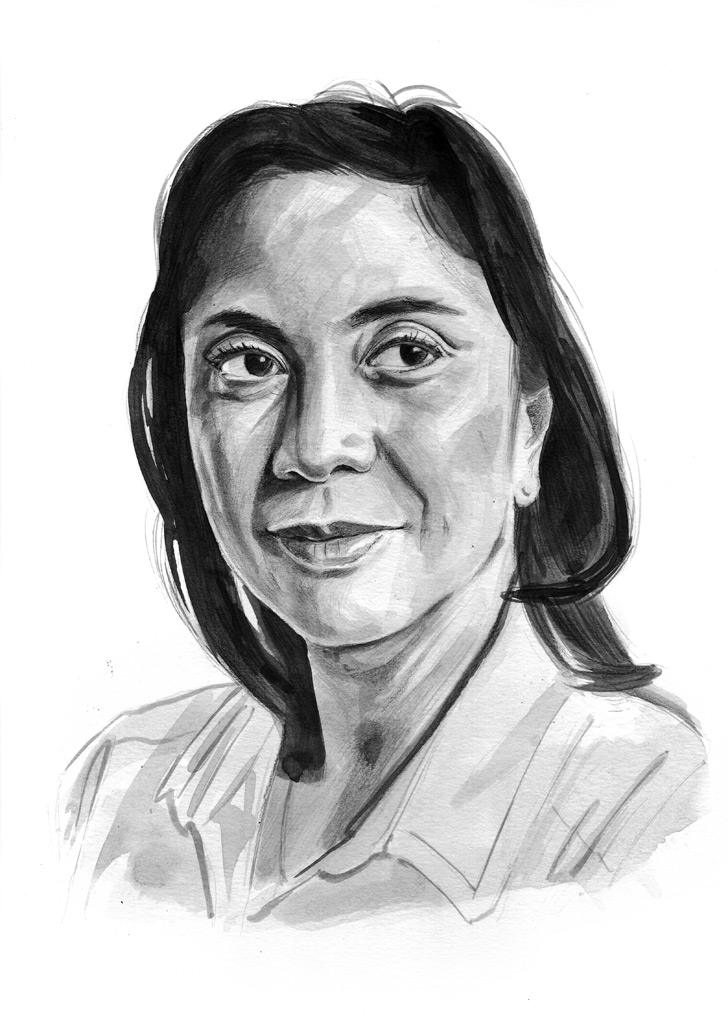 "[In the election, Robredo] had the image of an honest female leader that distinguished her from the male Machiavellians who largely make up the Philippine political landscape," said Thompson. And, although she has a limited track record in government that could be considered a weakness, "like Cory Aquino it was also a strength as she seemed to be unsullied by traditional politics", Thompson added.
Despite being a relative neophyte on the national stage, Robredo has done much local NGO work and took on cases pro bono as a lawyer, earning her respect and loyalty in Naga City. Along with her husband, she was instrumental in creating strong cooperation between local government and civil society in her hometown through the creation of a local people's council, according to Ramon Casiple, executive director of the Quezon City-based Institute for Political and Electoral Reform. "This brought Naga from a fifth-class city to a first-class city," explained Casiple.
But Robredo's focus will now shift to Manila, where she will be dealing with the country's new president: the tough-talking former mayor of Davao City, Rodrigo Duterte, who ran for the PDP-Laban party and secured a commanding six-million vote margin over the Liberal Party's Manuel Roxas.
Although Duterte and Robredo are both from regions far from the capital and have experience in local politics, there is potential for clashes.
"The issue of human rights might divide them. Leni Robredo had a career as a defender of human rights, and Duterte is well known for his contempt for the human rights of criminals," said The Asia Foundation's Steven Rood. "There might be a flashpoint in their relations."
Moreover, Robredo only beat her vice-presidential rival, Ferdinand Marcos Jr, son of former dictator Ferdinand Marcos, by a narrow margin of 260,000 votes. Duterte recently declared he is a political ally of the Marcos family, which could leave Robredo sidelined. Furthermore, she is closely linked to the outgoing president, Benigno Aquino III, and his protégé for the vice-presidency, Mar Roxas – both Liberal Party stalwarts.
Robredo has said she will support Duterte "100%" but, as Thompson explained, many of her supporters are hoping Robredo will prove a moderate counterpoint during his term in office.
"The vice-presidency, while treated by many as a spare-tyre position, can be a powerful and influential one," said Go. "She [has the potential to] muster enough influence to mobilise remaining allies in Congress, as well as the public, to be critical and cooperative at the same time."