The year was 1996. Discmans, rollerblades and boy bands dominated Western popular culture, while the age of blogging was just taking off. In an isolated country wedged between India and Thailand, these trends were heavily filtered through the sombre screen of repression. Myanmar had languished under military rule for more than three decades, cut off from the world by economic sanctions and the diplomatic cold shoulder.
Halfway across the globe, the son of a Myanmar diplomat was contemplating his future. After bouncing around several countries in the wake of his father, Ye Htut Win had landed in Switzerland, where he held a series of hospitality jobs: working at a branch of the US fast-food chain Wendy's, and running
a cocktail bar, before opening a successful Geneva nightclub.
However, he soon took a gamble that few others would have contemplated at the time. Htut Win left behind the hedonistic European club scene for authoritarian Myanmar to pursue the earthier pastimes of farming and cheesemaking.
In the beginning, the man also known as Sharky – a nickname picked up during his stint on the club circuit – had a hard time convincing anyone that his plan to bring gourmet Western food to the impoverished nation was rational, let alone that it was possible to create a thriving business selling bread and brie in a country hooked on rice. "They thought I was a nutcase," he says.
The first challenge was convincing farmers to switch from familiar crops to foreign vegetables, the seeds imported from Europe. "I wanted to grow things that we don't grow here: zucchini, cherry tomatoes, rocket, basil. Twenty years ago they didn't exist [here]. So farmers, rice farmers, would not jump on zucchini even if you paid them. So you have to convince them, say: 'OK, I guarantee, instead of one acre of rice, here's the money up front [for growing zucchini]. You're taken care of. Your earnings for the year are already there."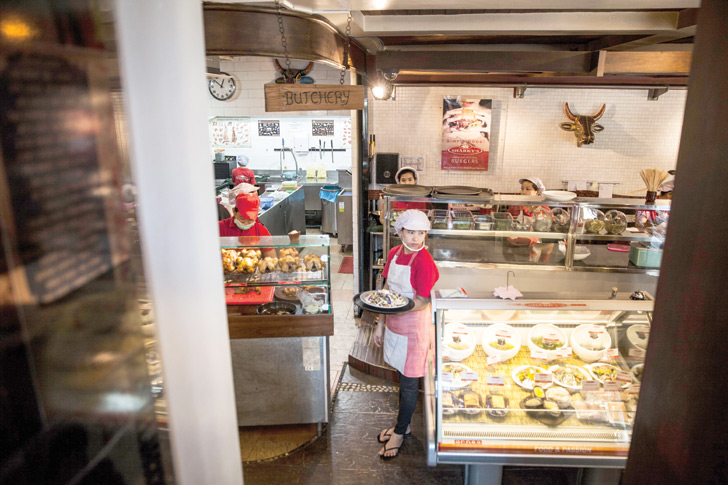 For the first eight years, Htut Win estimates, his Mediterranean crops failed at a rate of up to 95%. He sold what produce remained from the balcony of a home he had built for his parents in Yangon, and lost a lot of money in the process. It took a full decade before he turned a profit, after slowly winning over customers and building a clientele made up largely of expatriates. "I wanted to create my little Switzerland here," he explains over a pot of Earl Grey tea on the upper floor of his flagship restaurant on Dhammazedi Road, one of two in Yangon, both named Sharky's. "I'm a dreamer."
In reality, Htut Win has done much more than that. In addition to the popular eateries, he has two dedicated retail outlets in Yangon and opened a Mandalay store in March, while another is planned for Bagan later this year. This mini gourmet food empire serves outstanding fare, from slow-poached seabass (line-caught in the Bay of Bengal) to dry-aged Myanmar sirloin steaks, and offers up artisanal deli goods not available anywhere else in the country. Staff members have been trained to become "master butchers" and "master bakers", according to Htut Win. Macaroons, cured meats and buffalo milk cheeses are among the goods that line the walls on the ground floor of his flagship establishment, each product simply but stylishly packaged.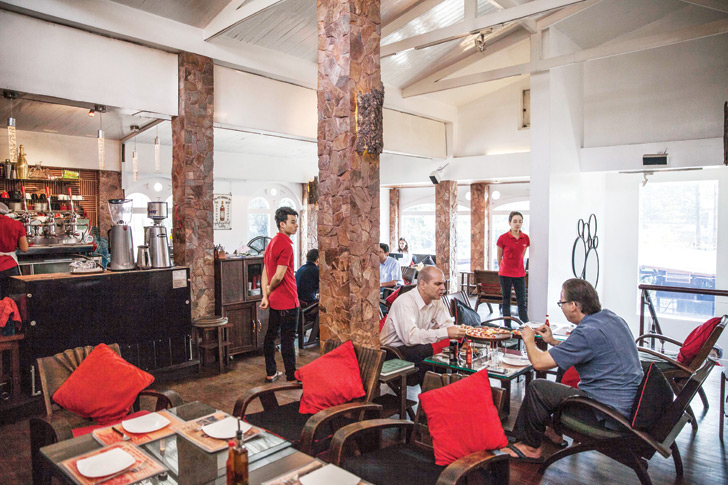 "People come to us because the food speaks for itself. Take a piece of Sharky's bread, or ice cream, or yoghurt, eat our microgreens or a burger – all these simple things [are] heightened to that level you don't expect in a third world country. And that is the magic of what we do here. You come to Myanmar, you don't expect to see cheeses. You say: 'What? This country produces cheeses?' and you taste it, and 'Wow' – that's when the magic starts," he says.
Htut Win proclaims himself an ardent proponent of the Slow Food movement and, indeed, almost every ingredient on the menu at Sharky's is produced locally – exceptions include Norwegian salmon and foie gras from France. When he was starting out, Myanmar was hobbled by trade embargoes, forcing a near-total reliance on local producers. Now, it's a point of pride: from the basil in the pesto and the chickpeas in the hummus, to the Bratwurst sausages and the sea salt harvested from the Indian Ocean, Htut Win waxes lyrical on the merits of his homegrown supply chain. In January, he broke ground on a $2m "artisanal factory" situated on an 8,000-square-metre plot on the outskirts of Yangon, which will allow Sharky's to start milling its own wheat and centralising production. The factory will also serve as a base for training staff and as an educational centre for visitors to understand the realities of where their meals come from, something Htut Win sees as a necessity for foodies.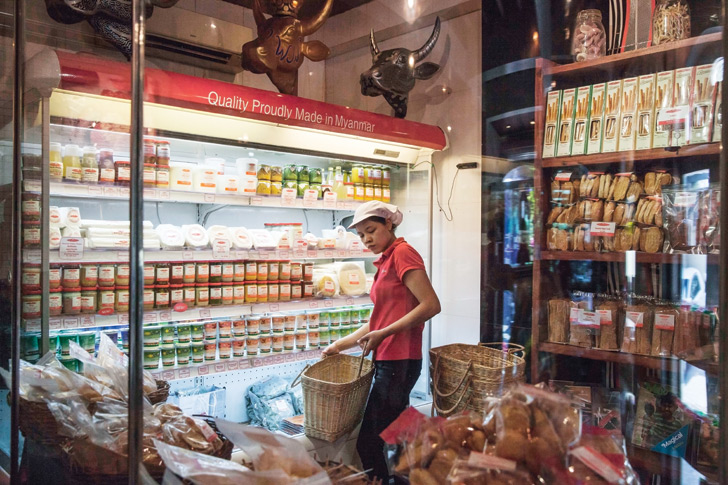 An infectious enthusiasm for all things gastronomy is the overarching theme of a conversation with Htut Win. A simple question about his new Pansodan Road restaurant, located in a splendid colonial building he saved from demolition-hungry developers, elicits a ten-minute response spanning all facets of gourmet food production. But this passion is paying dividends. Not only has the country's most prominent political figure, Aung San Suu Kyi, recognised his flair for food – she reportedly once ordered goat's cheese from Sharky's while under house arrest – but profits, Htut Win admits, are now "very healthy", although he affably laughs off a request to reveal the figures.
In recent years, he has recognised the need to adapt to the country's weather realities rather than continue fighting to grow temperate-climate vegetables. One solution lies in a craze popular with space-starved suburbanites in European cities: microgreens, the leaves of salad vegetables picked as shoots. "We have a salad, it's majority microgreens," says Htut Win. "Microgreens take only six days to harvest." There are trade-offs, of course, for cutting months from the harvest period: pricier seeds and more labour-intensive harvests.
Most of the ingredients are produced by farmers in a handful of villages in the Irrawaddy Delta, an area from which the majority of Sharky's 250 staff in Yangon also originate.
Most of the ingredients are produced by farmers in a handful of villages in the Irrawaddy Delta, an area from which the majority of Sharky's 250 staff in Yangon also originate. Htut Win says that nearly half of the staff has been with the company for about a decade, an impressive retention rate he attributes to generous employment packages. "What we do is, we look after them, just like the Scandinavian model. We provide them – this is very important – with meals. Breakfast, lunch, dinner. [Transport] services, accommodation, health and, for those that stay long enough, their children go to school and we provide them funding for their education," he says.
A sense of loyalty to the company is cultivated by not only employing the staff in Yangon and sending their children to school, but also by providing their families back in the villages with their main source of income. "Our chicken farms are run by their parents, our pig farms, our egg farms… At Sharky's we have these recycled newspaper bags – they are done in the villages. So we try to make this connection between village and urban to sustain them. So what happens is that once survival is [assured], you don't have to worry. You're not in debt any more, you're looked after."
In a country where the poverty level is 26%, and soars to 70% in the countryside according to the United Nations Development Programme, Htut Win recognises how valuable this structure is to the families – keeping three or more generations financially secure means "they will think twice before jumping ship". "It's almost like a family-owned company," he adds, though a calculated degree of business acumen is doubtless also involved.
A meal at Sharky's does not come cheap. A salad with a coffee will set patrons back about $16, putting it out of reach for most in Myanmar, where the minimum daily wage was set at $2.90 last year. However, the restaurants are gradually becoming more popular with locals. Htut Win estimates that the ratio of foreign to local customers was 90-10 in the beginning. Now, it is about 50-50. "More and more Myanmar [people] are coming back [from overseas], influenced by their upbringing in the Western world, and they're connected: 'I want to eat wholesome bread, not bread that is full of chemicals. I want to eat the right salt. I need that Italian fix, I need my pesto, I need that pasta.' And we provide that," he says.
Increased freedom to travel beyond the country's borders, he notes, is exposing people in Myanmar to different cuisines, not all of which receive Htut Win's seal of approval. He is certainly no fan of KFC or Starbucks, and while he acknowledges that the country's transition to democracy is naturally attractive to these kinds of big businesses, the reluctant poster boy for innovative cuisine in Myanmar intends to honour his Slow Food beliefs by fighting the corner of farmers and small restaurateurs to push back against the impending fast-food tide.
"We need exemplary leaders in every sector showing the way. So Myanmar living overseas and coming [back] in [should] bring their expertise and their knowhow, their capital… It's like someone coming back to their origins, to give rebirth to the next generation," he says. "And that's what I try to do in Myanmar. Sharky's is no longer [just] a business model. You have to have a purpose, a goal… That's what makes you wake up in the morning and be inspired."