The monks emerge shortly after six in the morning, smudges of flame in the predawn gloom. Alms bowls in hand, they walk silently through the town past Western-style cafés and restaurants. They pass boutique hotels with frangipani trees and soft white curtains covering the windows. Eventually, they turn onto Sisavangvong Road, Luang Prabang's main drag, where a throng of tourists eagerly awaits.
As the monks begin taking offerings from a line of Buddhist devotees, cameras are primed and the pack converges. One European man lights up the pavement with a huge flash on a tripod, filming monks as they step off a curb. Another walks up and down the line with a huge camera, pointing its black snout into the stream of saffron-clad novices and firing off machine-gun shutter-bursts.
For centuries, Luang Prabang's monks have filed through these streets at dawn to collect alms from the local community. In more recent times, however, the morning ritual known as tak bat has ceded ground to another, noisier ritual – one of shutters and flashes and frenzied jostling for position along the crowded streets.
Each morning, tourism operators set up signs and tables, hawking coffee and overpriced sticky rice for tourists to 'donate' during the procession. Signs in six languages ask visitors to "respect the alms giving" and keep their distance from the monks, many of whom are novices, but these are routinely ignored.
"Like a Disneyland"
For many, the tourist circus surrounding the tak bat encapsulates the negative side of a boom in visitors that has transformed the character of this Unesco-listed former royal capital. "It's like a monkey troupe, it's like a Disneyland," says one prominent Laotian involved in cultural preservation efforts, who requested anonymity due to recent controversies over mass tourism and heritage issues. "We have [taken] action, we have made brochures, but I think it's not enough."
Luang Prabang's old town, a temple-filled peninsula embraced by the Mekong and Nam Khan rivers, was once the capital of the Lan Xang kingdom, the fabled "Land of a Million Elephants", and has remained the spiritual and religious centre of Laos in the centuries since.
Since being listed as a Unesco World Heritage Site in 1995, the town has gone from an impoverished settlement with a stuttering electricity supply to one of Southeast Asia's prized boutique travel destinations. In 2015, this town of 50,000 attracted more than 445,000 international visitors, according to provincial tourism authorities, an increase of more than 10% on the previous year.
That figure may soon rise further following the opening up of new international air routes to the city. In March, the cut-price carrier AirAsia commenced regular flights from Bangkok, and HK Express has announced that it will add a flight from Hong Kong. Two additional airlines are awaiting approval for direct flights, according to recent media reports.
Now, two decades on from Luang Prabang's Unesco listing, a milestone the city marked with a lavish street parade in December, many wonder whether it can maintain its traditions under the intensifying pressures of mass tourism.
As early as 2004, Unesco noted in a report that tourism development had already put a "critical stress" on the town's environmental and cultural resources. Without proper management, it warned, Luang Prabang could well become "another tourist town where soft-drink billboards dominate the landscape, where the sound of tour buses drowns out the soft temple prayers and where the town's residents are reduced to the roles of bit-players in a cultural theme park."
This dystopian vision has yet to come to pass, but there's no denying the transformative effects of the tourist dollar. Gabriel Kuperman, the founder and director of the Luang Prabang Film Festival, now into its seventh year, says one effect of the boom has been families selling their houses in the old town to be converted into guesthouses and hotels.
"On one hand, it's a positive thing that those families benefitted from a major injection of funds into their households," says Kuperman. "On the other hand, now that there are fewer and fewer Lao families living in the heart of Luang Prabang, a certain amount of charm has been lost."
Indeed, pockets of Luang Prabang are akin to portals into a sort of transnational Asian tourist space – a generic zone of souvenir shops, cheap travellers' cafés, and the sort of gimmicky exotica encapsulated by the sight, on one recent evening, of an orchestra entertaining a crowd of foreigners with a rendition of "Auld Lang Syne" played on traditional Lao instruments. "There's a point where it sort of kills the local life," says Andrea Vinsonneau, the director of EXO Travel in Laos.
Locals express satisfaction at the influx of cash that tourism has brought, but also worry that the character of the city and its people have changed. "Some is good, some is bad," says Chanthanom Soulatda, the owner of Villa Ban Lakkam, a guesthouse on the banks of the Nam Khan river. "Luang Prabang people are very calm, but now they run to make business," the 71-year-old adds, standing on the street outside the guesthouse, which stands on the site of her childhood home. "Before they walked slowly, but now they run."
The living aspects of the site are the really indispensable part of what makes Luang Prabang so distinctive.

Montira Horayangura Unakul
Despite the accretions of global tourist culture, Luang Prabang has generally adhered to Unesco's regulations, which include bans on demolitions within the heritage zone and the use of pane glass on buildings. The town remains low-slung and quiet, characterised by a delicate blend of Lao urban architecture and French colonial forms.
The difficulty, says Montira Horayangura Unakul, a national programme officer at Unesco in Bangkok, is that Luang Prabang's most valuable heritage extends beyond the physical buildings to include "intangible" cultural practices and traditions – like the tak bat ceremony – which are not officially listed by Unesco.
This explains local anger at the touristification of the alms-giving ceremony – the central part of a living Buddhist culture. Phonesavan Bilavarn, 70, a retired English teacher whose childhood home still stands just off Sisavangvong Road, is livid: "They use the flash," she says, miming the 'chk, chk, chk' of the shutterbugs, "and very close to the monks."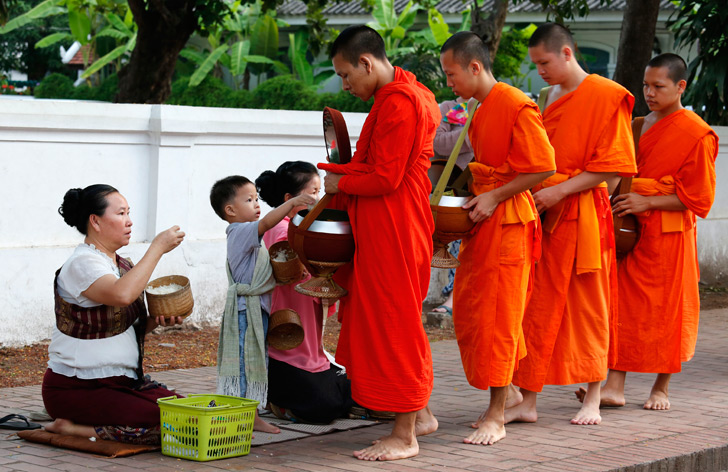 Of course, some argue that Unesco is itself to blame for the changes that happen to World Heritage Sites such as Luang Prabang. The Italian writer Marco d'Eramo has argued that whenever a city is listed by Unesco, it "dies out, becoming the stuff of taxidermy, a mausoleum with dormitory suburbs attached". Has World Heritage status saved Luang Prabang, only to rob it of its soul?
Rik Ponne, a former Unesco staffer and advisor to the Lao Ministry of Information, Culture and Tourism, says that such views oversimplify the complex challenge of balancing economic growth with cultural preservation. Taking a fundamentalist view on heritage issues, he argues, runs the risk of romanticising the poverty that allowed Luang Prabang to remain so "untouched" for so many decades.
On the whole, Unakul says that in response to past criticisms from the World Heritage Committee, the Lao authorities have been "very proactive" in taking action to address its concerns and extending the development buffer zone around the old town. One of the current strategies for handling rising visitor numbers is to draw visitors away from the old town by promoting attractions further afield. "It's definitely an issue that's on a lot of people's minds, and an issue that's getting attention," she says.
Vinsonneau, who has been living and working in Luang Prabang since 2000, says tourism operators also have a duty to educate their clients. EXO Travel provides each of its visitors with a handbook instructing them how to dress appropriately, how to interact with monks and how to behave during cultural events.
But she says that despite all the negative effects of mass tourism, the death of Luang Prabang's soul has been greatly exaggerated, at least when compared with some of the other tourist hotspots of Southeast Asia.
"There's still an incredible ambience," Vinsonneau says of the town. "It's good to remind people it could be much worse than this. It could be better, but it could be much worse."