Does Abu Sayyaf pose a major terror threat to Southeast Asia?
The resurgent Abu Sayyaf terrorist group is flying the Isis flag in the Philippines – but not everyone is convinced by their posturing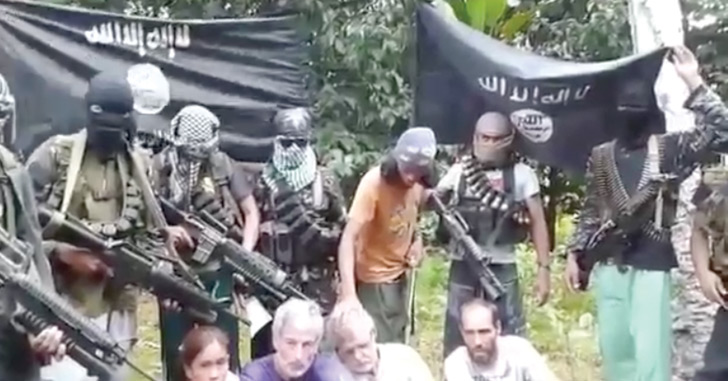 The resurgent Abu Sayyaf terrorist group is flying the Isis flag in the Philippines – but not everyone is convinced by their posturing
On the night of 25 April, during a blackout on Jolo Island in the southwest Philippines, a man's head was thrown off the back of a motorbike. Wrapped in a plastic bag and cloaked in the shadows of a lightless city, the five children who found it didn't see the blood until the power returned.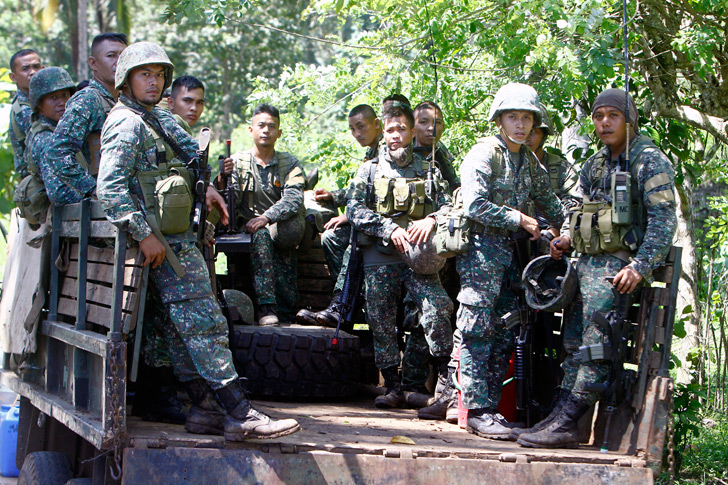 A week later, Abu Sayyaf released a graphic video showing 68-year-old Canadian John Ridsdel being beheaded with a machete by an unidentified member of the terrorist group. It had been seven months since the businessman was taken from a resort on the island of Samal along with fellow Canadian Robert Hall, Filipina Teresita Flor and Norwegian marina manager Kjarten Sekkingstad. The price for their freedom was set at $6.5m each. The last deadline had passed; the ransom left unpaid.
Earlier this year, Abu Sayyaf carried out a series of abductions in the waters around the southern Philippines, seizing 18 foreign hostages over three separate on-water raids in less than a month. In May, ten Indonesian sailors held by the group were released after their employer agreed to hand over more than $1m to the kidnappers – a payment negotiators in the Indonesian military deny was ever made.
Abu Sayyaf rose from the secessionist push for an autonomous Muslim state in the southern Philippines in the early 1990s. Bolstered by funds from founder Abdurrajak Janjalani, an Al Qaeda veteran, Abu Sayyaf's proclivity for sectarian violence soon set the group apart from larger Islamist movements such as the rival Moro Islamic Liberation Front (MILF). Fractured by the death of their leader in 1998, the resulting Abu Sayyaf factions gained international notoriety for high-profile kidnappings and terror attacks, most infamously the 2004 bombing of a ferry in Manila Bay that left 116 dead and more than 300 injured.
Since then, sustained pressure on Abu Sayyaf operations by Philippine and US authorities have reduced the group to little more than a kidnap-and-ransom operation, relying on the their reputation for savagery to strongarm foreign governments into meeting their financial demands. Unable or unwilling to orchestrate the ideologically driven terror attacks that had made its name in previous decades, the group was largely dismissed as little more than a rag-tag group of bandits out for their next payday. In July 2014, that all changed.
Philippines most wanted
A video released on YouTube by an Abu Sayyaf faction showed senior leader Isnilon Hapilon and a group of masked men pledging allegiance to Islamic State (Isis) leader Abu Bakr al-Baghdadi. Since then, Isis iconography has appeared in much of the group's media, most notoriously in the increasingly polished ransom videos.
Zachary Abuza, a professor at the National War College in Washington DC, who has written extensively on Southeast Asian insurgencies, was sceptical of the group's motivations. "Show me the command and control," he said. "Show me the resources from [Isis]. Groups can claim allegiance to [Isis], or declare their allegiance to [Isis], but show me how it's operational."
Abuza described Hapilon's pledge of allegiance to Isis as more of an exercise in gaining publicity – and, hence, ransom funds – than a true ideological shift by the group. "I think the use of Isil [another name for Isis] is to increase the psychological pressure on the captives, their families and the government," he said.
However, Rohan Gunaratna, head of the International Centre for Political Violence and Terrorism Research,
a think tank specialising in counter-terrorism research and analysis, described Hapilon's pledge as Isis' first foothold in the Philippines. "We are seeing the Al Qaeda-centric landscape supplanted by Islamic State activities in the region," he said.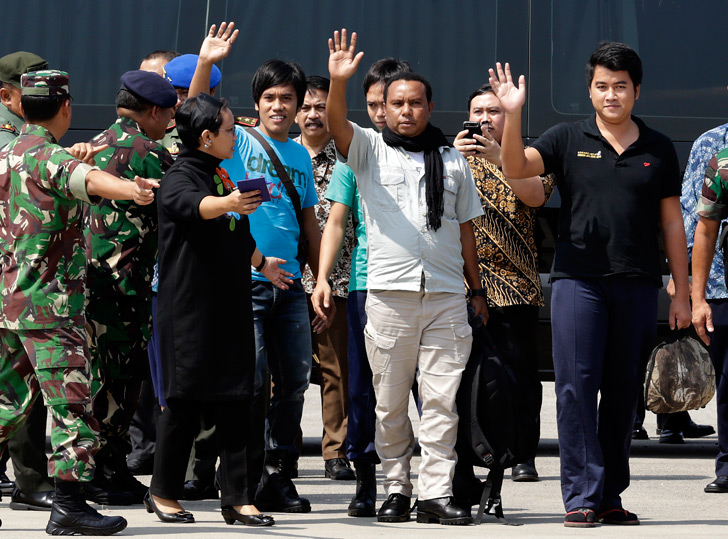 Gunaratna said that viewing the group's activities as simply a continuation of the old ways of raiding and piracy was mistaken. "They are no longer operating as the Abu Sayyaf Group – we can see that they are displaying [Isis] banners. They are thinking like they're soldiers of Islamic State, representatives of Islamic State."
And he maintained that the pledge to Isis had radically altered the group's aims. "Abu Sayyaf is seeking to expand its military capabilities to the point where they're able to hold ground and fight – very much in keeping with Islamic State's state-building activities."
Joseph Franco, an associate research fellow at the Singapore-based S. Rajaratnam School of International Studies, said that while many groups aimed to establish an Islamic state in the region – pointing to the MILF's ability to control territory in Mindanao – it was not something Abu Sayyaf had attempted before. "They don't have the ability to hold territory and to hold influence without resorting to extreme violence," he said.
Neighbouring governments have been deeply critical of Manila's apparent incompetence in attempts to dismantle the terror group, with regional officials reportedly describing the nation as the "weak link" in Southeast Asia's security. When asked why the government had not made more progress against Abu Sayyaf, Abuza was damning in his appraisal.
"Political will," he said. "Abu Sayyaf is not a mass-based movement. They have no ideology, so to speak. They have no following outside of their kinship networks, and they provide no social services. Plus, they're concentrated in a very small region." Abuza described the continued threat of the group as a measure of the government's failings. "There is no reason we should still be talking about Abu Sayyaf today in 2016," he said.
Franco suggested that the difficulty lay in the government's refusal to treat the rise of terror groups in the impoverished regions of Sulu and Basilan as a problem rooted in socio-economic inequality. "It's because they are well-rooted, those kinship links, those relationships that they have with the local communities there – those are the key reasons, and if you go for a military response to what is essentially a socio-economic problem you see that it doesn't really stick."
Ramon Beleno III, of Ateneo de Davao University, said the new Philippine president, Rodrigo Duterte – dubbed 'the Punisher' for his hard-line stance on crime and rumoured connections to extrajudicial death squads in his home city of Davao – would provide a level of leadership that had been lacking in the push against Abu Sayyaf.
"Duterte is considered a crime-fighting president," Beleno said. "That means he has been in control of the military and the police and he has direct knowledge of any operation against the terrorist group."
As the first president elected from Mindanao, Duterte's understanding of the challenges facing local Muslim communities may allow him to address root problems of fractured social identity. "I think he's the only one among the presidential candidates who really understood the problem among the Muslims in Mindanao," Beleno said.
Hostages
International pressure to take action against Abu Sayyaf has increased since the death of Ridsdel, the Canadian hostage, with his country's prime minister, Justin Trudeau, condemning the recent beheading as an act of "cold-blooded murder".
"Manila is feeling the pressure," said Franco. "Whether that pressure amounts to something concrete is a whole new thing altogether."
And with the Philippine government pleading with the global community not to meet the kidnappers' demands, the chance of rescuing the remaining hostages – including four Malay sailors, a Dutch birdwatcher captured in 2012 and the surviving three taken from the Samal resort last year – is slim.
Gunaratna said it was unlikely that foreign governments would be able to secure the release of their citizens without directly funding the group. "Those governments have three options," he said. "One is to pay the ransom, which will strengthen Abu Sayyaf. Two is that Philippine troops work with those governments to launch military operations to try to rescue them. The chance of rescue in those types of operations is very small – the hostages will likely be killed during the rescue operation. The last option is to do nothing – and let the hostages be beheaded."
A week after Ridsdel was killed, the Philippine government caved into pressure from neighbouring Indonesia and Malaysia to launch joint patrols in the waters connecting the three nations. Despite this concession, Indonesia continues to push for its own special forces to play a greater role in the fight against Abu Sayyaf.
In addition, Gunaratna warned, unless the Philippine government builds up its military capability to dismantle Abu Sayyaf, Isis' infiltration of the region will only continue. "My view is that Islamic State group ideology is spreading beyond the Isnilon Hapilon faction," he said. "What we are witnessing is the faction carrying out the kidnappings also trying to join Islamic State. So far there has been no current offer [of recognition from Isis]."
While Abuza remained sceptical of the idea of a Philippine coalition of terror organisations under Isis, he didn't want to be entirely dismissive of the group's involvement. "You have, by my count, six different Philippine groups alone that have declared allegiance to Isil," he said. "And I think it's very clear that Isil doesn't want to recognise six different groups, they want to recognise one group that has unified these disparate groups."
Abuza said that if Isis was able to unite the fractured factions of Abu Sayyaf and the remnants of the MILF, the consequences could be dire. "If they are able to do this that does create a greater threat to the Philippines, far more than anything that one of these groups themselves could pose."
Ultimately, though, Abuza said the raiders of Abu Sayyaf were more opportunists than idealists. "In terms of ideology, there is no ideology," he said. "These guys cloak themselves in Islamist ideology without knowing a bit about it."
---
Be a Part of the Story
---
Southeast Asia Globe is powered by members.

Membership programs will be available soon. Until then, sign up for our weekly summary of stories from the region.
Donate and support independent journalism.

Donations help us keep our journalism free and independent. Support stories from Southeast Asia that matter.
---
---
Read more articles