In the tense months before Thailand's latest military coup, visitors to the Bangkok Art & Culture Centre (BACC) encountered a handful of works that invoked Thai political history.
On the eighth floor of the capital's nine-storey, state-run art space was the three-month exhibition Concept, Context, Contestation: Art and the Collective in Southeast Asia. Near the entrance was Manit Sriwanichpoom's photo collage of defaced and slashed Thai election posters, as well as six panel paintings by Vasan Sitthiket depicting nightmarish scenes from the bloody Thammasat University massacre of 6 October 1976. Passing the walkway near the exit, it was also impossible to miss the row of old wooden school desks that made up Sutee Kunavichayanont's "History Class Part 2". Visitors were invited to participate in this work by using a sheet of paper and crayon to make a rubbing of a defining scene from Thai history engraved on each desk lid.
Ostensibly an interactive survey of Southeast Asian conceptualism and pluralism, Concept, Context, Contestation was an important show. Not only did it demonstrate that the BACC is capable of more challenging programming than the reverential retrospectives of old masters that appear to be its bread and butter, it also affirmed the power of art to connect directly to people's lives.
For most of the exhibition's run, protesters intent on bringing down former prime minister Yingluck Shinawatra's elected but troubled government had set up camp on the busy Pathumwan intersection just outside. Against this tense, noisy and sporadically violent backdrop, Concept, Context, Contestation took on an unforeseen relevance and urgency. Participatory works such as Pisitakun Kuantalaeng's "The Unfinished History Project", which challenges grand Thai narratives using archival imagery, almost seemed to be taunting the real world for its refusal to learn from the past.
Two years on, Concept, Context, Contestation has become striking for another reason: there has been nothing remotely like it since. This seems to suggest that such a show could not take place at the BACC now, during a period when the merest expression of political partisanship or criticism of the ruling military junta can be enough to get a person called in for 'attitude adjustment'.
Luckana Kunavichayanont, director of the BACC, is adamant that it could. "Of course [such a show could take place]," she says.
According to Kunavichayanont, any perception that the BACC has been steering clear of art that raises questions about the country's current situation is merely that: a perception. The reason for a paucity of shows in which politically engaged work might appear, she adds, is more mundane: a lack of in-house curators, funds and resources.
Artists should be free to voice their opinions as much as public institutions should be able to keep our integrity in this transitional time.

Luckana Kunavichayanont
Across Thailand's small, cliquey visual arts scene, accusations of self-censorship are also being directed at artists. There have been shows that broke the post-coup silence, such as November 2015's Unity Management Course at Speedy Grandma gallery, where Thepnara Kongsawang critiqued the military's omnipresence with an interactive army camp installation. There was also Silent No More, in which Paphonsak La-or presented photorealistic paintings overlaid with politically vexed phrases, which ran at Chiang Mai's Lyla Gallery in December. But these sorts of shows, aimed at delineating the shifting contours of contemporary Thailand and spurring critical discourse of the powers that be, have been low-key and few and far between.
"The art scene is not dead but its function has changed dramatically due to self-censorship," says Somrak Sila, the curator and co-owner of WTF Bar & Gallery, one of the few spaces in downtown Bangkok to stage overtly political exhibitions since the coup.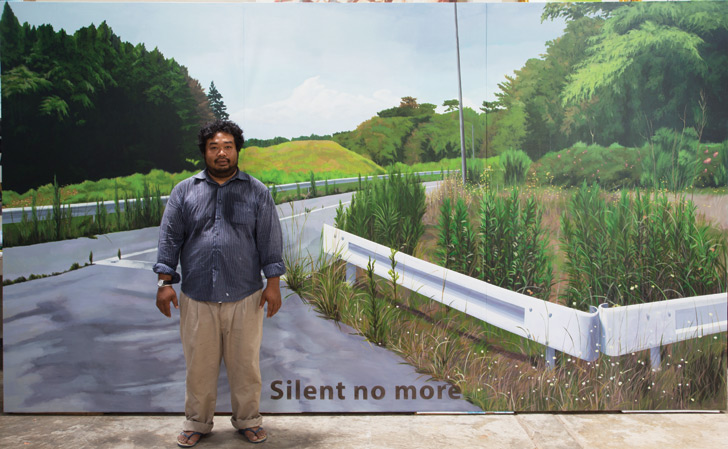 Vipash Purichanont, one of three curators behind Concept, Context, Contestation, agrees. "We saw a lot of experimental films come out of the 2006 coup, but nothing remarkable so far [out of] this one," he says. "Is it because social values have shifted dramatically in this past decade? Have artists lost faith in democracy? Are they exhausted? Or is it because they are afraid of the harsh policies this government has implemented? It is puzzling me."
The puzzle is especially perplexing in light of recent history. Thai artists have a track record of taking potshots at power structures and channelling frustrations at sociopolitical realities, albeit often in ways so subtle and conceptual that they are easily missed.
In the 1970s, Thai artists such as Pratuang Emjaroen reacted against right-wing ideologies, while in the '80s and '90s, a new school that included Sitthiket and Sriwanichpoom took on venal politicians and unfettered capitalism.
More recently, a politicised sensibility has been expressed, both explicitly and allusively, in Natee Utarit's codified neo-classical paintings, Palme d'Or winner Apichatpong Weerasethakul's photographic and short film-based installations and Jakkai Siributr's embroidered textile tableaus. All have produced their art without interference from past governments, be they dictatorships or elected, although Sriwanichpoom and Weerasethakul have both had run-ins with the Ministry of Culture over censorship of feature films.
Many politically active artists have left Thailand to either further their studies or do shows or residencies elsewhere, they're still doing political art – it just won't be shown.

Somrak Sila
Today, however, the freedom of Thai artists seems less certain. Under Prayuth Chan-ocha's military government, the intellectual life of Thai society is being watched with a censoriousness not seen since the cultural mandates of the Phibun regime, which ruled with an iron fist in the 1940s and '50s. Examples include the surveillance of a wordless performance piece, "Bang Ler Merd", by Bangkok's B-Floor theatre, and the latest edition of the annual football match between Thammasat and Chulalongkorn universities, where floats decked with dissenting banners and effigies of Meechai Ruchupan, the chairman of the army's constitution-drafting committee, were confiscated.
The latter "shows how desperately the military wants to repress any visual production that might create critical discussion", says Purichanont.
Student activists looking to circumvent a ban on political meetings or protests have also been detained for reading George Orwell's novel 1984 in public. Meanwhile, prosecutions for lèse majesté, Thailand's nebulous law against insulting the monarchy, have increased markedly since the coup, as have the sentences meted out.
In light of this climate, self-preservation is one of the main reasons so few subversive Thai visual artists are sticking their heads above the parapet, believes Sila.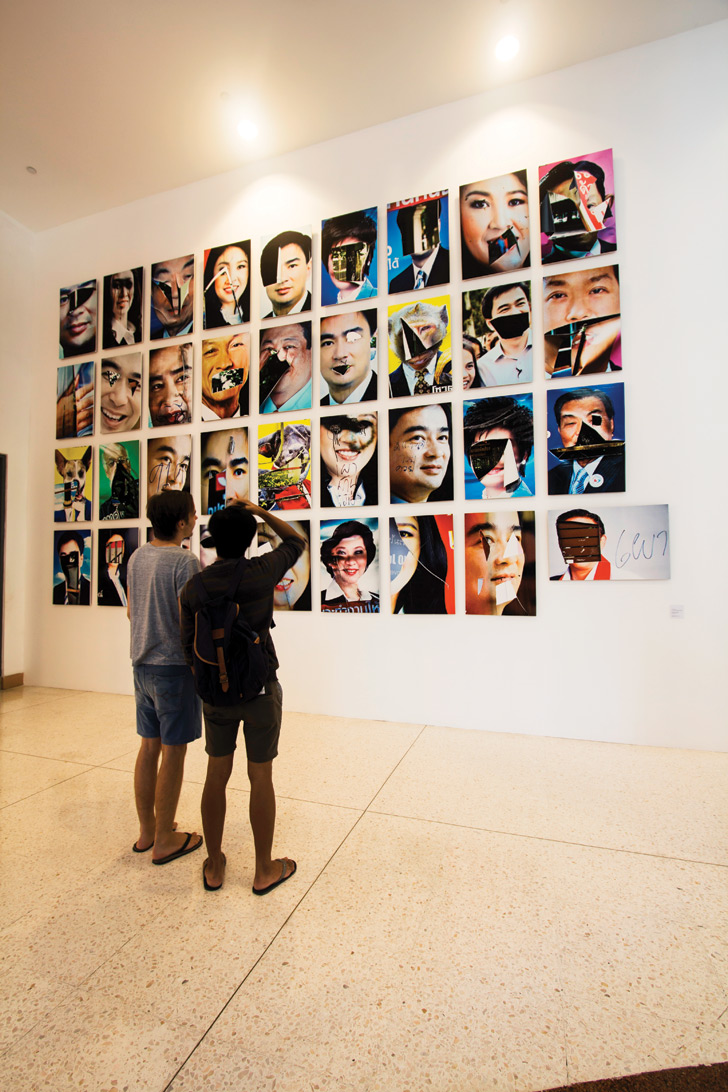 Artists in this vein include Thasnai Sethaseree, a Chiang Mai-based conceptual artist cum political activist. His latest work, a series of multimedia paintings featuring images of past student uprisings, riots and dictators, turned up recently in a group show at the University of Chicago's Logan Centre.
Another convincing theory as to why many of Thailand's senior artists have gone mute, or moved on to less subversive themes, is that many supported the Bangkok protesters and military coup.
"You can't deny that a large number of Thai artists support the current regime. For them, life returned to a level of normalcy after the coup, so there's nothing to speak about," says Purichanont. "I believe it is right to demand responses from artists, but I also think the art community is equally responsible for the situation. If there was more communal, institutional and financial support for artists who engage with the political, there would be more work and exhibitions on this issue."
One of the few galleries trying to embolden and unshackle political artists has been WTF, located off Bangkok's Sukhumvit Road. Last month, it brought together Jirawut Ueasungkomsate, an emerging artist, and Amnesty International, perhaps the regime's fiercest critic, for a show about forced disappearances playfully titled This is Not a Political Act.
Prior to that, in May 2015, WTF curator Sila became so frustrated with the lack of politically germane works being shown that she invited 13 non-artists, including journalists, singers and shop owners, to contribute to an exhibition marking the venue's fifth birthday. Her slightly quixotic hope was that fresh eyes would spark fresh perspectives on life under a strict authoritarian government. "I was trying to send a subtle message to artists that if you're quiet, we'll look for other sources," Sila explains. "Maybe it was too subtle."