As his former deputy Ahok's blasphemy trial heats up, Indonesian President Joko "Jokowi" Widodo has denied any involvement in the alleged tapping of his predecessor's phone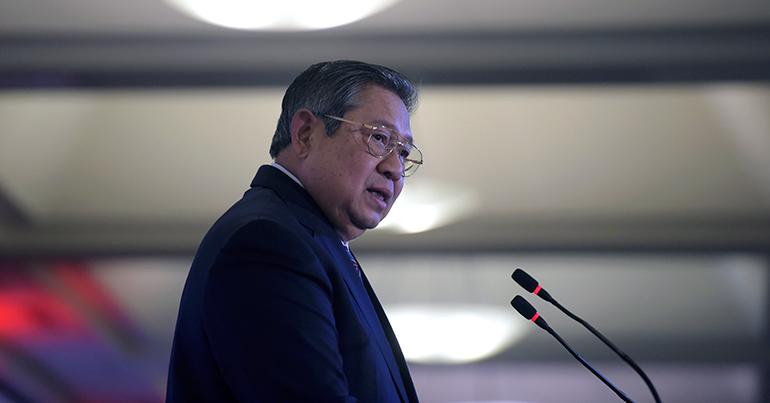 More than three years since Indonesia's then-president Susilo Bambang Yudhoyono was left "devastated" by the revelation that Australian spies had tried to tap his phone, the former leader has once again accused shadowy figures of listening in on his private phone calls – though this time, he says, the order came from the very height of Indonesia's own government.
Yudhoyono's claim that government agencies illegally tapped his phone came after lawyers representing Jakarta's governor, Basuki "Ahok" Tjahaja Purnama, purported to have evidence of the former president urging the chairman of the Indonesian Ulema Council (MUI) religious body to issue a fatwa condemning Ahok for blasphemy.
"If they really have my phone call record, it was an illegal tapping, and it's called political spying if it was coordinated with a political motive," Yudhoyono told reporters during a fiery press conference on Wednesday. "Just like Watergate."
The Watergate scandal was the attempted cover-up by US President Richard Nixon of a bungled plot to wire-tap the phones of the Democratic National Committee, a plot that led to his public disgrace and resignation.
Ahok, who became governor of Jakarta after President Joko Widodo won the 2014 presidential election, was until recently the favourite in the bitterly fought gubernatorial race.
He is currently on trial for blasphemy after a video was circulated that allegedly showed the ethnic Chinese Christian insulting the Qur'an. If found guilty, Ahok, who claims the footage was doctored, could face up to five years in prison.
Speaking to local media this afternoon, Jokowi attempted to distance himself from the suggestion that he had authorised the illegal bugging of political opponents.
"The claims were made during a trial by Ahok and his team of lawyers," he said. "Why am I being dragged into the case?"
Yudhoyono has been accused of funding the series of mass protests against the incumbent governor to attack Ahok's once-strong support among Jakarta's Muslim majority residents. His son, Agus Harimurti Yudhoyono, is Ahok's main rival in the race.
MUI chairman Maaruf Amin denied that the former president had asked him to issue a decree against Ahok, although Yudhoyono has admitted that the phone call itself took place. The conservative cleric served as an advisor to the president during his ten years in office.