Thailand's national mourning period has severely depleted the country's stocks of black clothing, leaving Cambodian garment factories working overtime to fill the void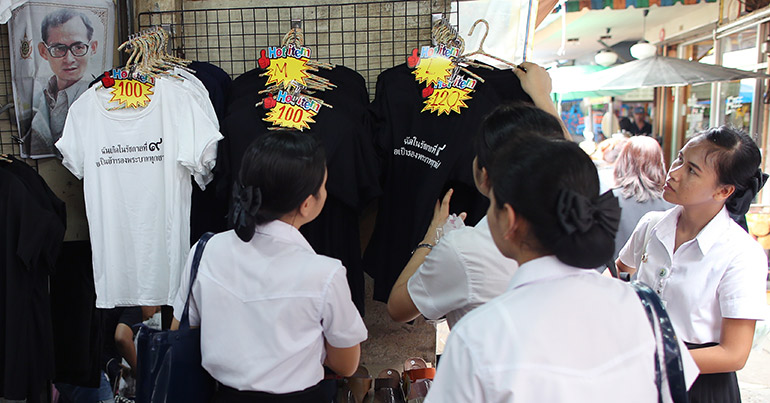 As King Maha Vajiralongkorn Bodindradebayavarangkun ascended the throne of Thailand last month, he became sovereign of a nation still wracked by grief for his father – the only monarch most Thais had ever known. The evening of the late King Bhumibol Adulyadej's death in October, the ruling junta declared a state of mourning that would paint a nation black, as Thais traded their characteristically colourful clothes for widow's weeds. But when the masses hit the markets, many found the nation's garment industry woefully unprepared for a mourning period 70 years in the making.
Some more enterprising mourners took matters into their own hands. In the weeks following King Bhumibol's passing, local media reported warehouses opening their doors to hordes of mourners bearing armfuls of colourful clothes to be dyed free of charge. In the country's northeast, supermarket giant Tesco Lotus reportedly handed out 55,000 black T-shirts for free.
Other traders were less inclined to charity in the face of tragedy. The morning after the king's death, Internal Trade Department director-general Nanthawan Sakuntanark announced that department officials would be roaming the Kingdom's markets to hunt down traders overcharging for black products. Those found to be price-gouging, she said, could be sentenced to up to seven years in prison – or fined almost $4,000.
"The supply of black shirts may be low for a few days, but garment manufacturers have insisted that there will not be a shortage," she told the Nation.
Despite these assurances, experts painted a scene of a nation scrambling to keep up with a tragedy that few Thais could bring themselves to anticipate. Paul Chambers, director of research at Chiang Mai's Institute of Southeast Asian Affairs, said Thailand's clothing vendors had been completely unprepared to meet the abrupt demand for traditional mourning wear.
"Many Thai girls ended up wearing short or see-through black clothes," he told Southeast Asia Globe. "The effect was morbid in the sense that they seemed to have combined funeral and disco attire."
In spite of a hurried scheme from the finance ministry to distribute black T-shirts through state-run banks to low-income people, the king's death left many of the poorest members of Thai society unable to measure up to the mandatory mourning. Lee Jones, senior lecturer in international relations at Queen Mary University of London, said the consequences for non-conformity had been devastating.
"There was a lot of state and social pressure on people to appear in mourning black," he said. "There was an infamous video where a mentally ill woman who wasn't dressed in black was punched in the face – that gives you a sense of the officially sanctioned hysteria."
According to Jones, it was partly the fear of royalist reprisals that lay behind the displays of charity in the early days of the mourning period.
"A lot of poor people couldn't afford to buy new black clothes and were being harassed – typical Yellowshirt elitism – and so volunteers sprung up to, for example, dye people's clothes black for free," he said.
With Thailand's garment industry struggling to meet the sudden demand for sobriety, buyers along the border with Cambodia began to place large orders of jet black apparel with the neighbouring country's beleaguered garment manufacturers.
Vichara Kosal, owner of a small garment factory in Kandal province just outside of Phnom Penh, told the Phnom Penh Post in October that she had received orders for more than 70,000 black T-shirts at $2.10 each following the monarch's death. "Cotton is running out of stock in Thailand, and there are many millions of Thais, so the demand is very high," she said. Speaking to Southeast Asia Globe, Kosal confirmed that increased orders of black clothing from Thailand had continued for weeks after the sovereign's death into mid-November as they picked up the slack for their rivals across the border.
Although Ken Loo, secretary-general of the Garment Manufacturers Association in Cambodia, said reports that the nation's garment industry was profiting off the late king's demise had been greatly exaggerated, he admitted that Thailand's black mood could have been a boon for garment manufacturers on a local level. 
"I wouldn't be surprised – it's possible," he said when asked about increases in orders from Thailand. "But in the grand scheme of things it wouldn't be significant – it could be significant to an individual factory… But it wouldn't be significant to the industry as a whole – and certainly not to our members."