How did you come to open an art gallery in Phnom Penh?
Three or four years ago, I was in a position to open up a small business… Cambodia sparked [my interest] for many reasons, and I didn't just want to open up a bar or a restaurant, I wanted to do something a little bit more unique… I realized there was such a beautiful rich history of culture and art in Cambodia, and I wanted to see if we could somehow present that to the world in a more realistic way… Here on 178… galleries have exactly the same pictures. These were representative of Cambodia at a time, but now it's a new Cambodia.
What sets great street artists apart from just good ones?
Practice, talent, dedication… I think it's quite easy to see after a while the difference between someone who wishes to be an artist and someone who works very hard at it and has talent and someone who was born to be an artist. It transcends just their work – it's everything they do, the way they see life, the way they interact with people.
What are you hoping to achieve with this competition?
Just to continue our ethos of identifying, supporting and promoting the Cambodian urban art scene… A lot of people [have been] doing a lot of good work here for a while, but we do feel now it's the right time to put it all together and really push internationally… We can take kids from the streets into some sort of education that has an aspect of art to it and get the interest going from a younger age… And then when they get to the age or the stage when they really want to take it more seriously, they've got the competition.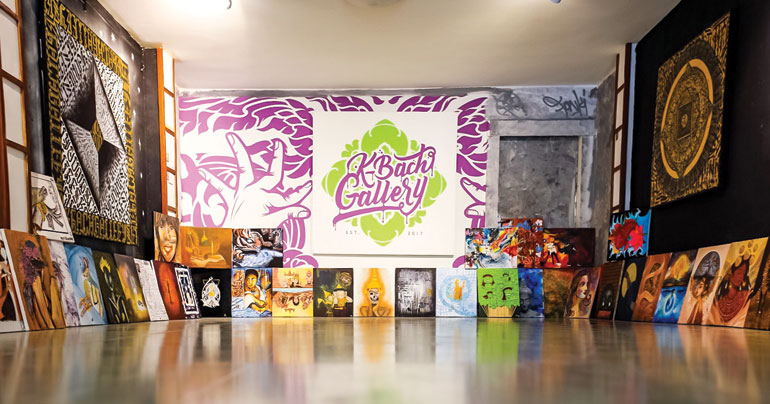 What is the Cambodian art market like right now? What inspires young Cambodians to become artists?
I think it's changing. There's much more of an appreciation now of international influences. I think we've had a lot more focus on contemporary and urban art in the last couple of years… There still is a little bit of [a] misunderstanding of the value of the higher-end art in some markets. They're not used to, I think, seeing art going for quite so high prices, but over the last couple of years, because of the exhibits and amount of work that's sold at that price, the realization has come with it. And I think a bit of pride has come in from it as well.
What is the future of art in Cambodia?
Very bright, very positive. I have no doubt whatsoever that the urban art scene is on the brink of actually exploding. And when I say urban art, I don't limit that to the visual arts. You know, we work closely with people like [record label] KlapYaHandz. [Filmmaker and KlapYaHandz founder] Sok Visal has been kind to be one of the [competition] judges for us. And I see how the urban art and the music scene is exploding… I see more interest in skating now. I see more interest in the Cambodian film scene coming through. I think all aspects of the urban arts are really bubbling at the moment.
The KBach Artist Competition Finale will take place at 12-6pm on 1 December at the Factory, Phnom Penh.
This article was published in the November 2018 edition of Southeast Asia Globe magazine. To subscribe to our newsletter, click here.