Millions of people across the world wear ZARA shirts, H&M trousers, or Moschino shoes. But the production of these popular fashion brands still remains a mystery for most.
To keep costs low, brands typically outsource production to local factories in low-income countries. However, by removing the brand from daily activity in the factories, this practice can carry high risk for labourers. Violations of workers' rights, physical and mental abuse, unfair layoffs and limited association freedom are just some of the threats facing garment workers even in regular conditions.
Since the Myanmar military overthrew the country's elected government in 2021, such practices have only increased in a general atmosphere of impunity.
"The HR manager reported me to the military for participating in peaceful demonstrations for labour rights," Aung* wrote in a report to the Industrial Workers' Federation of Myanmar. "They then kidnapped me, torched my house, tortured me and slit my brother's head wide open."
Aung is a former garment worker in a factory producing textiles for multinational retail conglomerates H&M and Marks & Spencer in northwest Yangon. After the violent events she described, Aung said that her factory manager laid her off.
Within this corner of the highly globalised garment supply chain, major brands have yet to find a way to balance workers' needs against their bottom lines and other industry pressures.
Two years after the military coup, stories such as Aung's are increasingly common as the army strives to maintain power amidst inflation and harsh international sanctions. While some groups are encouraging brands to stay in Myanmar with better practices to protect labour, many workers there say they've already given up on a system in which factory owners can disregard their rights with seemingly no recourse. Increasingly, they're even calling for the immediate withdrawal of all international fashion brands from the country to reduce the income of foreign currency in the military's pockets.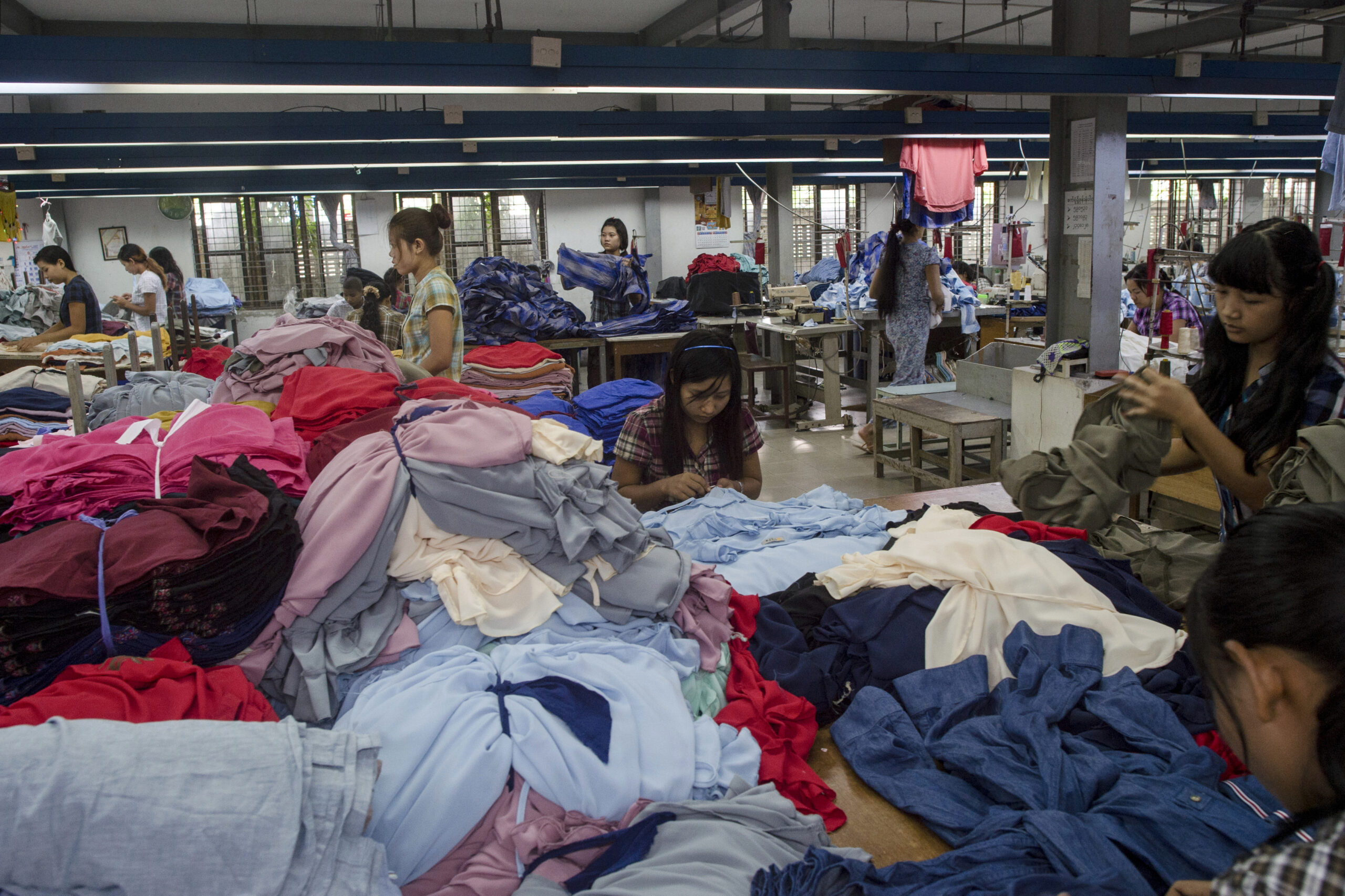 At the start of the year, the Business & Human Resource Centre tracked 198 cases of alleged labour and human rights abuses perpetrated against at least 104,000 garment workers since the military takeover.
The longer brands stay, the longer the military will survive, said Khaing Zar Aung, treasurer of the Confederation of Trade Unions Myanmar and president of the Industrial Workers' Federation of Myanmar.
"The brands are bringing in what the military needs," she said. "They are equally responsible for all the killings in Myanmar."
Workers were already mobilising for freedom of association and labour rights before the 2021 coup. Over the two years since, mounting reports of harassment and abuse from employees point to dramatically worsening conditions.
"We could restore democracy in a short time if only international bodies stop giving legitimacy to the military by bringing foreign currency in," Khaing Zar Aung said.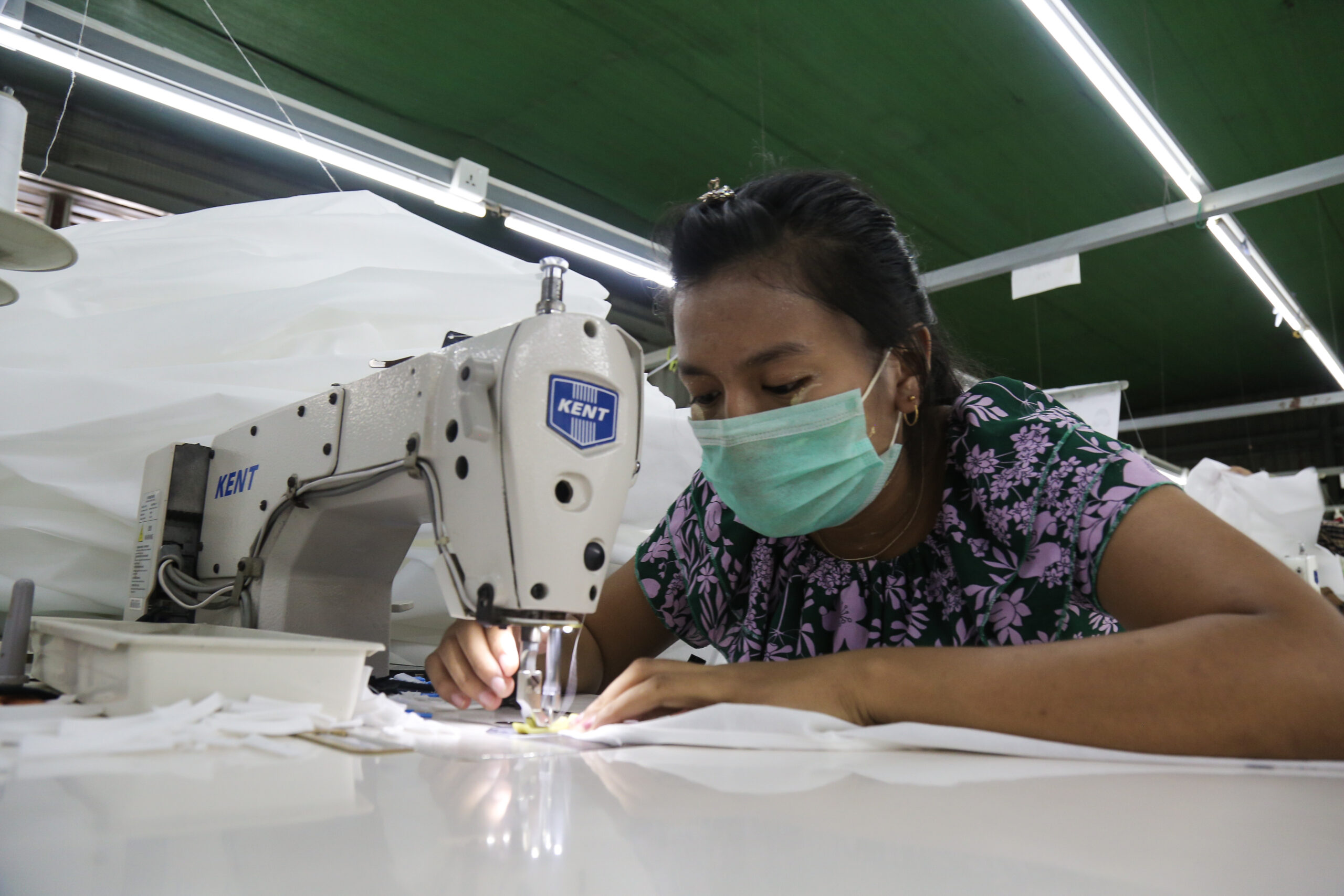 More violations after the coup
Before the coup, trade unions signed official agreements with the factories enshrining the workers' rights to association, medical leave, fair wages and social security. But things have changed since then. None of the previous guarantees are now in place in garment factories.
Since the coup, workers say employers cooperate with the military authorities in hopes of gaining financial benefits while ensuring their own safety. Managers now act as watchdogs for the military in their garment factories.
The Myanmar Garment Manufacturers Association reported that garment exports worth $4.7 billion last year. Data provided by the Industrial Workers' Federation shows that labour salaries amount to a total of just 5.3% of that revenue.
The current minimum wage in garment factories in Myanmar is $1.68 a day, approximately half what it was before the coup and the high rates of inflation that followed it. Besides not being enough to even feed one person, workers can't earn this wage unless they complete the amount of work assigned, Khaing Zar Aung told the Globe. This would normally require them to work between 10 and 14 hours a day and skip their weekly day off
"Workers are slaves now," she said. "If they report the abuse, the military would torture, arrest, or kill them."
The military also took advantage of pandemic conditions to dismantle labour unions and persecute their members, said Mayisha Begum, labour programme assistant at the London-based Business & Human Rights Resource Centre.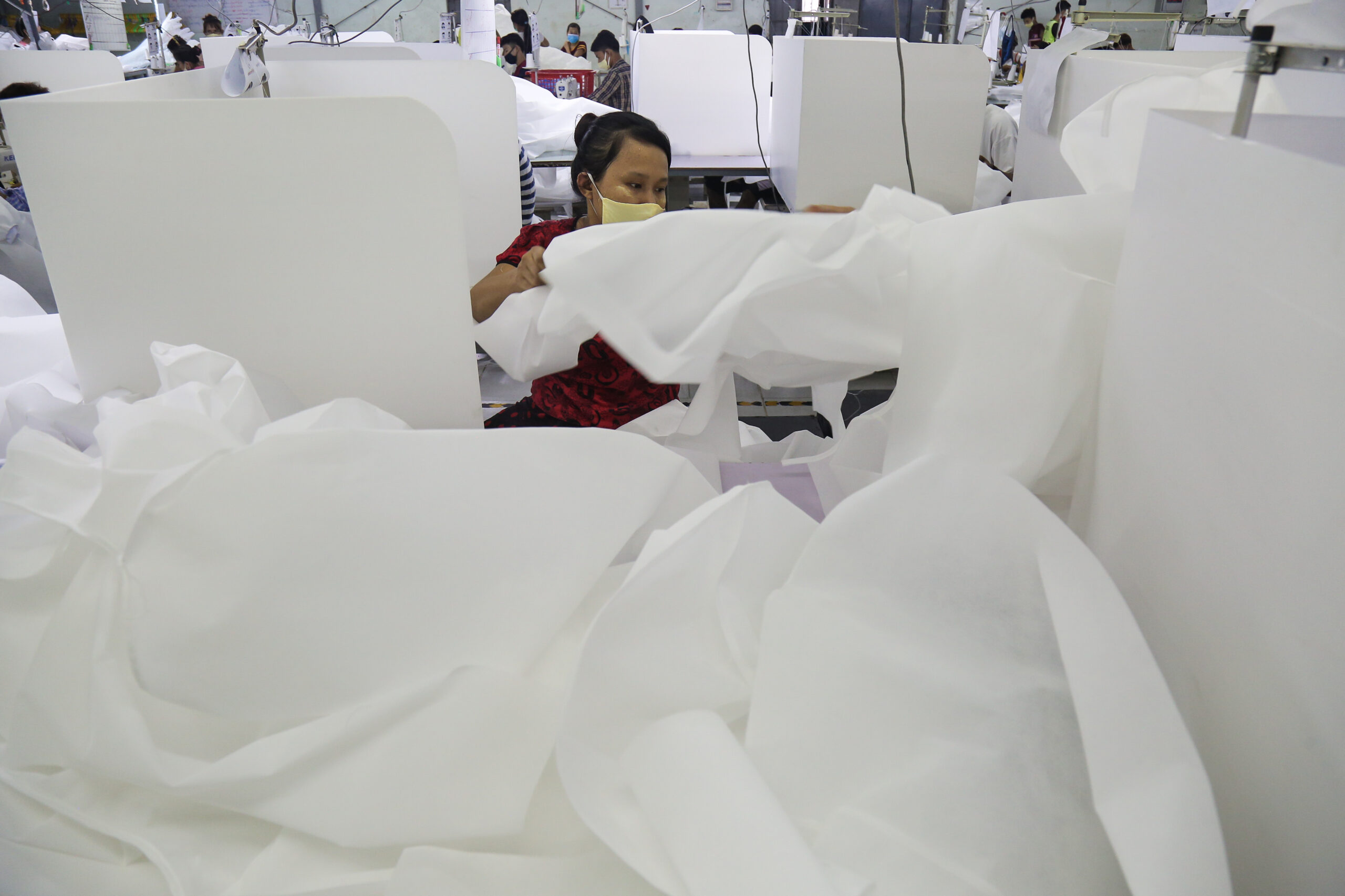 "Workers and unionists have been increasingly targeted," she said. "The military often works in coalition with employers and burns down the villages of those who advocate for their labour rights."
While some workers and unionists had no choice but to stay, others fled or hid either abroad or in remote villages amidst ongoing intimidation. Khaing Zar Aung went to Germany shortly before the coup and decided to stay abroad after the military takeover. But regardless of the physical distance, she continued to work closely with her team in Myanmar. They're now scattered across the country and mostly working anonymously after the authorities raided their office, seizing documents and computers. Officials also arrested staff members and revoked the validity of their passports.
The organisation remains operative but often can't prove alleged violations against workers to the brands' headquarters, as it prioritises the workers' anonymity and safety. After receiving complaints, brands will typically start a dialogue with the accused factory leaders to investigate the violations. But once a factory denies allegations, brands have little to no power to address the issues on the ground.
"Brands don't have any leverage," Khaing Zar Aung said. "They just have to leave."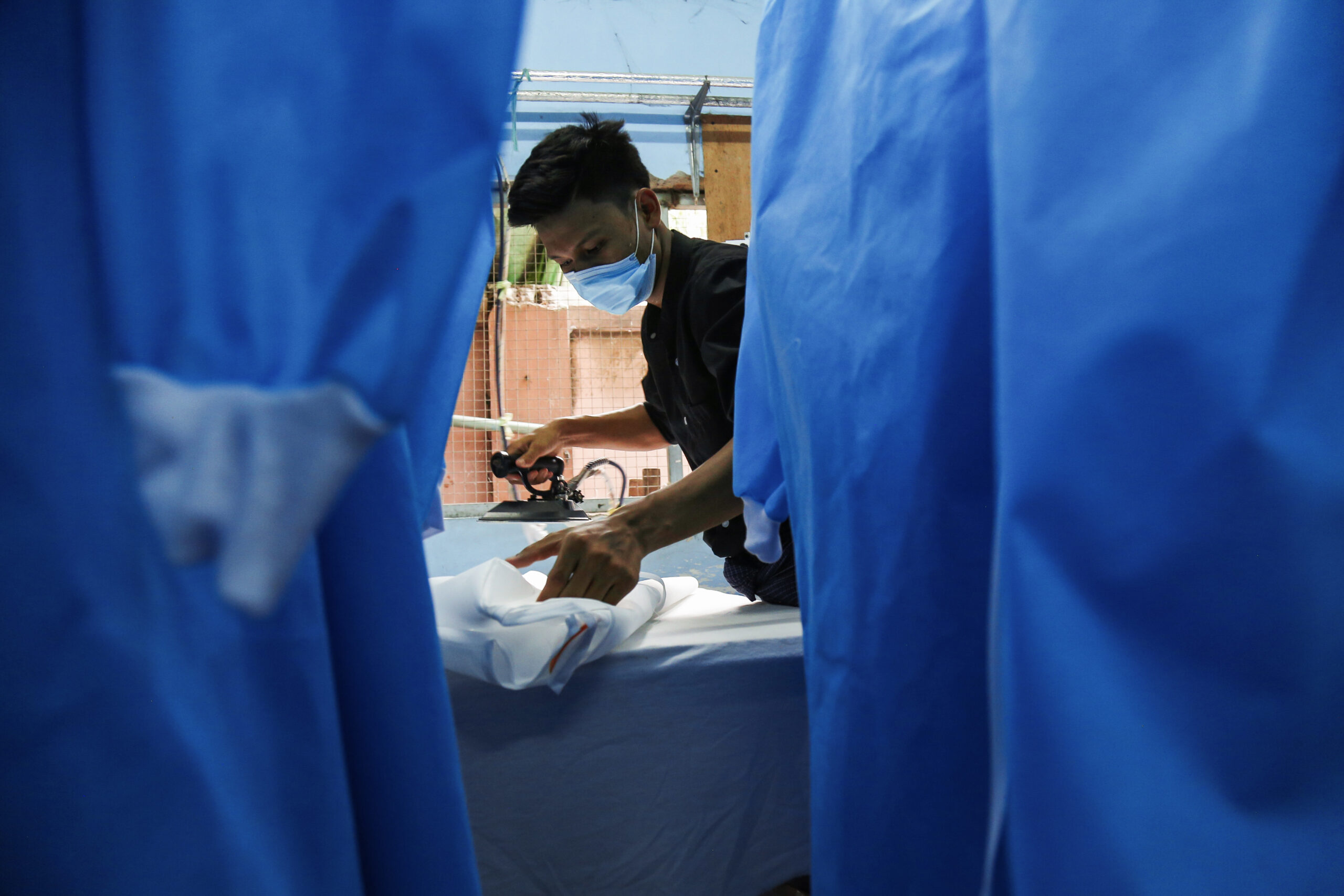 Responsible exit
But the international business community, including several major fashion brands, has different plans.
The majority of international brands included in the Business & Human Rights Resource Centre violation tracker claim their supply chains follow best practices such as in conducting due diligence and applying adequate remedies to violations, according to Natalie Swan, the centre's labour rights programme manager.
"They are not taking actual responsibility for the violations on the ground," she said. "Brands should consider a responsible exit from the country."
As brands don't have any legal obligation to eliminate human rights abuse from their supply chain, Swan said the burden to perform due diligence is barely felt in countries with weak rights for labour and civil participation.
So-called responsible exits are still a nascent concept. Because of a lack of clear regulations, Myanmar has recently seen an increase in brands adopting a "cut and run" approach, which would leave the workers without a job within a day.

To prevent the expansion of this, the Clean Clothes Campaign, a global alliance of labour unions and non-governmental organisations in the garment industry, released a list of unofficial guidelines earlier this year on what due diligence should look like in Myanmar's garment sector. The campaign called for brands to be more transparent with stakeholders, workers, civil society and consumers.
"A good exit will be done in partnership with rights holders, not at their expense," Swan said. "What matters are the workers' needs, ultimately."
She argued that best practices would include in-person dialogues between chief representatives of the brands and the workers.
However, the reality on the ground looks different. Reports of abuse and violations continue to flood the desks of human rights organisations and labour unions. The popular European fashion brand H&M is often in the eye of the storm for allegedly failing to ensure a fair wage to the workers and neglecting their rights.
In a comment to the Globe, the brand's media relation team said H&M will "continue to monitor closely the developments in Myanmar. In the current situation, we are very mindful of the fact that many people in the country rely on international companies for their livelihood. As things stand, we are refraining from taking any immediate decision on future order placement and will continue to work with all stakeholders."
While H&M seems to have no plans to leave Myanmar anytime soon, other western retailers such as Primark, Aldi South Group, and C&A announced their exit from the country late last year. But according to Swan, it is yet to be seen how they are actually proceeding with the withdrawal. This would likely follow different paths, as the relationships between brands and factories differ along such factors as the lengths of their partnership contracts.
Since each factory in Myanmar normally has contracts with six or seven different brands, the exit of one would not necessarily affect the survival of the producer.
"Now it's a wait-and-see moment to see how brands who announced the exit can extricate from that market sustainably and responsibly," said Swan.
Responsible sourcing
Karina Ufert, CEO of the European Chamber of Commerce in Myanmar (EuroCham), and Vicky Bowman, director of the Myanmar Centre for Responsible Business, are not entirely convinced such responsible exits are possible. They believe that companies should continue sourcing in Myanmar by conducting stronger due diligence and gaining more leverage by consolidating their relationships with factories.
"While staying engaged in the country, brands can exercise their leverage to improve working conditions for hundreds of thousands of workers," Ufert said. "Disengagement of the responsible brands will only lead to a further deterioration in the situation for the workers' rights and contribute to greater unemployment."
The Myanmar Centre for Responsible Business has partnered with EuroCham over the past decade to implement programmes to support responsible business practices, such SMART TaG and its successor 2022-2026 Multi-Stakeholder Alliance for Decent Employment (MADE). These programmes are intended to improve working conditions and reduce labour rights abuse, but their progress seems uncertain under the military government.

Last September, police in Yangon arrested Bowman, a former UK ambassador to Myanmar and a long-time resident, along with her husband, who is a Myanmar national. The charges were related to Bowman's registration as a foreigner in the country, but political observers believed the arrest to be in line with the detention of thousands after the coup as part of the military's efforts to crack down on dissent.

The couple was released in November as part of a mass pardon and were staying in the UK when Bowman spoke with the Globe.
"Brands have to leave now"
The EuroCham and responsible business programmes have also seen a strong backlash from labour unionists and workers, who say efforts to develop mechanisms to address grivances have backfired.
Focused on training workers and management to create formal procedures to handle complaints, the programmes also encouraged employers to form workplace coordination committees with representatives from all levels of the organisation.
"These are impossible procedures in a country where rights to freedom of association and collective bargaining agreements are banned," Khaing Zar Aung said. "Workers are tortured or arrested if they get involved in such mechanisms."
Labour union representatives strongly believe that the quickest and most efficient way to restore democracy and labour rights in Myanmar is for the EU to withdraw any business and financial involvement from the country. Khaing Zar Aung also urged the EU to comply with its own values and principles by effectively implementing sanctions against Myanmar.
"We prefer to lose our jobs and have short-term suffering rather than continuing being treated like slaves," Khaing Zar Aung said. "Brands have to leave now."