When Budi pulls into 9 Angels, a quiet café tucked beneath a passion fruit grove just south of Bali's yoga mecca of Ubud, he makes sure to stash his motorbike behind a jungle-green wall. As we speak, Budi is present but not really there. His eyes follow passing cars as he nervously stirs his tea, his forehead damp with sweat. He insists he's in danger any time he's in Ubud, that he's a wanted man.
Budi, 29 – his name changed to protect his identity – has been driving full time using the popular ride-sharing app Uber since 2015. And on an island that has no public transportation system but welcomed nearly 5.7 million tourists in 2017 alone, according to the Bali Tourism Board, his chosen profession is increasingly in demand – much to the dismay of the island's intricate network of traditional taxi drivers.
These drivers aren't alone. Anti-Uber protests in Turkey, Greece, Canada and elsewhere have seen drivers taking to the streets, lobbying legislators to more strictly regulate use of the apps to slow down the takeover of their industry.
But unlike in other markets, the struggle in Bali isn't just about money. It's about honour.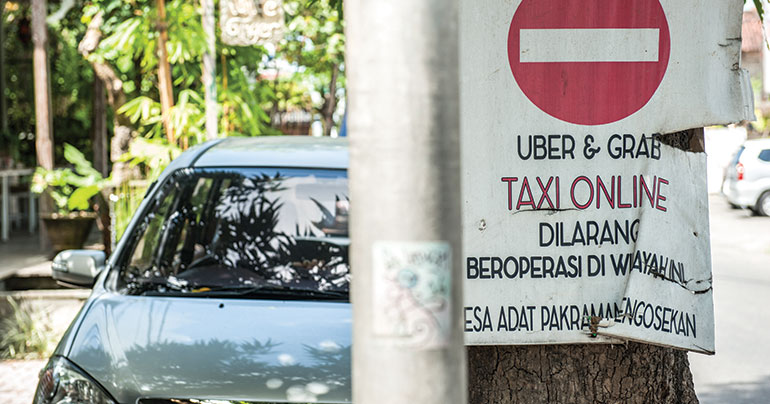 On the fiercely tribal island, an influx of tourist dollars has steadily grown the local economy even as a sense of territorialism reigns. Traditional taxi drivers speak of Bali's "local wisdom", which dictates that they alone should attend to the needs of tourists staying in their banjar, or local community. Drivers adhere to strict banjar boundaries, dropping off tourists across the island – outside their territory – and returning alone, thereby spending round-trip gasoline expenses for a one-way fare. The practice keeps their baseline fares significantly higher than those set by ride-sharing apps such as Uber, Go-Jek and Grab.
But technology doesn't bend to unwritten village law. The ride-sharing industry that's introduced these apps to the global transportation market in the past decade is booming – San Francisco-based Uber saw net revenue increase 61% in 2017's fourth quarter from the same time in 2016, ballooning to $2.22 billion, while global fare totals topped out at $11 billion. Malaysia's Grab says its 2.6 million drivers currently move nearly four million people a day across Southeast Asia, and the Grab/ Uber merger in Southeast Asia, announced on 26 March, is set to boost the ride-sharing industry even more in the region. "One of the potential dangers of our global strategy is that we take on too many battles across too many fronts with too many competitors," wrote Uber CEO Dara Khosrowshahi of the merger.
The rapid growth of ride-sharing has created a rift in Bali that's sucked in thousands of Balinese drivers on both sides of the app argument and, increasingly, tourists attempting to save money on a ride.
Budi hesitantly looks back on one of his more harrowing nights on the job: waiting to pick up a tourist outside a dance club in upscale Seminyak in 2016, a man knocked on his window.
"My car didn't have automatic sensor locks, and he tried to pry the door open," he says. "The guest got in the car on the other side and I immediately locked it – but not before this man and his three friends carved a 'U' on the back of my car. I have been chased. I have been threatened. I once begged the police to let me sleep in my car in the station parking lot – drivers were chasing me on scooters. I needed protection. My doors are always locked now."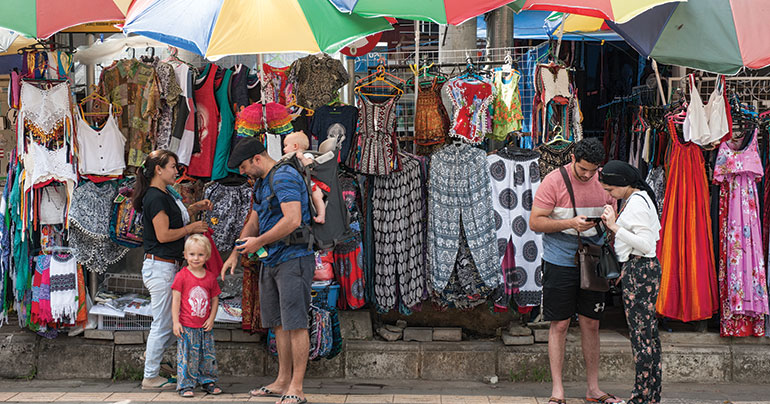 Budi regularly begins his workday at 4am, when he is least likely to run into trouble with local drivers. He says in a profitable month he could earn 25 million rupiah ($1,800) – nearly 12 times the minimum wage in Bali.
He remembers speaking to his father the night he slept in the police station parking lot: "He said just to quit this job – why would I work like this? I said: 'Sure, find me another job where I can make this much money.'"
Across town from 9 Angels, six Balinese men are sitting cross-legged in a roadside bamboo hut unwrapping banana-leaf packages of chicken and fried rice. It's lunchtime at the taxi stand in Penestenan, a guesthouse-filled village in Ubud's northwest corner. Ketut Puja, 44, cracks open a durian and passes it around. In a village of about 1,000 people, more than 70 of them log time at this taxi stand. The drivers operate on a queue system, driving passengers only when their number is up. And business is down – way down.
"Most of us need other things to do now," says Puja. "I'm working as a contractor, building houses. Because here [at the taxi stand], sometimes I go a whole day without driving. But we still wait here to serve the guests staying in Penestenan."
When the subject of online drivers is raised, the taxi stand seems to tense. Puja stops cutting into the durian; another driver begins thumbing a knife.
"There are no areas or territories anymore. These drivers are taking the food off of our plates – how are we going to survive?" asks Puja. "They don't care about any community. They have no responsibility to their village or their temple. We support each other. But when these drivers come into our village, what's their contribution to us?"
Puja has seen his earnings drop by 50% since Uber arrived in Bali in 2015, he estimates. All six taxi drivers know they could earn more by abandoning their "local wisdom" and driving for an app on the side, but the issue isn't so simple.
"Balinese don't have greedy minds. We don't just go and grab anything we want," says Puja. "That's not the way of this island; we are loyal to our village."
Initially, taxi drivers believed Bali's government would protect their livelihood.
In February 2016, Bali's governor, Made Mangku Pastika, issued a letter prohibiting Uber, Grab and similar ride-sharing apps indefinitely. The statement served as a stopgap as lawmakers in Jakarta struggled to issue new legislation regulating the apps. Tension continued to mount. Taxi drivers printed and posted signs marking their banjar borders, saying Uber, Grab and Go-Jek were not welcome. That December, Bali's international Ngurah Rai Airport banned online drivers, reinforcing the dominance of traditional taxi drivers.
"Every day I wake up and prepare to die"

Samuel Rwin
In April 2017, first blood was shed. Uber driver Ida Kadek Anom was forced out of his car by four taxi drivers in Seminyak, who allegedly demanded he pay them 500,000 rupiah ($36). When he resisted, the drivers beat him and began smashing his car with rocks and wooden posts. That October, hundreds of local drivers protested outside the governor's office in Bali's capital of Denpasar demanding action.
Meanwhile, ride-sharing drivers geared up for more violence.
"Every day I wake up and prepare to die," says Samuel Rwin, 32, who drives for Grab and Go-Jek and arrived from the nearby island of Sulawesi in 2011. "I know every gang member in south Sulawesi; I'm ready. But I know most [taxi drivers] are just keyboard warriors."
The legality question was finally clarified on 1 November 2017: Jakarta's Ministry of Transportation issued new parameters governing online drivers – use of the apps was officially legal but heavily regulated, requiring drivers to register their cars as tourist vehicles, stay within set territories and more. As of March 2018, Bali's Department of Transportation reported that 1,426 app drivers were registered.
Uber's Jakarta office would not respond to questions about ensuring that their drivers followed these regulations, but did remark: "Acts of aggression against Uber driver-partners are a criminal act which we deeply regret. The legality of mobile applications is [now] clear, and we sincerely hope that government enforcement can do [its] part to help uphold the law and protect users of mobility applications." Grab and Go- Jek did not respond to multiple requests for comment.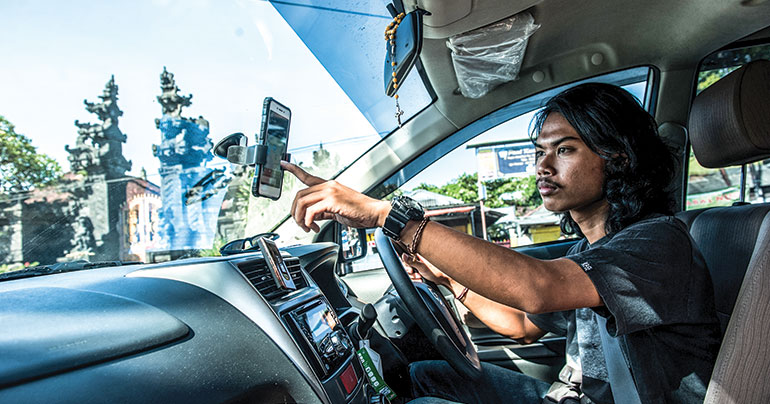 Arguments of legality finally aside, traditional taxi drivers found themselves backed into a corner, defending their turf – and, as they see it, their culture – on their own.
Gede Agus Arimbawa is a member of Bali Drivers United, a 400-strong group of tour guides and drivers with "the goal of keeping Bali's culture and making sure all our drivers have a place on our island", he says. "All of our members are pure Balinese people – and any drivers from other islands working here just cannot know as much about Bali."
To Arimbawa, tourists are also responsible for the collapse of his industry.
"When tourists come to Bali, they must have money," he says. "Uber prices are always lower, [but] why not pay the normal price and support local drivers?"
His logic echoes that of many local drivers: prices can't be lowered because of "local wisdom" and territorial lines – in many cases, prices set at taxi stands are roughly double those of apps – but tourists should support the village hosting them regardless.
It's an idealistic but unrealistic outlook, says Steven Polzin, director of mobility policy research at the Centre for Urban Transportation Research. "The movement towards apps is inevitable: they offer customer convenience and safety – safety by virtue of a trip record with some information of the driver and traveller," he says. "Local drivers do need to get with the times – and in many cases they will benefit significantly."
For Budi, the risk is worth the reward – both for him and for his island, he says.
"I could join the local taxi stand where I live, but I've heard so many complaints from tourists: 'Why are these taxis so expensive?'" he says. "I don't want to give people bad memories of Bali… It's a tough life. It's hard to have a family. There's no endgame here – but I'll keep driving."