Facing each other across a dry dirt road, the twin houses of Laurent Vallier still stand empty. Trapped beneath flourishing foliage are the last signs of life of a man who had settled down with his family of four children far from his native France: a rusted slide, pierced through with saplings; cracked china plates brushed with red flowers; a browning tin of Nestle baby formula, long empty. At the edge of the road, a Cambodian spirit house has been reduced to rubble. The house is broken; the spirits, it seems, departed.
… the subsequent French-led investigation revealed a number of glaring inconsistencies in that theory – most notably the fact that the allegedly suicidal Vallier's skull was found in a suitcase in the backseat
In January 2012, as the last remnants of the wet season pulled back beneath the bare summer sun, a group of young bird-hunters stumbled on the faded frame of a Nissan SUV in a sunken ditch behind the French tour guide's house in Chbar Mon City, the capital of Kampong Speu province. When police hauled the wreckage onto land, they found the skeletons of Vallier and his four children, aged between two and nine. A starved monkey and dead dog were chained to a fence. The family had been missing for four months.
Although the Cambodian investigators who arrived at the scene quickly wrote off the case as the desperate suicide of a destitute man reeling from the death of his wife, the subsequent French-led investigation revealed a number of glaring inconsistencies in that theory – most notably the fact that the allegedly suicidal Vallier's skull was found in a suitcase in the backseat. In August 2014, more than two years after the bodies were dragged from the pit, French autopsy results confirmed that Vallier and his children had been murdered.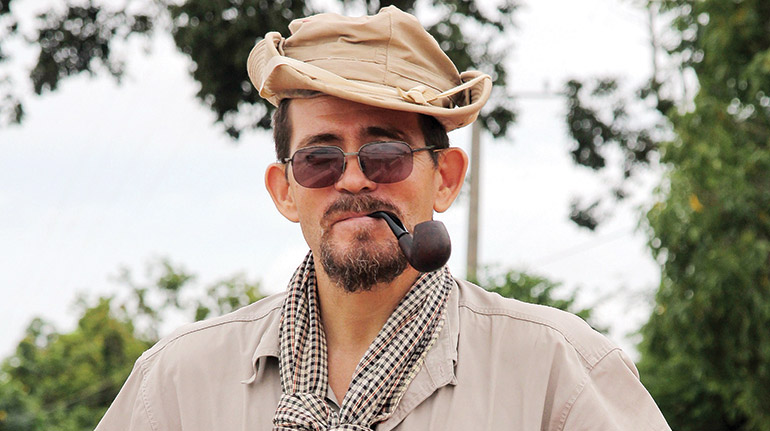 Kampong Speu investigating judge Chhim Ritthy told Southeast Asia Globe last month that the 300-page investigation report – finally translated into Khmer last year – revealed damning evidence that Vallier's family in fact had met a violent end. Traces of blood were found on the inside of the truck and in the Frenchman's house.
"They were murdered, put in the truck and pushed into the pond," he said. "[They] weren't trying to escape from drowning, except his youngest child. The other children were killed before. But the youngest child was too young to fight against the murderer, so that's why the murderer didn't kill him, but put him in the SUV and pushed it into the pond."
Despite another round of interrogations by the Ministry of the Interior last year, the investigation seems to have once again stalled. Although French investigators are still analysing a pair of extra sandals found in the truck for DNA, Ritthy said that there was little chance the shoes – which would typically be shared between multiple people in a Cambodian household – could reveal anything about the killers. A knife pulled from a cistern in Vallier's house has also proved a dead end.
"There weren't any clues," Ritthy said. "Cambodian authorities can only ask witnesses, and there weren't any… We don't have any real evidence to put pressure on the suspects. It's as though we're surrounded by black."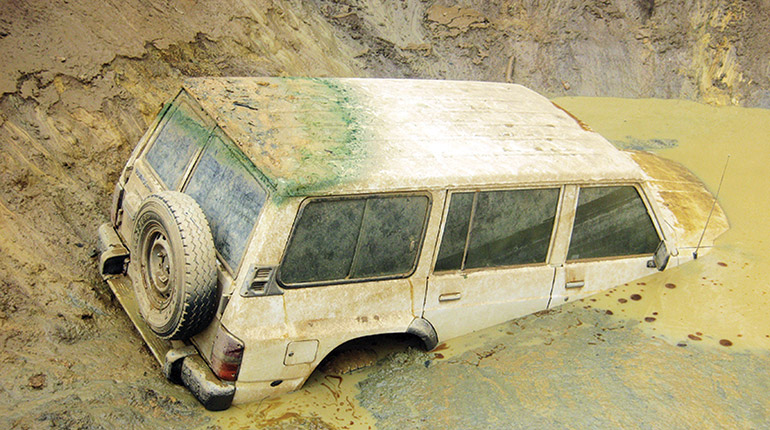 Vallier and his wife, a Cambodian woman from Prey Veng, moved to Kampong Speu in 2007. Three years later, Vallier, who had previously owned a hotel and was working as a tour guide, was left as sole provider for four children after his wife died delivering their youngest, Mikael.
Despite more than five years of fruitless investigation, Vallier's death continues to haunt Ritthy.
"We need to find the murderer to provide justice for him," he said. "If we don't find justice for him, it means that his spirit doesn't rest. This, this is what pushes me. I need to find justice for the victim. What I do is for the victims, not for anyone else."
Interviews with neighbours along Vallier's street painted an image of a reclusive man who kept himself apart from the people of Chbar Mon even before his wife's death. A middle-aged woman on his street, who refused to give her name, said that Vallier had managed his property like a fortress.
"Not many people could have access to his house – he didn't want people to go in there," she said. "The construction workers as well – they weren't allowed unless their boss was there. When his wife died, his father-in-law had to talk to [Vallier] to allow the villagers to come for the funeral."
"Every time one of my chickens went in the house he tried to kick it out by throwing shoes at it."

Chuob Srey, 78
Squatting on her back porch next door to the shell of Vallier's house, 78-year-old Chuob Srey grimaced through betel-stained teeth and said that the Frenchman had frequently kicked and abused animals that wandered onto his property – a familiar refrain among his neighbours.
"I never talked to him – I'm afraid of foreigners," she said. "Every time one of my chickens went in the house he tried to kick it out by throwing shoes at it."
A neighbour of Vallier's, who spoke to Southeast Asia Globe on condition of anonymity out of fear of retribution from the Frenchman's in-laws, said that he was one of the few people in Chbar Mon who had been close with the family – and perhaps the only one he could go to for help.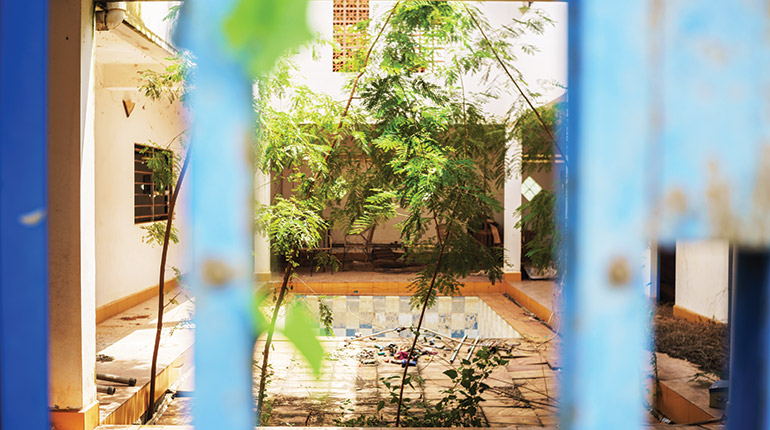 As sweat stains seeped through his tan shirt, the neighbour alleged that Vallier's wife had been borrowing money behind her husband's back from several people in her home province of Prey Veng. In August 2010, just over a year before Vallier disappeared, three men – including two chiefs of local communes – came to his house to collect on his dead wife's debt, almost $3,000, plus interest.
"He came over here, kneeled down and cried," the neighbour said. "He didn't borrow money from anybody – only his wife borrowed money. It was only on this date [in August 2010], when the people that his wife owed money to came here, that he found out she'd been borrowing."
It was this debt, his neighbour claimed, that forced Vallier to hock his house in Prey Veng for a fraction of the cost he had spent to build it. In 2013, the investigating court questioned Vallier's Cambodian in-laws about nine land titles in Prey Veng they had apparently acquired from the Frenchman – at the urging, his father-in-law Tith Chhuon claimed at the time, of the commune chiefs. Chrey commune chief Khann Pheach told the Cambodia Daily in 2013 that the nine land titles had indeed been registered to the family-in-law. Vallier's French relatives have repeatedly accused the in-laws of receiving land title papers stolen from the Frenchman's house before his death.
Although the neighbour steered clear of implicating anyone in the murder, he alleged that he had often heard Vallier caught up in fierce arguments with his father-in-law. "His father-in-law hit him from time to time," he said. "They would get into arguments a lot. Sometimes he would hit Laurent with a bottle as well."
According to Ritthy, Chhuon was brought in for questioning after applying for the land titles to Vallier's Chbar Mon properties after his son-in-law's disappearance. Southeast Asia Globe was unable to reach Chhuon for comment.
"They hated him in the village," he said. "Not all, but some."

Chhim Ritthy, investigating judge
Despite his initial suspicions, though, Ritthy maintained that he found revenge to be a more likely motive for the grisly murder than profit.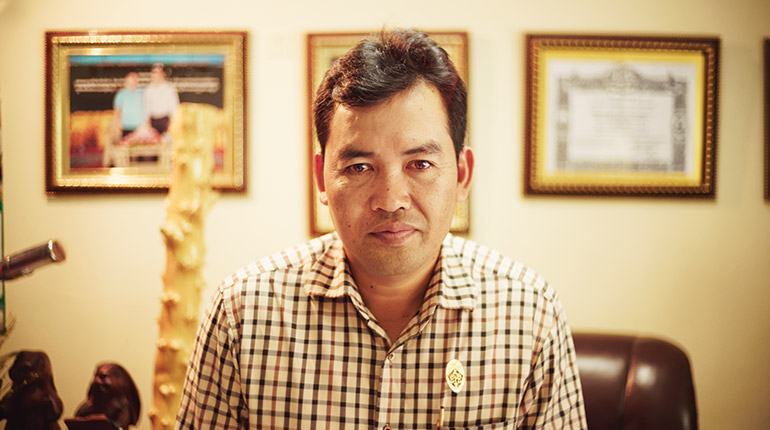 "They hated him in the village," he said. "Not all, but some. This is the most important point. Why? Because in Kampong Speu they still have some groups left from the Khmer Rouge. And near there, there was a family that got killed – the same story. They killed the whole family and only a small child survived. This is a completely different case. But we can say that there might be a cruel person who lives there. If anyone makes them feel resentful, they will kill them."
Vallier's neighbour said that his friend's behaviour had been increasingly paranoid in the lead-up to his disappearance.
"One day Laurent was on a trip to Mondulkiri and left all the children with me," he said. "And he was saying that whatever happened to him, don't let the baby go with anyone. Unless his family from France came to pick them up. I went along with the children to guard them at the school as well."
Now, though, with the five-year investigation showing little signs of reaching a resolution, the spirits of Vallier and his children remain little more than a memory for his former friend. "We miss him a lot," he said. "We always light a candle for him on holidays."