Singapore's first zero-waste store is helping cultivate the next generation of eco-conscious citizens amid a sea of Southeast Asian plastic pollution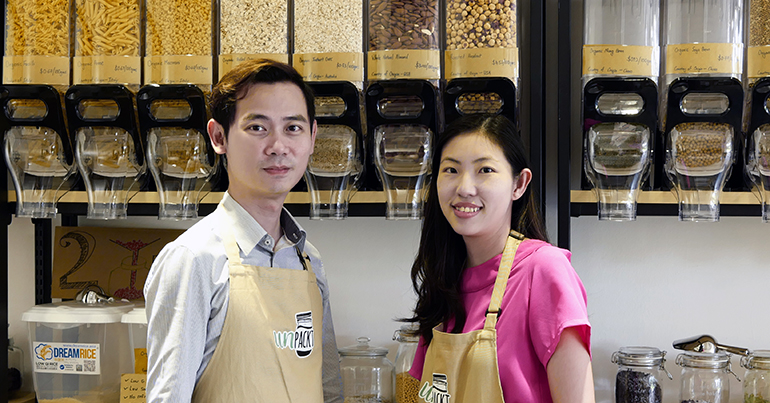 In an Unpackt store, there is no plastic packaging in sight – instead, the walls are lined with glass dispensers. Jars and tubs are filled with pastas, nuts, legumes, oils and grains in splashes of pale yellows, purples, greens, greys. Customers bring and fill their own containers, which are then weighed at checkout.
Unpackt is Singapore's first zero-waste store. While trash continues to pile high in landfills across Southeast Asia, home to some of the worst culprits of marine plastic pollution, this month's opening of Florence Tay and Jeff Lams' store represents a step forward in the city-state's ongoing pledge to eventually become a zero-waste nation. Out of 815,000 tonnes of plastic waste generated in Singapore in 2016, only 6% was recycled, according to the city-state's National Environment Agency.
While in recent years establishments in Singapore have begun to embrace more eco-friendly practices – such as banning single-use plastic – the zero-waste concept of Unpackt does away with the need to generate trash in the first place, largely eliminating the need for recycling at all. When the packaging factor is removed, prices drop an average of 5%, according to Tay – which also results in less food wastage since customers choose the quantity of everything they buy.
This gem of a neighbourhood grocer in the residential town of Ang Mo Kio hopes to build a family-friendly community vibe that appeals to everyday Singaporeans – and dispel the myth that eco-lifestyles are reserved for the wealthy and those with time to spare. "We encourage the shoppers to sit down and exchange their ideas and experiences on zero-waste lifestyles," says Tay. "Hopefully, if they are sharing their experience, we can encourage each other."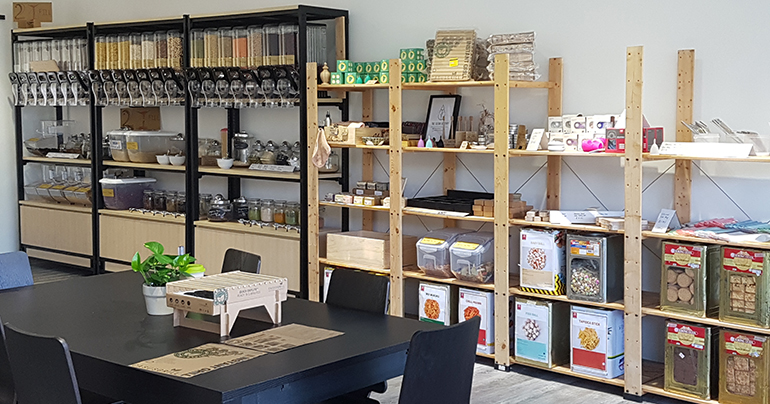 In helping customers realise the ease of zero-waste shopping, they aim to convert the unconverted and change long-formed habits, supplying not just edibles but also an assortment of eco-friendly household items, from cleaning supplies to toiletries and beauty products.
"We also have people who are not so on the eco-friendly side," says Tay. "They shop with us and are being persuaded by the freshness of the products, the quality and the pricing. We actually have them referring their friends to shop with us, which is a good sign."
[manual_related_posts]
Singaporean establishments' slow awakening to alternative eco-lifestyles comes in response to a rising demand from consumers – a growing consciousness Unpackt hopes to cultivate, while persuading suppliers that there is a market for packageless products. But changing shoppers' habits is no easy task.
"They are conscious of the packaging issue and plastic pollution," says Tay. "But probably it will still take time for them to build the habit… We believe that the next generation will be more aware." 
This article was published in the August 2018 edition of Southeast Asia Globe magazine. For full access, subscribe here.