One month ago extraordinary scenes emerged from the remote province of West Papua, Indonesia.
Images showed New Zealand pilot Phil Mehrtens in the rainforest, surrounded by rarely seen Papuan independence fighters wielding rifles and bows and arrows.
Their commander Egianus Kogoya, just 24 years old, filmed himself in the cockpit of Mehrtens's plane railing against foreign nations' support for Indonesia, which has occupied Papua since invading in 1962, demanding Indonesia withdraw and grant Papua its independence. He then burnt the plane before disappearing with Mehrtens into the jungle.
In videos released from the event, Kogoya, and his group, the West Papuan National Liberation Army (TPNPB), also challenged western nations' military aid to Indonesian forces in a conflict that has claimed the lives of between 100,000 to 500,000 Papuans.
TPNPB spokesperson Akouboo Douw highlighted one outside player in particular: The U.K.
"Britain has its own record with West Papua and is part of the ongoing genocide in West Papua," Douw said, pointing to "Britain's training of Indonesian forces involved in extrajudicial killings of Papuan people."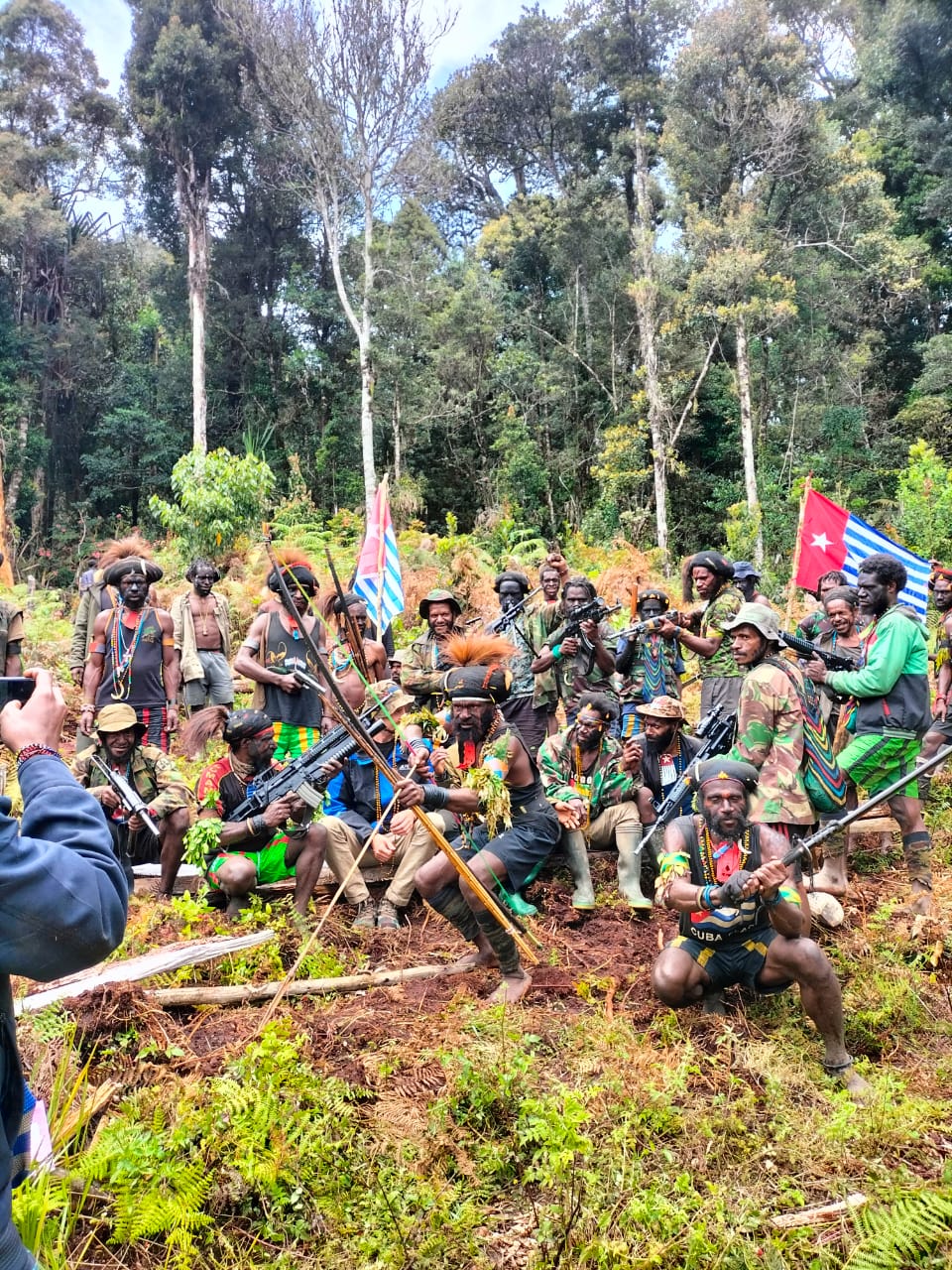 The British government claims not to aid rights violations in Papua. However, a Southeast Asia Globe investigation found evidence of an often murky defence relationship between the U.K. and Indonesia that has directly fed into the conflict.
Through a freedom of information request filed with the British government, Globe obtained documents that detail a secretive collaboration between the arms industries of both countries to deepen the Indonesian military capacity. A review of social media posts from Indonesian special forces members reveals British sniper rifles are now being used by Papua-based units long accused of waging repressive campaigns.
Members of these units often train at the Jakarta Centre for Law Enforcement Cooperation (JCLEC), a counter-terrorism programme that receives regular payments and professional support from the U.K., according to government data reviewed by the Globe.
Britain's Metropolitan Police is the leading provider of programmes at the centre, while the British Foreign Commonwealth and Development Office (FCDO) is its second largest financial donor behind Australia. The centre trains members of special forces accused of massacres and other rights violations in Papua.
At least three of these forces make up Damai Cartenz, the anti-terrorism task force currently most active in Papua. Including another unit known as the Yonif Raiders 315 Garuda – nicknamed "Satan's Troops" for their brutality – the task force has been accused of gross human rights violations against Papuan civilians in sweeping operations since 2021.
---
Indonesian authorities have stated that if negotiations with Kogoya fail they will send in such special units to rescue Mehrtens.
Shrouded in secrecy: U.K. Government meetings with Indonesian military
The U.K. has been actively courting Indonesia's military market since at least February 2018, when the Department for International Trade (DIT) highlighted the nation as a priority for Britain's "Indo-Pacific tilt" with the U.K. arms industry a major beneficiary.
U.K. Minister for Defence Procurement Guto Bebb visited Jakarta on 11 April 2018, for three days supposedly to hold meetings with major weapons manufacturers including Airbus Defence, Leonardo and jet engine producer Rolls Royce, according to Transparency International data.
The meetings were to "discuss defence issues in Indonesia". However, the MOD, responding to a freedom of information request by the Globe, revealed these meetings never actually happened. Those that did end up taking place were never updated onto the government's own transparency data records at the time and now details of Bebb's trip to Jakarta have been removed from records entirely.
The heavily redacted information request reveals Bebb actually met with four major Indonesian state-owned weapons manufacturers, including PT Pindad, the leading supplier of weapons and ammunition for the Indonesian military, including the small arms used by all units active across West Papua. Other weapons companies in attendance were Indonesia's national aerospace, shipbuilding and communications intelligence companies.
The MOD said this meeting was attended by senior government, military and arms industry representatives and followed a "defence trade mission" on 12-15 March 2018 set up by the British Embassy in Jakarta and the DIT's Defence and Security Organisation.
Thirteen U.K. weapons companies attended the trade mission, but the MOD refused to reveal their names.
This trade mission, the first of its kind, led to a joint arms industry conference. U.K. weapons firms "presented their capabilities" there, focusing on collaboration and partnership with Indonesian state-owned weapons companies.
The information request also revealed that in a lunch meeting in April, Bebb responded that he was "very keen" to see such ventures and saw a "bright and exciting future for U.K.-Indonesian collaboration on capability development and delivery."
In 2018, the year of these meetings, government weapons export data shows the U.K. authorised weapons export licences to Indonesia valued at $75.9 million (£64.2 million).
By 2019, weapons sales more than quadrupled to $310.5 million (£262.5 million).
This included $242 million in "ML4" category weapons, such as grenades, bombs and missiles. It also covered $38 million for "ML10" category weapons including military aircraft, helicopters and drones.
By 2021, British exports to Indonesia fell to $53 million (£45 million), a reflection of considerable growth in the country's domestic arms manufacturing at the behest of Defence Minister Prabowo Subianto.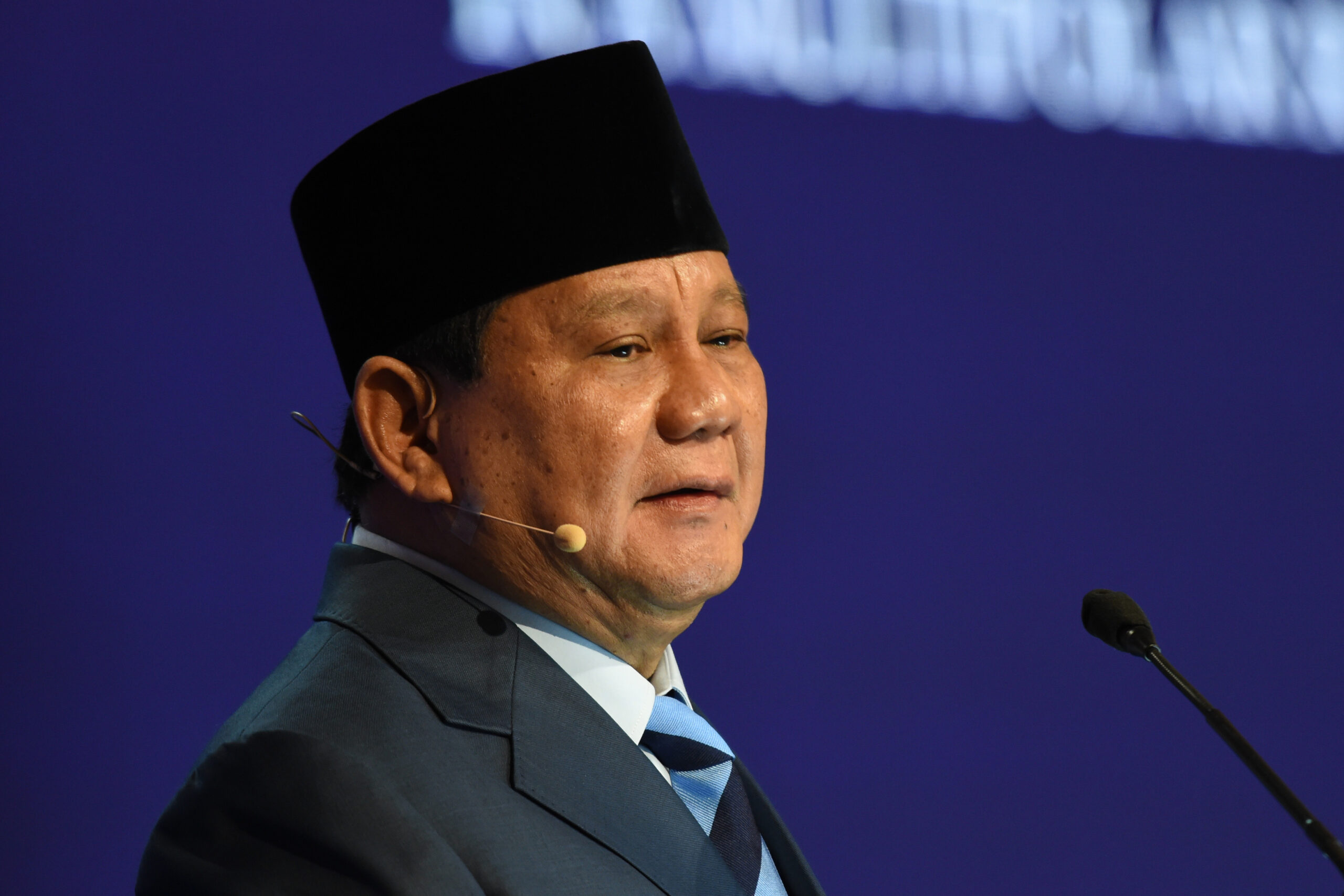 Still, TPNPB spokesperson Douw said the arms trade remains "a big problem" for the group.
"We ask Britain to cut military ties with Indonesia and to stop exporting military hardware to Indonesia, and instead bring this critical humanitarian issue to the UN Security Council," Douw told the Globe.
The U.K. government refused to reveal which weapons companies benefited from the spike in arms deals to Indonesia. However, Globe used social media to trace weapons from at least two British sniper rifle companies being used in Papua: Accuracy International and Steel Core Design.
British sniper rifles in West Papua
Despite U.K. government claims from November 2020 that it "will not grant an export licence [of weapons to Indonesia] where there is a clear risk of them being used for internal repression", the three known units of Damai Cartenz are known to use top-grade sniper rifles from these British firms as mainstay weapons.
Besides the Yonif Raiders, these units include BRIMOB, a special forces police unit implicated in a number of massacres in Papua, and Detachment 88, a counter-terrorism group that Britain helped to develop.

BRIMOB has a history of accused extrajudicial killings of Papuan civilians. On 27 February, BRIMOB members fired on Papuan civilians in Wamena, capital of the Highland Papua province, killing twelve Papuans protesting the alleged attempted abduction of a young Papuan girl.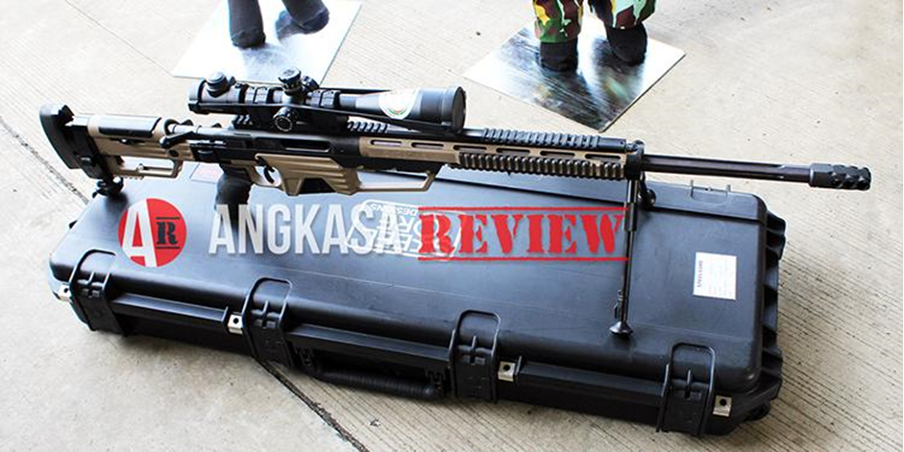 "BRIMOB and [Detachment] 88 are considered the most evil troops by Papuan civil society," said Yones Douw, Papuan human rights activist. "There are always human rights violations wherever these two units carry out military operations in the land of Papua." Weapons export data shows the U.K. government authorised three licences for 556 sniper rifles to Indonesia in 2018 alone. In August 2018, Indonesian authorities showed off such rifles and other weapons at an international exhibition at an Airforce base in Java.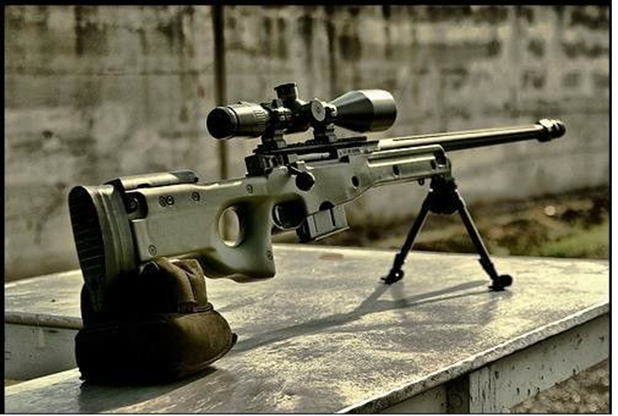 The Globe traced two soldiers from Yonif 315 posting images of British rifles on Instagram, where many Indonesian military personnel regularly post about their weapons training, deployments to Papua and nationalist sentiment.
One of these publicly accessible accounts, infoinfanteri_kostrad, posted a photo of a soldier in a mountainous forested region on 13 April, posing with an Accuracy International rifle.
On his personal Instagram account, the soldier posted the same photograph. Weeks later, he added another post with his location tagged as Puncak Jaya, a hotspot of the conflict in the central highlands of West Papua.
Another military account regularly tagged by soldiers in their posts is indonesia.militer. This profile re-posted a photo of another soldier also using an Accuracy International rifle. His personal Instagram also showed photos of him using the British gun.
A video one of the soldiers posted on 27 April, 2021 confirms he is part of Yonif 315 Garuda. In the comments section he responds 'kab.mimika' to another soldier who asked which region he was deployed to, using a shorthand reference for the Mimika Regency – an area bordering the conflict region of Puncak.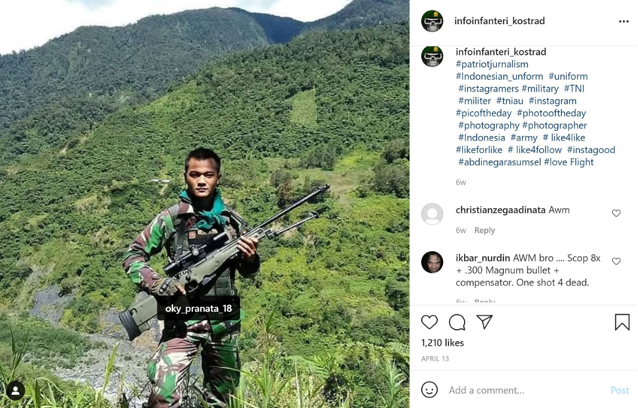 The unit Yonif Raiders 315 Garuda also uses Instagram, where it posted a soldier with the group's emblem on his helmet using an Accuracy International rifle. The post states unit members are "being trained with the weapon "to prepare for the Papuan Pamrahwan Task Force" and practice "techniques for executing targets".
The Yonif Raiders gained the name Satan's Troops during Indonesia's violent campaign in East Timor in the 1990s. They became notorious for excessive violence and disregard for human rights. During Indonesia's occupation of Timor Leste, Amnesty International estimates more than 200,000 Timorese were killed.
"On one hand Britain talks about democracy and human rights in Ukraine, but on the other they're supplying weapons to Indonesia who massacre Papuans," said Benny Wenda, leader of the Free West Papua Campaign.
"Britain needs to review the funding of this organisation. Directly or indirectly, British taxpayer's money is used to fund the killing and torture of innocent people."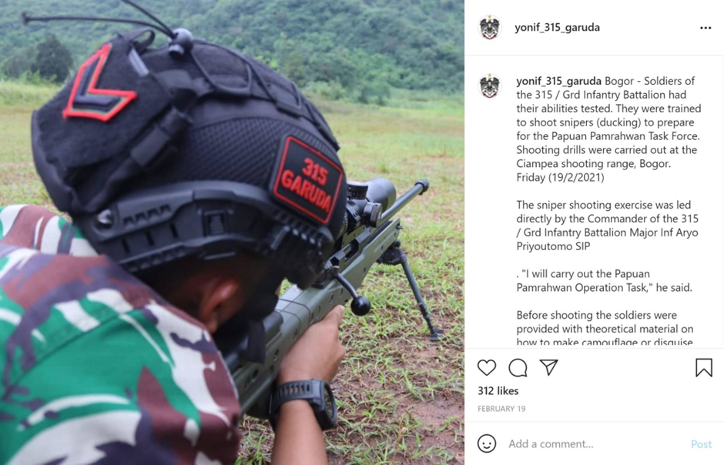 When reached for comment, the British DIT held that its exports to Indonesia were conducted ethically.
"The U.K. is a leading advocate for human rights, operating one of the most transparent export licensing systems in the world and rigorously assess every export application," the department stated. "We will continue encouraging all states to uphold international human rights obligations, and keep all export licences under careful and continual review."
U.K. funding the JCLEC
In 2020 the government denied providing any training to Papua-based units when responding to a parliamentary question challenging Britain's human rights record in Papua.
However, when asked for a list of Indonesian police trained by Britain they admitted they don't keep data on who Britain trains at JCLEC, so cannot know if Indonesians trained go on to serve in Papua or not.
The centre was established in 2004, two years after the Bali bombings, to aid international police cooperation in dealing with terrorism in Indonesia and across Southeast Asia. It's now renowned for creating Detachment 88. Though heralded by some as a success story in countering radical Islamic groups in the archipelago, the unit has also garnered controversy for regularly killing suspects.
"Densus were trained by Australia, America and Britain. It was supposed to be training to fight jihadis and terrorists, but in fact it's used against Papuan civilians" said Wenda, using another name for the unit.
The JCLEC is required by Indonesian law to publish annual accounts. However, since 2019 following the West Papua Uprising, it removed them from its website, making it impossible to determine exactly how much foreign funding it receives.
The Globe analysed the U.K.'s FCDO data for spending over £25,000 over the past 13 years and found 69 payments to the JCLEC Foundation totalling $17.1 million (£14.1 million). A reporter reached out by phone and email to ask about the payments but received no response.
Britain also provided 59 training programs in 2018 alone, more than any other nation, with the Metropolitan Police of London delivering the majority. Only Australia provides more financial support to the Jakarta centre, according to available information.
In 2018, British High Commissioner to Singapore Scott Wightman said Britain "was a critical part of the JCLEC process that transformed Detachment 88 into an effective counter-terrorism force. Since 2015 hundreds of arrests in Indonesia have been made by officers who used skills learned on U.K. training at JCLEC."
Indonesian military operations since 2018 have left an estimated 100,000 Papuan civilians displaced according to the UN Special Rapporteur for Human Rights. With increasing deployments of troops to the region and an increasingly coordinated and ambitious TPNPB this situation shows little sign of abating.
The Indonesian National Police and Army did not respond to requests for comment.

"Britain has standing moral obligations to West Papua" Douw said, highlighting how West Papuans fought alongside Britain and the Allies in World War II. "Papuans need Britain to be part of the resolution of this conflict, not to contribute to Indonesia's occupation."