The first Ubud Food Festival brought together some of the finest chefs from Southeast Asia and beyond. It provided the perfect opportunity to ponder whether Western chefs in the region should be considered dietary dignitaries or culinary colonists
Will Meyrick has just sat down for our interview when a vexed European announces himself. "I ate at your restaurant last night," says the moustachioed fiftysomething. "You have to do something about the noise."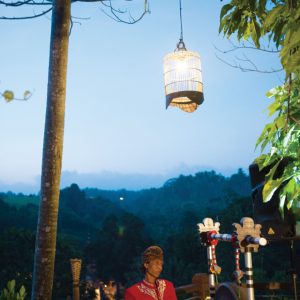 Meyrick, one of Indonesia's most respected foreign chefs, apologises and bumbles through a suggestion that next time the gentleman might try sitting downstairs. After seeing him off, Meyrick turns back to me exasperated, eyebrows raised, eyes wide. Such is the joy of food festivals.
The first-ever Ubud Food Festival, however, has been largely devoid of irritable men from indeterminate European nations. It has, instead, been a wildly good-natured and pleasant meeting place for some of Southeast Asia's keenest culinary creators to share their secrets and discuss their inspirations.
"The heart of cuisine at the moment is definitely going towards Asian cities," says Meyrick while taking in the magnificent view of Campuhan Ridge from Taman Baca restaurant. "Bangkok, Shanghai, Singapore, Hong Kong, even Kuala Lumpur and Jakarta are starting to come up as well with international chefs. I think it's a really positive thing."
On the surface, it does indeed seem like prime-grade Western chefs pitching up in Southeast Asia can only be good. Given their training at the world's finest culinary institutes and the tutelage of Michelin-starred maestros, the table should be set for a propitious transfer of knowledge. However, according to a number of the chefs, both Indonesian and Western, at the Ubud Food Festival there are many complications to the local food scene, and foreign arrivals are improving and exacerbating them in almost equal measure.
"We have a big problem with the mentality here. We think that everything that comes from the West is good so we leave our own culinary traditions," says Rahung Nasution, a heavily tattooed cook who has travelled all over Indonesia seeking out recipes and become something of an international celebrity-cum-culinary agitator in the process. "When you ask an Indonesian what they think about Indonesian food they are blank… When you go to France, or even the US, they know about their culinary traditions. Indonesia needs complete re-education. There's a lack of appreciation for our own food."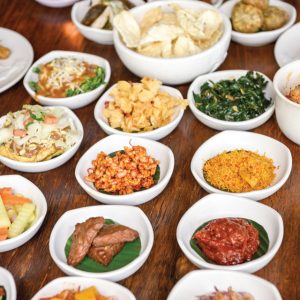 There is also Indonesia's lack of quality gastronomy schools. While Singapore boasts a branch of the Culinary Institute of America, widely regarded as the best chef school in the world, and the Philippines is home to a culinary institute by Alain Ducasse, one of the masters of French cuisine, Indonesia lags sorely behind.
"I've trained numerous local chefs myself and there are many challenges because of the education they get from culinary schools here," says Jon Priadi, an Indonesian chef who trained and worked in Australia for ten years before returning home to start the Culture Kitchen FoodLab, a project in Yogyakarta that exlores and documents Indonesian food culture. "At the national level, the lack of importance Indonesia puts on the development of food knowledge is a real issue. The overwhelming idea seems to be that they need people to work in hotels, so here's some cooking school that factory produces chefs to be placed in hotels. A lot of the cooking that's taught is very Western, very old-fashioned and very limited. It's like: 'Here's how you make spaghetti.'"
This translates into a distinct lack of Indonesian chefs cooking high-end Indonesian food, with Priadi being a notable exception. Local chef-entrepreneurs are also largely missing from the country's food scene, though as chef Chris Salans puts it: "Not everybody has half a million dollars to put into a restaurant."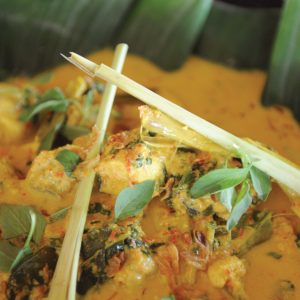 Salans is one Western chef who has almost transcended nationality during his 18 years in Bali. His restaurant, Mozaic, is known for infusing fine French cuisine with all manner of fantastical local produce and is regularly cited as Indonesia's best restaurant. He and other experts at the festival point out that the relatively humble status of being a chef in career terms has also held back the Indonesian food scene.
"I was part of a TV show called Top Chef, and the whole idea of that was to show Indonesians that you can become a very successful chef, even a celebrity," says Salans. "That's taken for granted everywhere in the world, but in Indonesia a chef is a cook, and a cook is a maid. It's still a very low position."
Even among the relatively small percentage of people who do see cooking as a viable career option, financial realities often bite. Unfortunately, most Indonesian chefs do not get the same opportunities afforded a Will Meyrick or a Chris Salans.
"Some people can afford this kind of top culinary education, but it needs to be rich people from rich families. They need to go to Australia, the US, France to get the education," says Kevindra Prianto Soemantri, an Indonesian food writer who has recently launched an affordable cookery book after finding that many young Indonesians could not afford imported titles, which can cost up to $70. "At the moment, some people see that being a chef is just for rich people."
They might also be forgiven for thinking that being a successful chef is just for foreign people. Of the 17 Southeast Asian restaurants on the well-respected Asia's 50 Best Restaurants list, just five have Southeast Asian head chefs on the pass.
Perhaps the numbers of overseas chefs rolling into Southeast Asia should come as little surprise in our increasingly globalised world and in an industry that has always been fuelled by exposure to diverse cultures and recipes.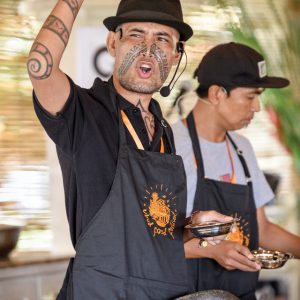 Eelke Plasmeijer was one such chef. The long-haired Dutchman arrived in Jakarta in 2007 to take up a job at a hotel but soon realised he wanted to put down more solid foundations. He has since opened Locavore, a darling of Bali's food scene that incorporates foraged wild produce into its dishes. As a former hotel chef himself, Plasmeijer feels that the transient nature of the jobs taken up by most foreigners leaves little time for either soaking up local knowledge or imparting foreign knowhow.
"Often the problem if you work in hotels is that you sign a two-year contract and then you move on to another country. And two years is not enough time to do anything," he says. "It's very easy to just pick up the phone, order salmon and foie gras from all over the world and just keep doing what you've been taught in the West. It takes a lot more time and effort to make a difference."
"One of the big downsides to foreign chefs coming in," agrees Meyrick, "is that they probably don't want to learn the language and actually emulsify and become part of it. If you come to Southeast Asia, you should come because you want to work with the local people and grow with them… to really understand what the culture and the community is all about."
The majority of the chefs at the festival did accept that there was a foreign/local divide. It was estimated that Bali, in particular, is actually home to more Western restaurants than Indonesian, often necessitating a large number of expat chefs.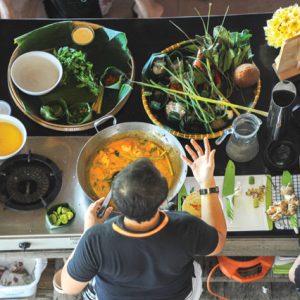 "There's an issue with inequality. When foreign chefs come here, it can be a barrier to local chefs," says Priadi. "There isn't enough cooperation and there isn't enough space given for the self-development of local chefs… You can see the foreign/local divide and I've experienced it personally. Western chefs who come here get paid Western rates, but when I returned here after ten years in Australia I was being offered a 'local' wage. From employers' points of view, Indonesians are always in the second-tier of chefs. In my experience, nobody saw the positives of me potentially being the bridge between the two sides."
Of course, the arrival of Western chefs is not simply a one-way ticket to misery. It was agreed that they often bring new standards in areas such as hygiene and sanitation, heightened levels of professionalism and, perhaps most importantly, new ways of thinking about food.
"My former bosses are French and Italian and they always told me about perfection, that food is an art," remembers Soemantri. "That's certainly something that Indonesian people don't know. There's not that kind of feeling or care in the food."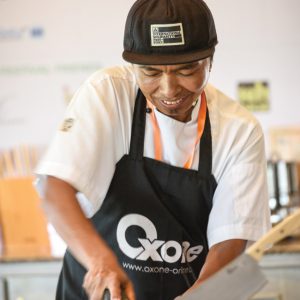 According to Nasution and many others, the fact that Western chefs are arriving in Indonesia and showing interest in local recipes can also be a tonic to the idea that Indonesians do not appreciate their own cuisine.
"I think it's good that I'm cooking Indonesian, because it's making people wake up and go: 'Hold on, why is that Westerner cooking our food?'" says Meyrick. "We've done three or four TV shows like that, and people are surprised. Sometimes they get embarrassed that I'm doing it and they don't know about it."
In conversation with numerous Indonesian chefs, the same names frequently pop up as examples of foreigners who are doing it right, who are committed to the development of local chefs and who are putting in the time to amalgamate. Salans, Plasmeijer and Meyrick are the antithesis of overseas chefs who pop in for a two-year Indonesian adventure and pop out again without any lasting impact.
"I've learnt everything from ibu ibus, old ladies. That's what I'm known for, is basically going around cooking with old ladies," Meyrick says with a laugh. "Knocking on doors, getting the recipes, showing pictures of my kids to butter them up and just generally understanding the culture."
There is also something of a revolution taking place in Indonesia's major population centres, according to Priadi. A young generation of writers, history buffs and TV presenters are taking an active interest in food, and this group, who are comfortable telling stories, are beginning to use those skills to elevate understanding. As Priadi puts it, they are the ones doing Indonesian food justice, rather than the chefs themselves.
Furthermore, Indonesia's obsession with social media is also transforming the way people see cuisine and chefs.
"With the rise of Twitter and Instagram, there's that idea of documentation, meaning respect for food and therefore for chefs is actually on the rise. Now there is more of a culture of taking photos of your food, saying look at this beautiful dish," says Priadi. "Young people and social media are very important. It's still very middle class, but it has started at least, the culture of honouring good food."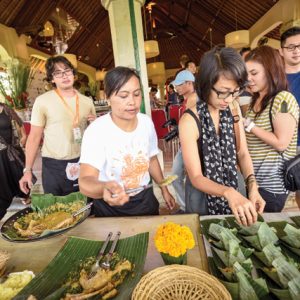 Plasmeijer has also noticed the rumblings of change at Locavore. In just under two years since the restaurant opened, he has been able to move on from employing inexperienced kitchen hands to uncovering eager, young foodies.
"We're getting in guys who have been abroad and they pick our restaurant because this is the type of food they like to cook and learn about. These kids read the same cooking books, know the same restaurants and are interested in the same websites as me. They are the future," he says, before adding the ubiquitous caveat. "Unfortunately this is normally the guys who have studied overseas, and that's not possible for everybody."
Restaurants such as Remboelan in Jakarta are proving that giving classic Indonesian a modern twist can get locals excited about their own food. Chef Andrian Ishak of Namaaz, also in the capital, is even making a name for himself as 'the Heston Blumenthal of Indonesia' thanks to his wondrous experiments in molecular gastronomy. Unfortunately, truth be told, these examples remain few and far between.
"There aren't many well-known Indonesian chefs for Indonesian cooking," admits Priadi. "Hopefully over time, through exposure to Western chefs and with social media influencing popular culture, the respect for chefs will have some kickback and you'll have chefs coming up who are proud of developing and exporting their own cuisine. At the moment, the creation, the innovation, is mainly foreigners. Where are the Indonesians?"
***
A Meat injection
Grill master Dave Pynt of Burnt Ends restaurant in Singapore reveals his three favourite cuts of meat
Pork: "Mate, I'm loving the tomahawks at the moment. I just think it's a really interesting cut. You get all the different textures from it and it's on the bone, which I love. Pork tomahawk's definitely one of my favourite cuts."
Beef: "I really like jacob's ladder, or iliocostalis, which is a cut from the ribeye that's super-tender and super-fatty. We grill that really hard, bring it up to about 56˚C, so it's got loads of nice little charred bits on it and serve it with just mustard dressing."
Grouse: "Grouse is my favourite meat. Every year I count down to August 13, the start of the grouse season. Just go whole bird, aged until it's almost rotting and grill it to just about medium-rare. I had it for the first time about four years ago and it's super-gamey, it's fuck-you-up dirty."
***
The warung way
Chef Chris Salans divulges his three favourite warungs, or small local Indonesian eateries
Babi Guling Ibu Oka (11am – 3pm)
"The name means 'suckling pig of Mrs Oka'. There are ten addresses for suckling pig in Bali and, for me, even though it is very famous, Ibu Oka is still the best. If I can be even more specific, because Ibu Oka has a number of shops, you have to go to the one in Mas, that's my favourite.

Sederhana (11am – 6pm)
"This place is all about Padang food. For me it is the best Padang in Bali. There are a few good ones in Bali but one might be a little more hot, another might be a bit more tender. They all have their little twists and their specialities, but I like Sederhana. The way Padang works is that they bring out lots of little dishes, so have fun with it."
Nasi Campur Ayam Kedewatan (10am – 5pm)
"Ayam Kedewatan for me is a landmark in Ubud.  It has been there for so many years and serves consistently good Balinese chicken rice and has nice open-air dining areas for people to enjoy. There is only one choice of dish – chicken rice – but don't forget to get some crackers to have with it. I recommend the whole peanut variety but there is also rempeyek, krupuk, emping and more on offer."