Our neighbourhood guide to Phnom Penh's trendiest district, often known as the Russian Market areas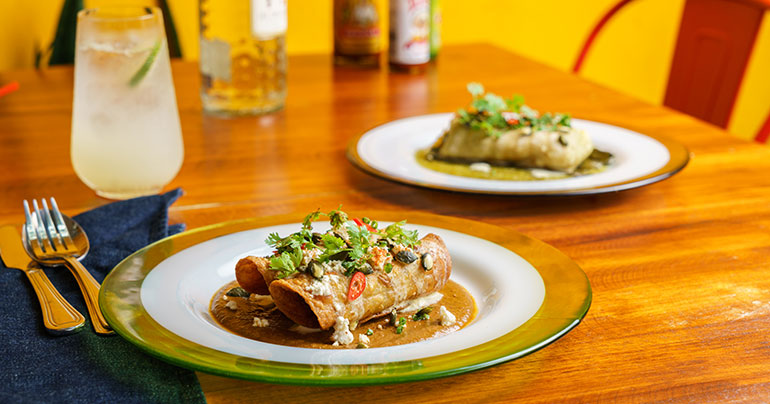 EAT – Agave Cocina
Painted in the rich red, white and green of the Mexican flag, Agave Cocina delights diners with its convincing south o' the border décor and dishes that feel every bit as authentic. Look for the mini Mexican hat marker dotting the menu amidst flautas, nachos, burritos and fajitas to find out not just what the chef recommends, but what he eats. Pages upon pages of tequila and mezcal – potent spirits derived from the blue succulent from which the restaurant takes its name – and almost a dozen different twists on the classic margarita ensure that connoisseurs of Mexican cuisine don't leave disappointed.

DRINK – Sundown Social Club
A vibrant Miami-inspired watering hole overlooking the motley tin roofs of Russian Market, Sundown Social Club provides the perfect setting to, well, watch the sun go down. With an ingenious fusion menu blending the best parts of Mekong and Mexican cuisine and plentiful pitchers of inspired cocktail concoctions, Sundown Social Club is an ideal watering hole for weary travellers who want to watch the chaos of the fresh fruit and meat market below from the comfort of a wicker chair, or locals ready to unwind after a hard day's work.

STAY – Frangipani Living Arts Hotel and Spa
One of two Frangipani Hotels flourishing in Phnom Penh, this graceful building offers a sense of serenity that can be hard to come by in Cambodia's capital. From the rooftop bar, guests can cast their eyes over a cityscape that remains blissfully free from the high-rises that clutter skylines across Southeast Asia. Just ten minutes' walk from the best bars and restaurants surrounding Russian Market, Frangipani provides visitors a chance to see a more residential side of Phnom Penh not swamped by tourists and locals buzzing around on motorbikes and tuk tuks.

PLAY – Escape60
When they remove your blindfold, you are staring through the steel bars of a concrete cell. On the screen in front of you, a masked figure runs a leather-bound finger across his throat: you are going to die here. You have one hour to find your way out. Escape60 brings the worldwide craze of the escape room to Cambodia, pitting you and your friends against fiendish riddles in a frantic race against the clock. Escape60's two themed escape rooms – Night City Prison and the Shelter – cater to varying levels of ingenuity, but both are crafted with a compulsive attention to detail. 

SHOP – 
Russian Market
A sprawling labyrinth of cluttered stalls and shops selling everything from traditional Cambodian cloths and craftwork to Cold War memorabilia, Russian Market – or Psar Tuol Tom Puong in Khmer – earned its moniker from the Soviet expats who churned below its corrugated tin roofs in the 1980s. Today, its vendors flog their wares to foreigners from across the globe, with the market having cemented its place as a must-see sight for visitors to Phnom Penh years ago. Buyer beware: despite its colourful cacophony of curiosities, the art of separating knick-knack from knock-off may take a few trips to master. And never settle on the initial price.
This article was published in the October edition of Southeast Asia Globe magazine. For full access, subscribe here.