Beauty and a burly sea captain await passengers sailing Cambodia's Koh Rong archipelago
By Daniel Otis  Photography by Sam Jam
The wind takes the sails and we're cutting through cobalt blue seas, with the Koh Rong archipelago's green summits looming above the cloud-speckled horizon. In the distance, wooden fishing boats ply the placid waters, and closer by, a school of needlefish frantically jumps away from the yacht.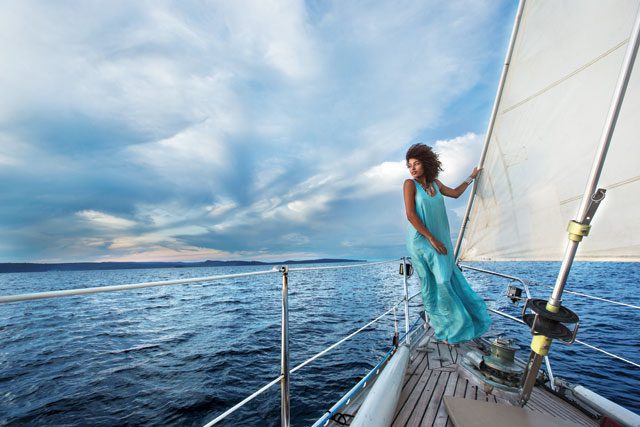 We're cruising 20km off the coast of Sihanoukville aboard the Cygnet, or 'Little Swan', a vintage 14-metre cutter with wooden decks, teak cabins and classic white, blue and black lines. "Sailing is the only freedom left on the planet," Captain Rony Hill says from the helm. "And Cambodia is one of the best sailing grounds in the world."
Captain Rony should know. In his 50 years at sea, the veteran American skipper has seen much of the world's waters. Both Rony and his partner Jenny were amazed when they first sailed into Cambodia seven years ago.
"We instantly fell in love with the place," Rony says. "The friendly people, undeveloped islands, calm waters, steady easterly winds and little to no rain for more than half the year make Cambodia a maritime playground. When we arrived there were no accurate sailing guides to the islands. I had to share this place with other people, so we decided to start offering charters."
We approach the wide, heart-shaped Saracen Bay on the island of Koh Rong Samloen. A fishing village stands at the bay's far end, and its long beach is dotted with a handful of rustic bungalow resorts.
The sailboat is put to anchorand we head ashore in an inflatable dinghy. A short hike through the island's lush forests leads us to a multi-tiered waterfall where cool, sweet water plummets over a series of cascades before pouring into the sea.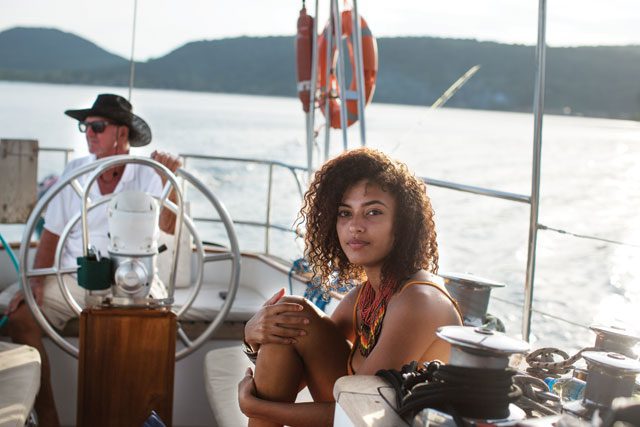 Back at the boat, Jenny has prepared sandwiches, potato salad, fresh spring rolls and fruit. Jenny, who hails from northeastern Thailand and has sailed with Rony for the past 16 years, expertly concocts both Western and Thai dishes from the Cygnet's small galley. "Cooking is my passion," Jenny says with an infectious laugh. "I love making people happy with food."
We pull anchor and head northwest to neighbouring Koh Rong. On the island's southeastern shore, turquoise waters lap against the pristine white sands of Long Set Beach. Across from the beach is a tiny tree-clad outcrop Captain Rony has dubbed 'Pagoda Island'. The islet itself is crowned by a small Buddhist shrine, and from its summit, one is given sweeping views of Koh Rong's lush jungles and the great blue expanse of ocean beyond.
As the sun begins to set, Jenny surprises everyone with a freshly baked apple pie. Over drinks, Captain Rony regales us with tales from his life at sea, and we watch the sun burn into the ocean before the gentle waves rock us to sleep.
***
Sihanoukville-based Sail Cambodia offers day trips and custom overnight adventures from November through May. Captain Rony's three sailboats sleep four, six and eight passengers respectively. Bareboat charters are also available.
For more information, visit sailcambodia.info or call  Captain Rony on +855 (0)16 450 964.