A visit to Vientiane is a journey for the soul and the senses
Seemingly overlooked by the burgeoning urbanisation boom in Southeast Asia, Laos' capital has maintained its charm to the benefit of the traveller yearning to reconnect with the simple life.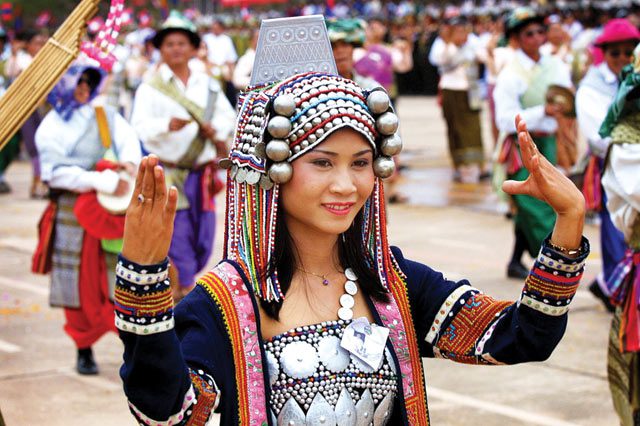 Referred to as 'Asia's largest village', daily existence in Vientiane flows in unison with the Mekong River that bends past the capital, forming a natural border with Thailand. Its streets beckon visitors to discover the city's highlights by foot or pedal, with canals, stilt houses and pagodas dominating the outlook.
With more than half of Laos' population citing Buddhism as their religion of choice and with those remaining largely following Animism, spiritual worship is a guiding force for everyday life.
Taking centre stage as Laos' national symbol, Pha That Luang is a 45-metre high gilded stupa believed to be the site of some of Buddha's remains. A visit to Wat Si Muang is said to bring good luck, but for true insight into Buddhist life take an opportunity to chat with local monks as they gather at the Sangha College once a month to meet with tourists.
Southeast of town, ten kilometres past the Thai-Lao Friendship Bridge is the home of one of Vientiane's quirkiest attractions, Buddha Park. Xieng Khuan or 'Spirit City' is the brainchild of Luang Pu Bunleua Sulilat, a self-styled holy man who took Hindu and Buddhist philosophy and merged it with mythology and iconography to create this eccentric sculpture meadow. True to its name, dozens of concrete figures are positioned around a grassy area on the banks of the river. A giant reclining Buddha draws attention, but it is the sculpture resembling a giant pumpkin with the skeleton of a tree sprouting from its top that commands a second glance.
While Buddha Park is a flagrant attempt to lure tourists, the pulse of Vientiane is found at the city's local markets. Morning Market, or Talat Sao, is popular with tourists, but for a more authentic experience Thong Khan Kham is where locals flock to purchase their goods. Whether bargain hunting for a handmade scarf, savouring the scent of fresh cinnamon or delighting in the delicacy of freshly rolled noodles, Thong Khan Kham is a sight and experience for all the senses.
However, a visit to a local market is only one half of the culinary experience – learning to use the fresh produce to create local delicacies is the other. To truly savour the foodie experience join an outdoor cooking class, where knowledge of traditional ingredients and techniques are shared and the secrets of making perfect sticky rice are revealed.
At day's end locals and visitors meander to the riverbank, where they meet the sun as it sets beyond the Mekong for a show of spirituality and simplicity in its purest form.

Coffee break
Laos' combination of volcanic red earth soils, high altitudes and mild temperatures make for some of the tastiest coffee in the world. Take advantage of Vientiane's many chilled-out cafés, which rely heavily on coffee beans grown in the country's highlands to help sustain the local fair-trade coffee industry and support local farmers.