When the Prodigy's legendary album The Fat of the Land dropped in 1997, it marked a rock-oriented departure for the hardcore dance/industrial band as well as the exit of the group's DJ and keyboardist, Leeroy Thornhill, who went on to a wildly successful solo and DJ career. Thornhill was in the Prodigy's original lineup, helping it to pioneer the big beat sound that ruled electronic music in the 1990s along with the likes of Fatboy Slim and the Chemical Brothers. Thornhill, 50, has recorded solo under the names Longman and Flightcrank, and is in demand as a DJ all over the world. Southeast Asia Globe catches up with Thornhill ahead of his upcoming appearance in Phnom Penh, where he said a healthy electronic music scene has long been simmering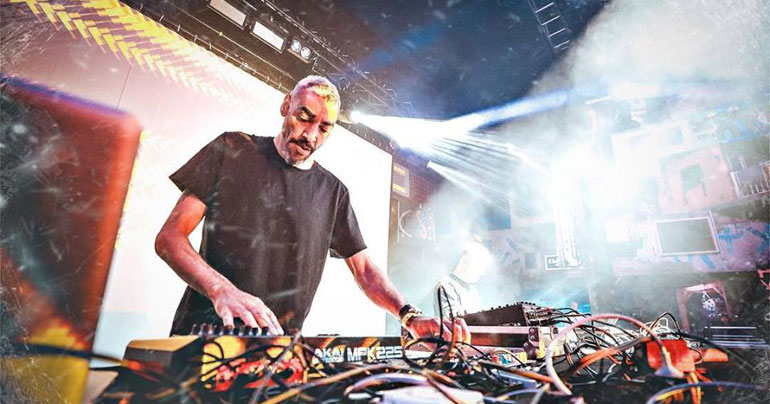 When did you first play Phnom Penh?
My first gig was eight years ago when Eddie [Newman, of Code Red Agency] invited me to play at Pontoon along with Goldie.
Does Phnom Penh have much of an electronic music scene?
For sure there is a scene there – otherwise, I wouldn't still be coming back. Along with many other well-known DJ's, I think it still has a small underground scene. Commercial electronic music is still more popular.
Why did you leave the Prodigy?
As a band, it didn't need me anymore. Once Keith [Flint] started to do vocals, the dynamic changed and the show became more rocky than dance.
The Fat of the Land is on the top ten list of many industrial/hard dance fans. Is it one of your prouder achievements?
There is no one thing that stands out. Just being a part of the band and reaching an audience worldwide is an achievement. Every tune we released had the same buzz for me.
When you began your DJ journey, what was your gear setup? How has it changed to today?
When I first started about 34 years ago, my mate DJ Physics had some belt-driven Technics, real basic, and a small two-channel mixer. Nowadays, I don't have a setup at home. I still have my 1210 Technics. But they don't get used very often as I don't play with vinyl anymore.
Is the DJ the backbone of industrial/hard dance music?
For me, yes. DJ's are the source of electronic music. They have made it possible for the modern-day electronic dance bands to exist.
In your solo career, what's been your biggest challenge? What have been some highs and lows?
I think the biggest challenge is being accepted for your own music after coming from the band. It has taken me many years to form my own sound, and only now am I truly happy with the music I am writing. I look at low points as learning curves, lessons to drive you on to be better.
Worst gig you've ever had and why?
That's a hard one. I don't have one particular gig [that comes to mind]. I think it's when a promoter books you for your name and not your music, it gets frustrating. You play one track and then someone's asking for some pop shit from a boy band or something, and you're just thinking, what am I doing here, this is gonna be a long two hours.
What was the wildest night of your life on tour?
If I told you that, I would have to kill you.
[manual_related_posts]
Who's influenced your music?
I'm influenced by all styles of music, from hip hop to rock, punk.
Current artists you're grooving on now?
Right now the Prototypes, Mafia Kiss and Bubble Couple are doing it for me with their productions.
How has digital music affected you? What's your favorite format and why?
I don't think formats matter. It's what you do with it that counts. If you wanna sync music to DJ, you are only fooling yourself.
What does the future of music look like to you?
Who knows, if they ban all the shit TV shows… maybe cool music will make its way to the forefront again. And please, for god sake, stop with the Auto-Tune vocals – if you can't sing, don't sing.
Leeroy Thornhill plays DJ sets with special guests at Pontoon nightclub in Phnom Penh on 11 January from 10pm until late.