Raising the bar: The Peak
The latest project from Oxley-Worldbridge Cambodia will set new standards in Phnom Penh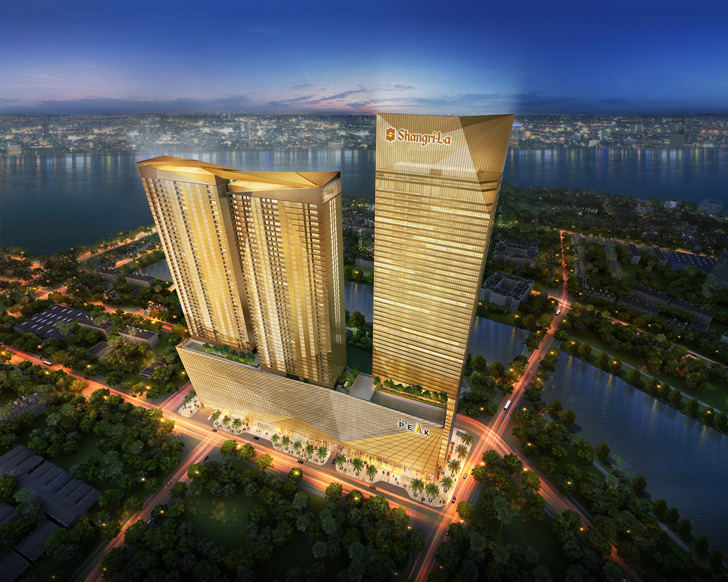 With luxury properties blossoming throughout the Cambodian capital at an impressive pace, Phnom Penh could be on course to reclaim its former title as the 'Pearl of Asia'. Yet such progress has left many people asking: what will be the peak of Phnom Penh developments? The answer might lie in an aptly named project: the Peak.
"The Peak will change Phnom Penh. It will be iconic for the city," said Rithy Sear, the chairman of WorldBridge Group, which, along with Singapore-based Oxley Holdings, co-founded Oxley-WorldBridge Cambodia, the luxury project's developers.
The Peak will be located in the centre of the Cambodian capital, overlooking the serpentine Mekong River and in the vicinity of the voguish Aeon shopping mall, the feverish NagaWorld casino and fun-filled Diamond Island.
Clad in an elegant hue of bronze, the paragon-shaped, 55-storey twin towers of the Peak will boast 1,014 condominium units, each furnished with the apogee of sophistication,
a voluminous shopping mall and ample office space. In what could be its pièce de résistance, a third, adjacent tower will be home to the Shangri-La hotel.
Shangri-La Hotels and Resorts is Asia-Pacific's leading luxury hotel group, and Sear believes its addition will fundamentally change the tourism landscape of Cambodia.
"When one flies to a country, the first question one asks is about the hotel. For high-end clients, if you ask them to stay in a local five-star hotel, they don't feel so comfortable," said Sear. "But when one sees a hotel like Shangri-La in Phnom Penh it can change the mindset of the tourist."
The Peak will be Oxley-WorldBridge Cambodia's second venture in Phnom Penh. Work is currently underway on the Bridge, a twin-towered, 45-storey complex located a short distance from the Peak, which will bring a new standard of luxury to the city's condominium market.
It is also the first project to introduce the Cambodian capital to the concept of SoHos – 'small office, home office', which can allow one to work and reside in one unit by adding a mezzanine platform. Although the Bridge does not open for another year, all condominiums have already been sold, as have 74% of the SoHos.
Construction on the Peak is expected to commence early this year and be completed by 2020. Once erect, it will become Phnom Penh's tallest building, peering down on the Vattanac Tower, which currently holds that accolade. At a cost of $580m, it will also be Phnom Penh's most expensive residential development to date.
Malay Nop, manager of CBRE Cambodia, says that "developments such as the Peak demonstrate that Phnom Penh is well placed to not only compete with but, in terms of return on investment, surpass both Ho Chi Minh City and Bangkok".
---
Read more articles