The considered brushstrokes of Thomas-Pierre give new life to the Iconic symbol that is Angkor
By Sacha Passi
Enter the stark white space at the Institut Français' exhibition hall in Phnom Penh and a glance to the left is greeted with a scene reminiscent of JMW Turner's warm, burnished landscapes. Wander deeper into the recently renovated gallery and another cluster of canvases evoke a touch of Miquel Barceló's travel-inspired compositions.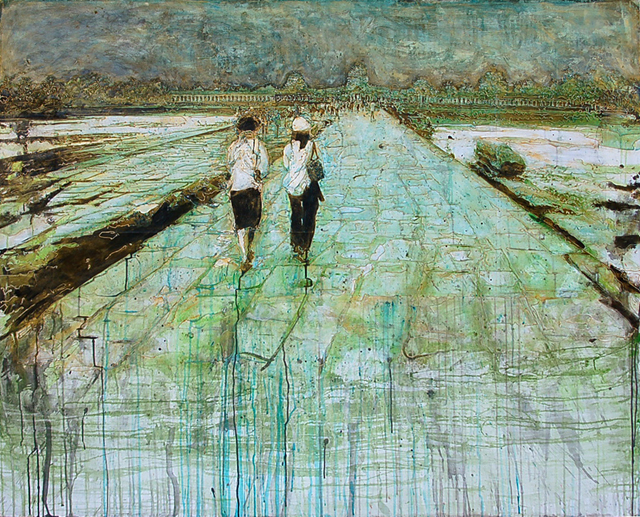 Masterpieces familiar to the walls of England's Turner Contemporary gallery and Paris's revered Louvre Museum have not arrived in Phnom Penh just yet. Rather, locally based French artist Thomas-Pierre's In the Shadow of Deities exhibition is casting new light on a very old subject.
"The theme of Angkor speaks to everyone, this is a symbolic site which inspires," he says. "It's extraordinary to take an emblematic subject and reinterpret it. It offers the possibility to all viewers to rediscover a familiar subject with new eyes, a new vision."
Having previously shown in Germany, Singapore and France, the three-year labour of love was a natural progression for an artist first captivated by the architectural marvel in 2001.
Somewhat subdued – if not a little melancholic – the impressionist-inspired collection projects a softer perception of Angkor Wat and its surrounding temples than is often found in more two-dimensional interpretations of the historic landmark.
"When you visit it, you feel the incredible dimension of the site, which creates an osmosis between the four elements… and that is what I've tried to reproduce," Thomas-Pierre says.
It is a style that not only resonates with local art enthusiasts but also a wider audience, who will no doubt be drawn to the familiarity of the subject matter and the subtle throwback to some of the world's most revered classics. It is this universal appeal Thomas-Pierre hopes will take the exhibition further afield in 2013.

In the Shadow of Deities runs until March 2, 2013 at the Institut Français, Phnom Penh.